If you're looking for a quick way to escape the city, Vogrie Country Park provides the opportunity to feel like you're in remote countryside whilst only being 45 minutes or so from Edinburgh City Centre! It has 11.5 miles of paths taking you through woodlands and the Tyne Valley – and the arrival of Spring affords the perfect time to visit.
This post is sponsored by Midlothian Tourist Forum but all thoughts, words, and images are our own.
The Adventure Playground
The first stop for us on any visit is the Adventure Playground. The route there is sign posted from the car park, and a short trail takes you down to Vogrie House. There's a huge amount of space round the house that's usually filled with picnickers and families enjoying some games. While the play park itself is spread out within view of the house.
There's a huge amount of play equipment with a good variety of challenge for older ones and a separate area for smaller children so they can play without fear of being knocked down! The big highlight has to be the chute heading down the embankment – although the spinning net is also a big hit!
Treetops Cafe
Round the back of Vogrie House, Treetops cafe has a varied menu whether you're just looking for a coffee and snack, or a hot meal for lunch. They have a wide selection suitable for children, as well as offering all day breakfast – which is always popular with my two!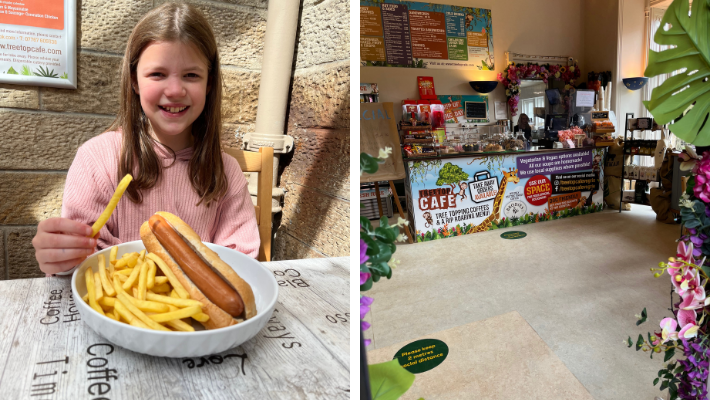 In good weather, many families take the opportunity to enjoy a meal outside – and the cafe offers a 'to go' option even for hot food. But there's plenty of table space indoors as well with the conservatory providing a happy in between. For wee ones, the cafe also has a small soft play space available in the main dining room as well!
Exploring the grounds
There's a variety of trails to follow through the park depending on the how adventurous you want to be! A big highlight is finding the 'climbable' sculptures dotted around which always provide entertainment. Midway through April, the daffodils were just beginning to fade and the rhododendron walk was beginning to burst with colour. But no matter what the season, Thomas always manages to find a good stick to leave with!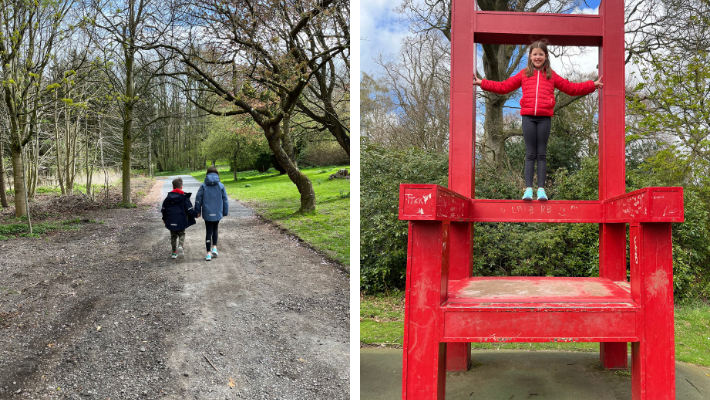 If you're looking for a slightly different challenge, the Ranger service has set our orienteering routes which you can download and print at home. There's one available to kids or a more challenging version for teens/adults. Of course, this can be done at a more leisurely pace or at speed for the more adventurous!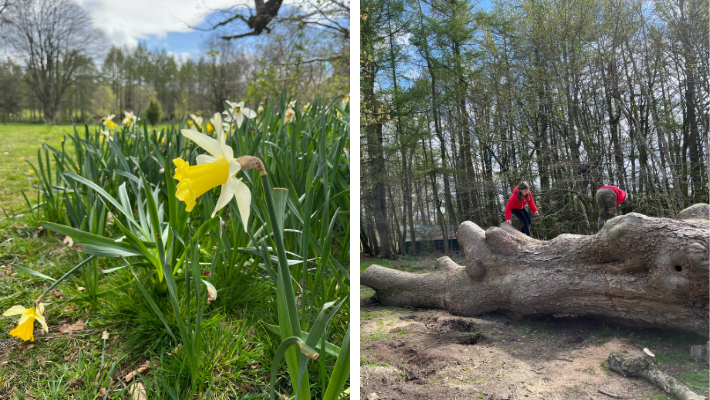 From April to September, between 13:00 and 16:00 you can also find the Miniature Railway running on a Sunday. Run by the Eskvalley Model Engineering Society it really is weather dependent – for both the trains and the drivers! – so it's always worth checking their Facebook if you're specifically hoping to ride the train!
For more ideas about Midlothian family days out – check out Visit Midlothian!