This weekend, we were lucky enough to be invited to Conifox Adventure Park, located on the outskirts of Kirkliston – a small village just outside Edinburgh. It's an easy drive from the city, and with plenty of parking available – a great option for running off a bit of energy!
Whilst grey clouds and spots of rain were beginning to appear, the kids relished the opportunity to tear through puddles on the go-karts and make the most of having space to run around in!
We had booked in advance aware that numbers are limited, and although it was on the busy side – Saturday afternoon – the kids rarely had to wait for space. As we arrived they explained the air bag would be open within 30 minutes as it had recently been cleaned, and they requested that go-karts etc. be cleaned before and after use. Spray bottles for this purpose were provided – along with hand sanitising stations throughout the park.
The Go-Kart Track
My kids were drawn to the racetrack immediately – initially option for the tractor track! This is slightly muddier/hillier with tractor go-karts, and although Thomas found it tough to get started – he was soon ploughing his way around!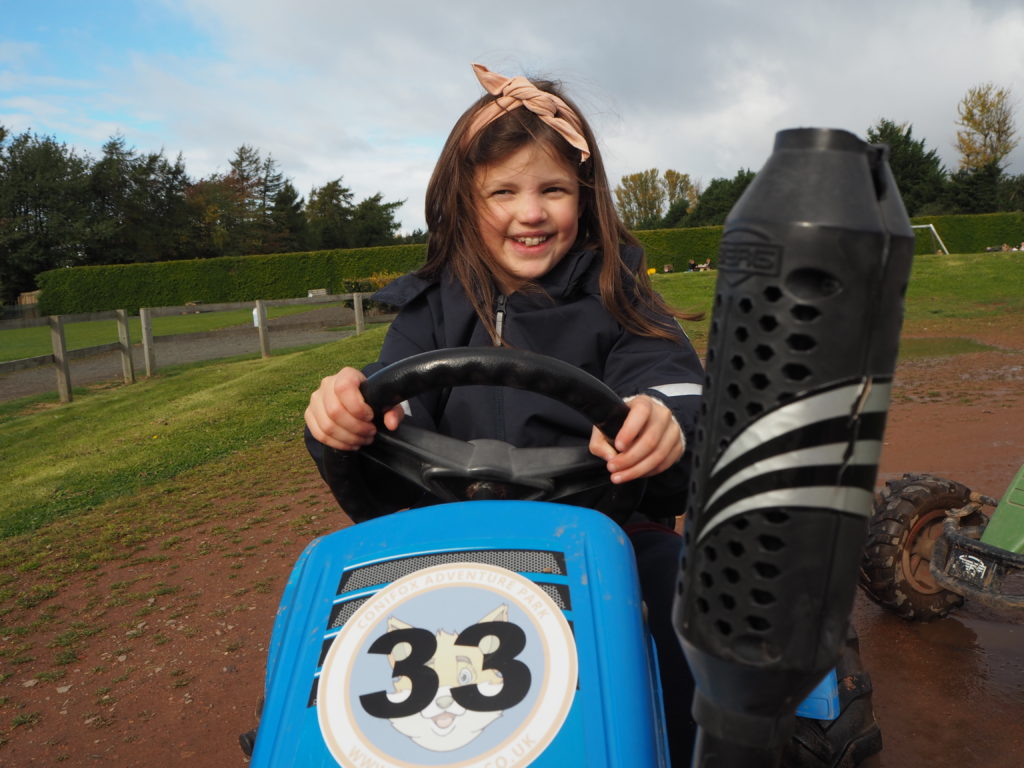 The larger track has a wider variety of karts – including three wheelers that can really whizz round! Both tracks have two seats so kids can double up – or adults can have a go whilst looking like they're just helping the kids!
Trampolines
The giant air back was another highlight for my kids; kids are asked to remove shoes/socks and to give each other space but parents do have to police this. My two preferred to wait for a turn on the solo trampolines sunken into the ground after a while – having a lot of run swapping between the two!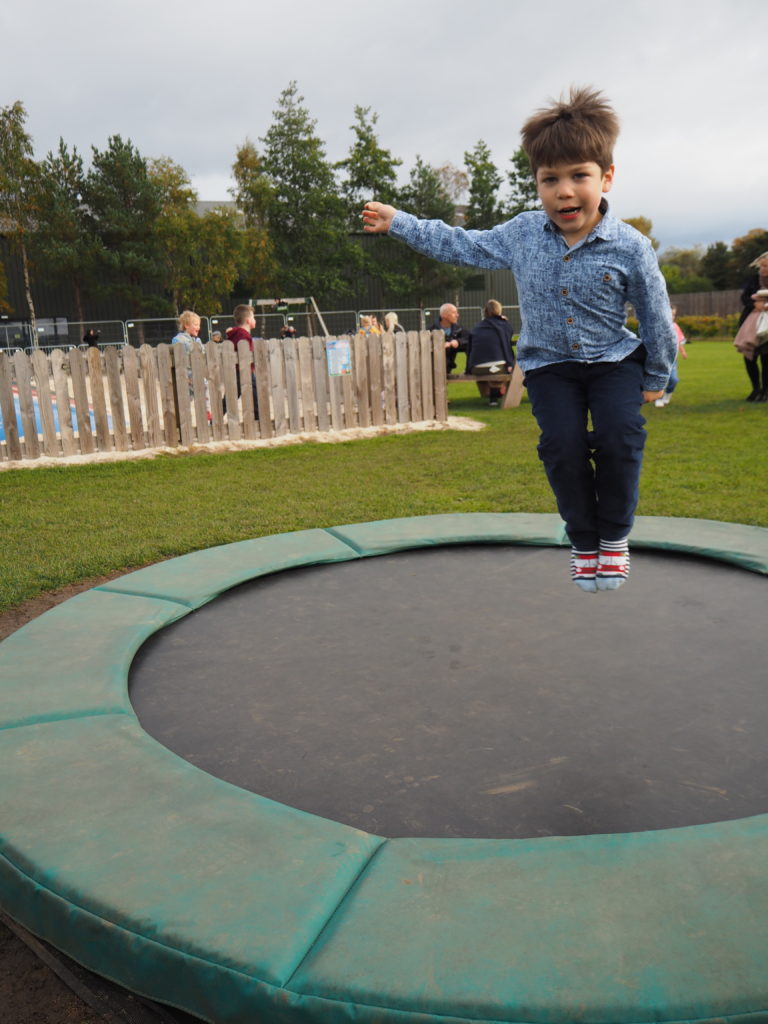 Outdoor games
There's a few giant size games to play including chess, checkers, and connect four. Katie had never played checkers before so we began a game before being utterly thwarted by Thomas who turned it into something akin to cheese rolling!
The football golf was another hit for Katie; after some initial confusion about which flag was for which hole – she enjoyed booting the ball over obstacles and around trees! It was rather reminiscent of my own golf game to be honest!
Food and Drinks
We had already eaten so didn't get a chance to try any of the food offerings. the Stables Bistro which we had visited on a previous visit is currently close due to restrictions. But within the park, they've adapted to change by setting up a small cabin. They had a BBQ on the go which smelt delicious, and the queue for the coffee shop certainly indicated it was in demand! The Lucas ice cream also seemed like a popular choice as well despite the weather.
Seasonal events
Just in time for the October break, Conifox have a 'pick and carve your own pumpkin' event, and then if you wanted to stay and play a bit more – a spooky trail in the park complete with a prize for completion!
For the braver youngsters out there – they also have a 'Nerf Zombie War' which sounds awesome! On the weekends of 24/25 Oct and 31 Oct/1 Nov.
Other points to mention…
The toilets are also under renovation, but a temporary cabin has been placed in the corner of the park which had plenty of cubicles and opportunities for hand washing.
I also noticed that a lot of progress has been make with the building work there and there were signed up to say that softly and an informer event space would soon be here! I think that will be a great addition to the park and imagine it will prove a very popular option for playdates and birthday parties in years to come!