With the majority of the big Christmas light night time offerings being within the City of Edinburgh, Dalkeith Country Park have come to the rescue with this wonderful event – ideal for those living in the Midlothian area. If your little ones are of the adventurous variety or perhaps just need a little more entertainment than simply walking through fairy lights, then the, 'Spectacle of Light,' is perfect for your family!
There aren't many places that make our toddler wow in amazement while we park the car, but Wren had spotted the moving spotlights in the sky and could hear the synchronised music. Who would have thought that adding a smoke machine and moving lights to the iconic Orangerie would make it look quite so stunning?! We'd highly recommend taking a few minutes to watch the light show, and take a family photo in front of such a beautiful backdrop.
The entrance to Fort Douglas is always impressive, but the addition of epic music and twinkly lights was perfect at getting the adrenaline up! A steward greeted and guided us through the one way system, which brought us down through a secret tunnel, and then back up into the Fort – with 2 options via stairs or scramble nets (for big kids or brave adults!).
Fort Douglas Adventure Playground (mini maze)
To be completely honest, we were a little apprehensive as to how Wren (at age 2) was going to react to the Mini Maze in the dark. Play parks can be quite overwhelming at the best of times, but we've got to say, the team at Dalkeith Country Park have done an incredible job.
The string lanterns, coloured fairy lights and up-lights of beams of colour transformed the entire area. Rather than it feeling a bit spooky, it felt like you were walking into a little fairy village during their party season! The Mini Maze felt so warm and welcoming, but what really blew us away was how well lit the maze was in the inside, allowing the little ones to still explore every inch. Wren spent most of her time sitting chatting away to a little boy at the top of one of the forts – all the kids were having a brilliant time!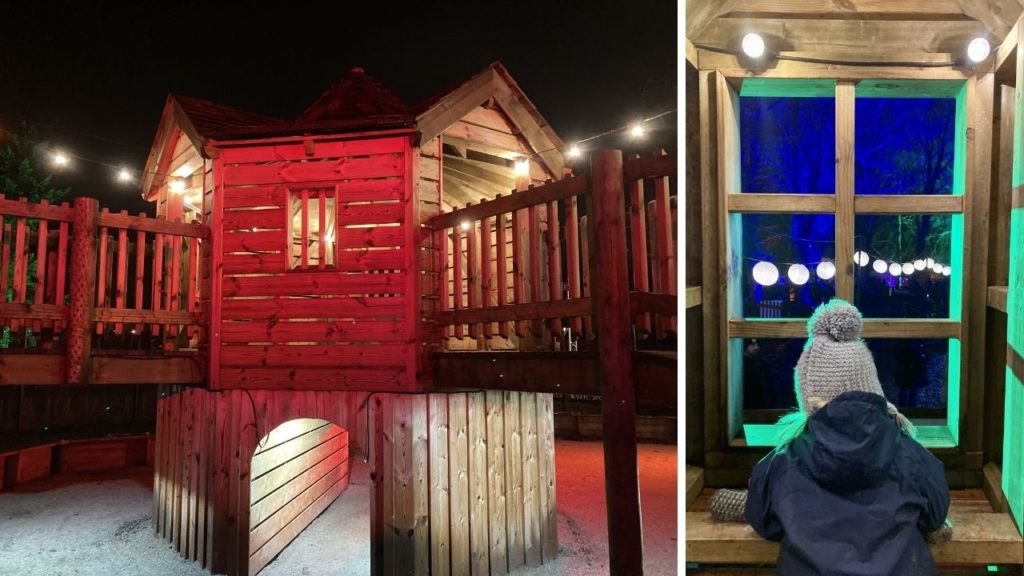 The Magical Trail
This is a new addition to the event for 2020 and a very welcome one! Taking you out of the playground area and into the woods, the trail winds through various different scenes that can inspire any kids' imagination: Is it an elf village? Is it a garden from out of space? There were many talking points and lots of photo opportunities. A special mention to the music as well, as it reminded us adults of going on a Scottish Hobbit adventure!
There were a few sections of the magical trail that could have had more, such as the path to the final light show, if it wasn't for the ropes guiding us along, we might have missed the finale. Thank goodness we didn't miss out, as it was by far the highlight. Hidden behind a hedge arch was a spectacular rainbow light show with the most magical music. We could have spent a good half hour in there watching all the different sections, but Wren could smell food!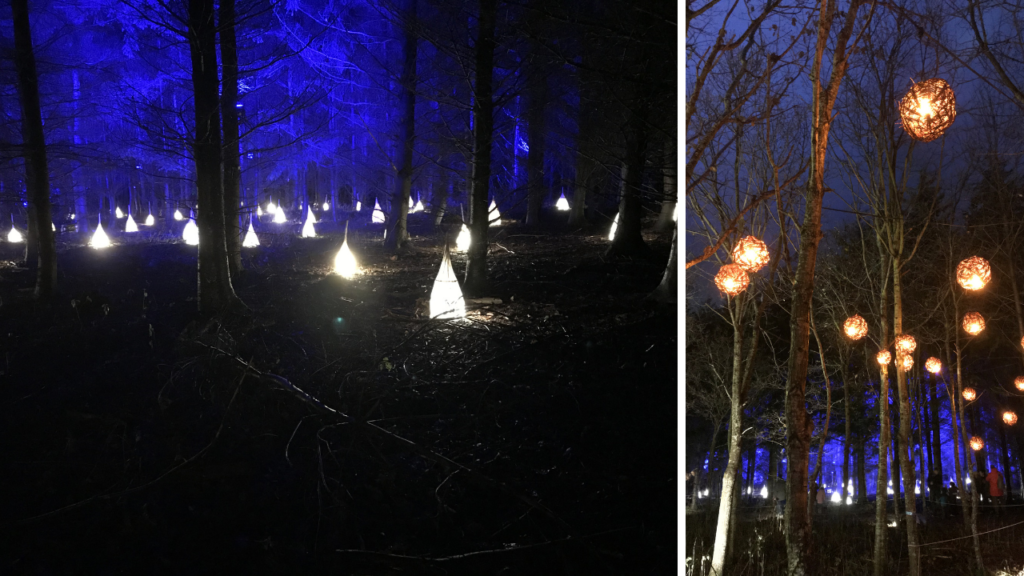 Food and Drink
The card-only cabin offered a good selection of hot food, including stovies, hot dogs and soup, as well as the usual cake and sweet treat options. A big shout out to the spiced apple juice drink which was a delicious alternative to mulled-wine, luckily hot chocolate was also still available, and truly was a taste of Christmas!
The real star of the show however has got to be the stick of marshmallows. At £3 per stick, so £1 a 'mallow, one stick between two people was more than enough. The real value for money though was that you then got to toast them over the fire pit (socially distanced of course) which Wren loved. So much so that there's now a 'marshmallow fire' in her dolls house at home!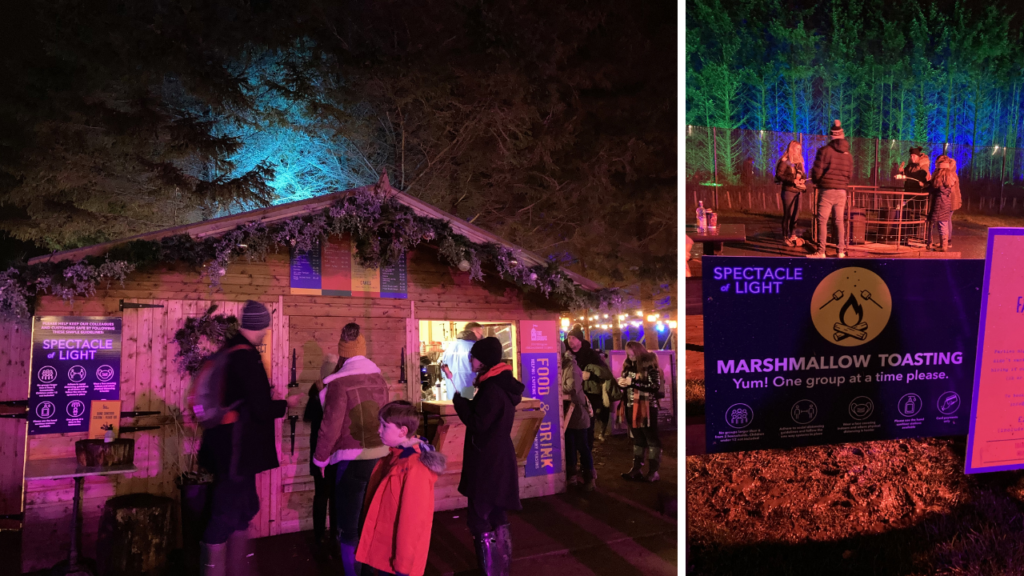 Safety Provisions
With safety being a top priority for everyone this year, this event ticks all the boxes in terms of 'Covid safety,' without it feeling like it has taken over. With it being entirely outdoors, it is easy to physically distance. Entry times to Fort Douglas are also staggered, so there isn't that mad rush of people. In addition, there are stewards wearing masks spread out in key areas to ensure there isn't a build up of crowds while waiting in lines or entering the trail.
We attended on a night following two days of dreadfully heavy rain (and thunder snow!) so the ground conditions were a concern for us. However, it was nothing that welly boots and waterproof clothing couldn't handle, and we would probably have dressed that way no matter what the weather anyway! There were anti-slip mats in particularly muddy areas and main pathways, however we would suggest leaving the buggy at home.
Ticket Information
Spectacle of Light is running on select nights through 4th January 2021, and entry times are distributed between 4:30pm and 7:00pm – perfect timings for little ones. They recommend planning to be there for approx. 75 minutes, however there is no set time, so there's no need to feel rushed. Check out dalkeithcountrypark.co.uk for ticket information, including the advanced booking option which gets you 15% off.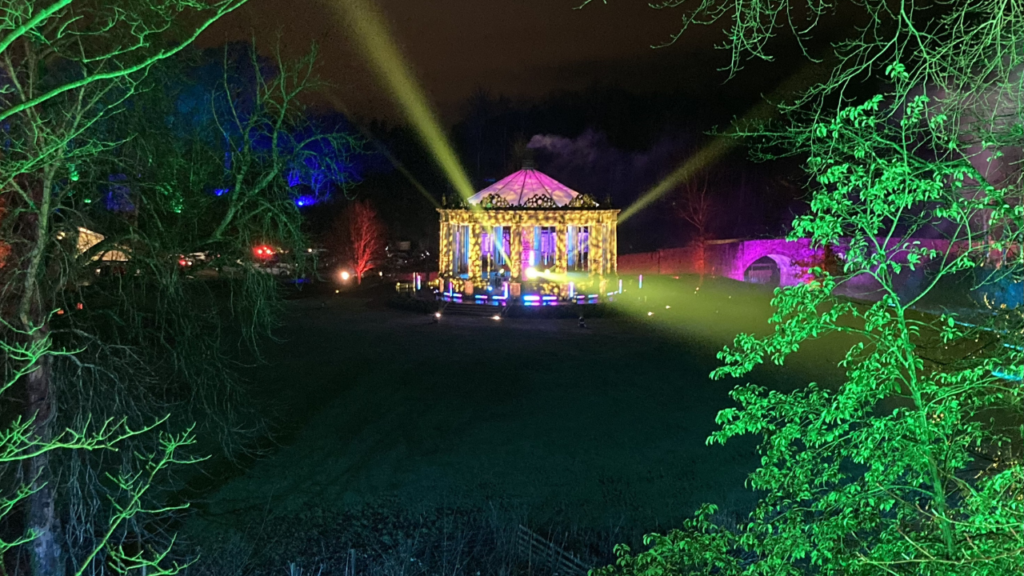 We were invited to Dalkeith Country Park for the purposes of this review – but all thoughts, words and images are our own. A big thank you for treating us to entry, plus the yummy food and drink!
Your support on our Youtube channel is greatly appreciated so please hit subscribe! Also follow Emily on her Instagram @wrenyc for lots of play at home ideas with toddlers and more of her daily life in Edinburgh.