With the world being the way it is right now, it has become so important to explore your local area and appreciate the perhaps 'hidden' treasures that are right on your doorstep. For us, Saughton Park and Gardens is exactly that!
Situated in Balgreen, in the south-west of the city, it is really easy to get to by car, bus or tram. Often described as, 'one of Edinburgh's hidden jewels,' the 34 acres of Saughton Park really has all you need for a great afternoon with the family. Not to mention, it's free to enjoy!
What to Explore
For being a park that we often drive past, we had no idea just how much was packed in there! Facilities include beautiful and well-managed gardens, playing fields, an athletic track, Scotland's biggest skate park, and the Garden Bistro for food and drinks. The Bothy, which is the base of the Royal Caledonian Horticultural Society, has lots of community space for volunteers and teaching workshops.
Having a two year old to entertain while going out for a walk can be tricky, but luckily Saughton has (in our opinion!) one of the best modern play areas. It has been specifically designed for all ages and abilities of young people – although in saying that, Wren's Dad thoroughly enjoyed it too! It is such a cleverly thought out space with lots of different materials and textures used, and plenty of each type of equipment so there's rarely any waiting needed.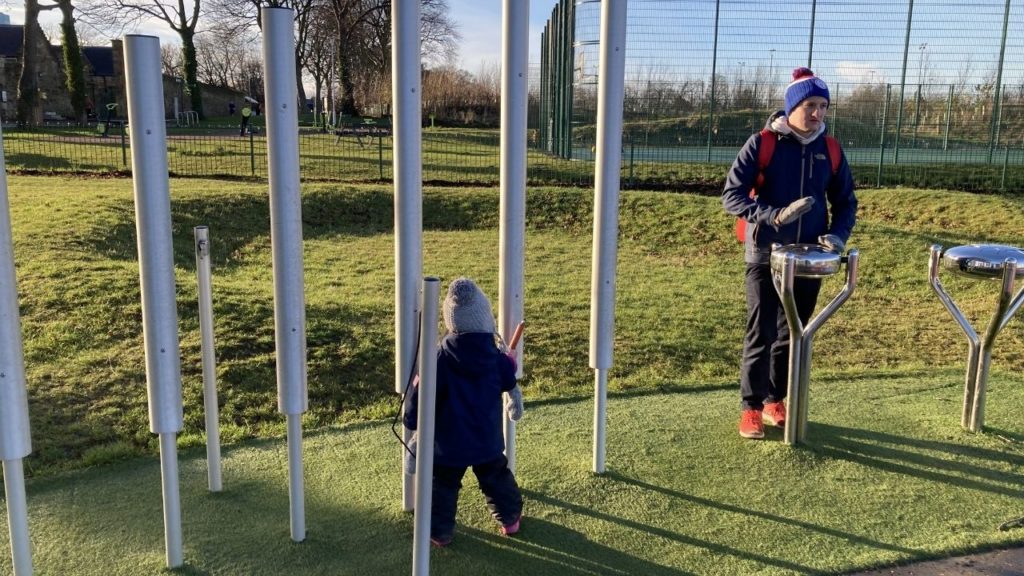 Key Points of Interest
Band Stand – Iconic to Saughton Gardens, the band stand is very rarely seen without a photographer or hustle bustle of people enjoying the sight. The stand itself is one of two originals; the other located in the meadows but was scrapped in 1953. Both were cast by the Lion Foundry of Kirkintilloch, who also produced the red telephone boxes and postboxes in Britain.
Physic Garden – Run by the previously mentioned, 'lotions and potions' group,all of the plants in this section have medicinal and healing benefits. Historically, thus goes back to Doctor Lowe, a physician who worked at the asylum, who believed in using plants and nature to restore patient health.
Sun Dial – Listed in 2007 by Historic Scotland, this sun dial in the rose garden is a major feature of the park, and is worth checking out purely for the unusual inscriptions.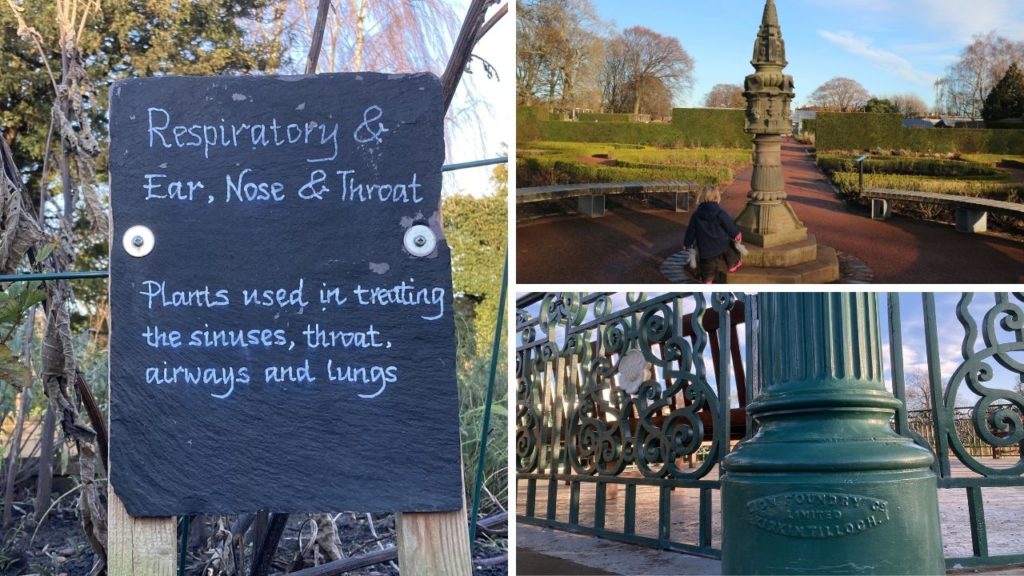 The Garden Bistro
Our lunch spot was the Garden Bistro, which is located within the Bothy area of the park. They have a really great 'to go' hatch for food and hot drinks, but we fancied the whole shebang! We did have to pre-book a table (and we're very glad we did as it was fully booked for the rest of the day!) which allowed us to choose between sitting in or outdoors. We would highly recommend sitting outside as, for most of the tables, you get to enjoy the gardens while sitting underneath a heater. We enjoyed two bowls of carrot and butternut squash, and a couple of coffees, which absolutely hit the spot. We were however rather jealous of Wren's kids cheeseburger – it was so delicious and a really good portion.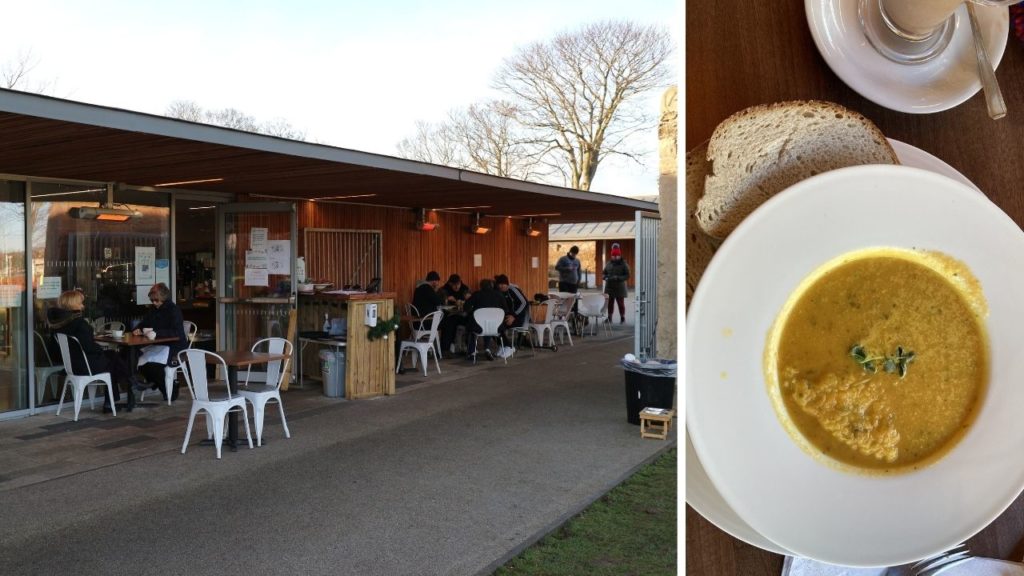 Please note that this vlog was made before the 'lockdown' announcement. At the time of publishing, Government guidelines state you must stay at home and only leave your house for essential purposes. We would therefore recommend that you add a visit to Saughton Park & Gardens to your, 'to do when it's safe to do so,' list!
Your support on our Youtube channel is greatly appreciated so please hit subscribe! Also follow Emily on her Instagram @wrenyc for lots of play at home ideas with toddlers and more of her daily life in Edinburgh.