As I spend yet another morning trying to chase the kids into the car for another hectic school-run; or roll my eyes at yet another horrific reading book with no plot or soul to speak of… I have to admit that home schooling seems like an incredibly attractive alternative.
Irritations of family routine aside, I can honestly see other attractions. Sometimes, the national curriculum does feel like a 'one-size fits all' approach – with the constant measuring, testing, and striving to accelerate. I'm not surprised that people have begun to choose home schooling as an option. I wanted to find more out about home schooling and whether it really did meet some of my preconceptions. So with that, I bring you my interview with local mum, and homeschooler, Nadine.
Can you tell me a bit about yourself?

I am a mum of 2 – I have an 8 year old son, Noah and 6 year old daughter Hunter. Living in Dalkeith, a yoga teacher and teacher trainer at Meadowlark Yoga in Edinburgh. We are reasonably new to home education as we started in April 2018.

Firstly, what made you want to homeschool to begin with?

My husband Nick and I have always been keen to home school but initially found the thought of it a very daunting one. Nick works as a web developer – 9 -5.30 Mon to Fri so the bulk of the home-ed would fall to me. I had all the usual doubts of not feeling clever/good/patient enough so we started the kids in a small independent school in Edinburgh. The discussion of home-ed would often come up between us and when Noah started showing signs of stress we decided to make the move.

Both Nick and I both struggled with our formal (70's/80's) education and we felt that if there were opportunities to give Noah and Hunter a different experience then we would. We are keen to give the kids a educational experience of not just the academics but to facilitate a holistic learning, allowing them to have choice and be part of the decision making.
With my work schedule being evenings and weekends, we felt we were able to manage both financially and time-wise. I feel very lucky to have that professional routine.

Did you consider flexi-schooling?

Yes – we did – but only through the independant school we were with. In the end, on school advice, we actually went ahead with keeping Noah on full time hours.

We do know some families that flexi school in Edinburgh and they have had support from Edinburgh City Council. Some families we meet often flexi school and then end up home schooling full time after the first year!

Do you follow set hours each week?

We don't so much have "right, every morning we sit down for 2 hours and do work"… I have been learning that pattern, for at the moment, is met with resistance! We follow the routine of the week with the kid's groups – every day they have some kind of group going on from 1 hour to 2.5 hours. A few of these I drop off and other ones I get to go along too. We then structure the rest of the working day around the activities – however, most of the focussed work does run more smoothly earlier in the day. Sometimes, if Noah is up early enough, Nick will work on a coding project with him before he leaves for work – they can sometimes get a lot done before 7.30am!

I find that if they are really stuck into a project or some art then I can't just stop them after an hour – I just allow them to work for as long as they want on that. We will try to get some maths and reading and writing time in every day and have a structure to the day – some days that structure is more fluid than others!

It is also about allowing the normal day to day activities of life to be an education – so we head to the shops and explore maths with counting and price comparisons. Noah is keen to find the best deals! These experiences open up so much for discussion and we consider where food has come from and the nutritional value of things. I try not to do the shopping online and get the kids to the supermarket. They love going to Dig In in Bruntsfield to select fruit and veggies and also refilling cleaning products at the New Leaf in Marchmont. We also enjoy looking up at the amazing tenements of Edinburgh and finding the geometry in the architecture.
Do you plan ahead or just go with the flow?

A little bit of both! We have a general idea of the year ahead as we try our best to work with the seasons. The kids are in the process at the moment of deciding what to grow in their raised beds so we can start germinating seeds. They are also fascinated with their myths – they are currently enjoying listening to Rick Riordan's Kane Chronicles so we are looking at Ancient Egypt – perfect with the National Museum of Scotland opening up their new Egyptian galleries!

We sit down on a Sunday evening or every Monday morning and have our meeting – looking at what we would like to do that week, what we didn't manage to do last week and what we would like to carry over.

I have discovered that it is fruitless to press my agenda on to Noah and Hunter – I feel my role is facilitator – providing the experiences. I have to be very switched on to what their desires are – the faintest glimmer of an interest in anything and I'm all over it! Hunter loves anything Viking so we ran a big project, lasting months, on the Vikings and headed to Jorvik in York on a Tuesday. Just awesome – they keep asking to go back. For the Spring we have the Iron Age in our sights (Inspired by the Wizards of Once/Twice Magic books) and Noah is showing a keen interest now in Scottish castles/history as well as the ongoing obsession with robots.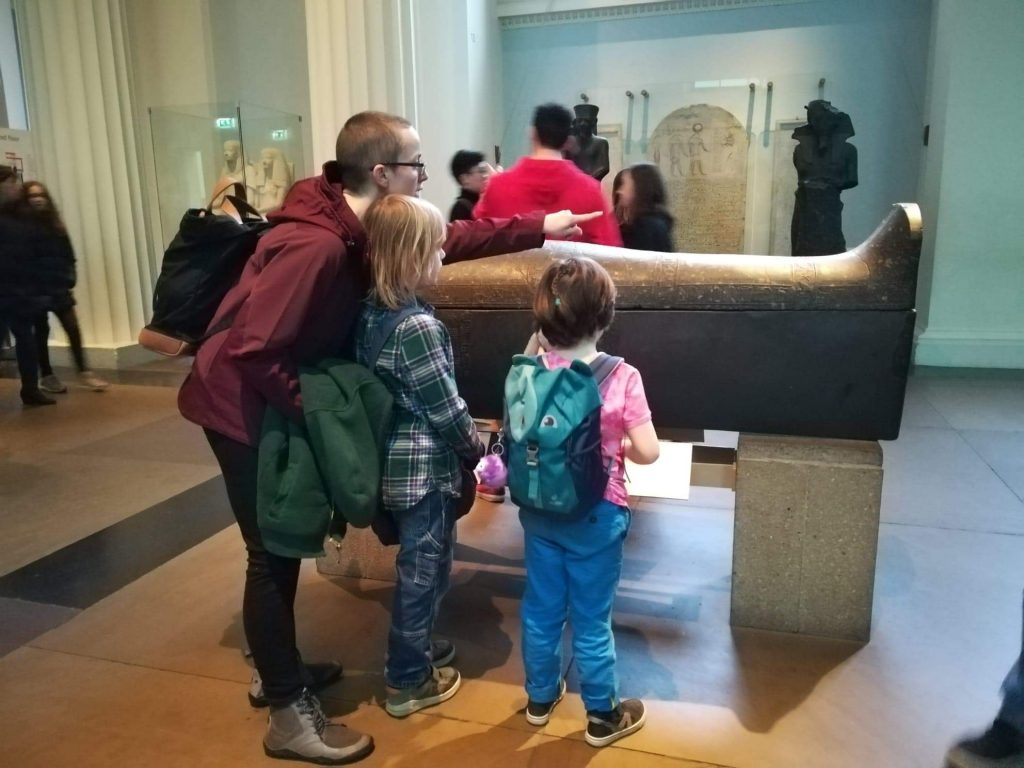 Are you subject to inspection like schools are?

Not at the moment. A far as I know, in England they are getting quite tight on home-ed – or Education Otherwise. So Scotland may follow suit. Initially, the thought of an inspection filled me with fear but I think it would be quite an enriching experience – always open to advice!
Some families I know have had requests from Edinburgh Council to write up lesson plans and a scheme of work – I have never heard of any negative experiences in this scenario.

Do you imagine your children will take national qualifications one day?

That's a good question – I haven't really thought about it too much as they are still so young. I don't see why not – although there is so much more open these days to learning and gaining qualifications through different means. I think we will need to see where the years take us – if they need to have that piece of paper to move on in their plans then why not?

I know some families whose children go to school for 4th Year to take some – are they still called Standard Grades? Well – you know what I mean – so they can move onto College.
Are you ever worried that your kids miss out on the social side of school?
Not at all. The kids are mixing every day with children ranging from 5 – 13 and also they have varied adult interaction too as the home-ed parents are mostly around and we are all interested and supportive of each other's kids. Some home-ed authors often argue that school isn't really a "social place" which is an interesting point. They say that – a group of kids who only have the fact that they are the same age in common does not connote to "socialising".

My next plan is to begin to get involved in the senior community – helping at coffee mornings/jumble sales etc. One day I might even get my head around the community garden that we would love to set up!

We are so lucky in Edinburgh and the Lothians that there is a large network of families that home educate and an online presence that you can discover things and link up with other people.
What is the best and worst things about homeschooling?

The best…. Being with Noah and Hunter all day, watching them grow and being there when they get that "aha" moment, seeing them working things out together, Noah helping Hunter with her reading which is helping him learn too, having some flexibility in what we're doing/going, learning masses of things myself as I learn with them, going away during term time, the near empty swimming pool on a Wednesday morning, all the questions and chat, the myriad of trips …. meeting people out and about who are genuinely interested and non-judgemental in what we are doing – especially older people.

The worst… I wouldn't so much say they are worsts – can I call them "challenges"?

The challenges…. Sometimes I feel like I need to carve out a bit more time for myself, I sometimes feel I am lacking personal space/quiet time as it can get all pretty intense – in positive and negative ways. I get up at 5am so I can have some time – do my Yoga practice and get a little bit of work done!

The kids can get a bit antsy with each some days, naturally, so we do have our moments.

I can get moments of feeling swamped with thoughts that I'm not doing enough/the right thing etc – then Nick calms me down.
One of the hardest things has been changing my own attitude to learning and what I perceive to be "proper learning"…. Just because I was sat down as a child (at school) and drilled doesn't mean my kids need that – I have to keep reminding myself of Nick and my intentions of creating a holistic education for the kids.

The subject of home-ed can be a little like the elephant in the room with some family members!

Finally, what would your advice be to anyone considering homeschooling here in Edinburgh?

Allow plenty of time for your child to adjust if they are moving from school into Home-ed – they say a month for every year they have been in school. You can let them chill and adjust – you may all need that adjusting time – especially if your child has had a hard time at school.

Have faith and trust in yourself and your child. Home-ed writers say that the only prerequisites as a parent to home-ed are – as long as you love your child, enjoy spending time with your child and have some element of patience, then you can do it. You don't need to be an expert in education or a teacher to do it – and it's fine if you don't know stuff – you just research together. We are always researching stuff!

One of the best bits of advice that a friend gave me was – the issues of stress don't lie with your child – they lie with you and our conditioned, ingrained view of what education is. I have found the first year of home-ed a truly liberating, mind expanding one!

Relax – and enjoy – follow your child and be ready to facilitate their interests.

If you are wavering and thinking "should we – shouldn't we?" then you can always try it – if it doesn't work then you can make another plan.

A lot of the work is not done at home so much – it should be called "out and about education" or as my friend's daughter calls it – "world schooling".
Thank you, so much Nadine for sharing all of this. If anything, I'm now more jealous of your approach to education – although I'm not sure I would meet the 'patience' requisite at all!
For anyone looking to now find out more, Nadine has recommended the following reading:

John Holt – How Children Learn, Learning all the Time, Teach Your Own and many more books

Gareth Lewis – great reading – "One to One" for primary aged kids and "Unqualified Education" for secondary aged kids.

We also use the Montessori Great Lessons as a framework – "The deep well of time" by M.J. Dorer. You can research the science experiments that go with them online.

Some of my friends find Charlotte Mason's writing inspiring.
https://www.ahaparenting.com/ – I do her online parenting courses – over and over again – to keep me sane!

http://www.ebhe.org.uk/index.php
https://www.educationotherwise.org/