We're continuing our mini series exploring the many options available for families throughout Midlothian – with today's focus being on the 'adventure' and just a little mystery too! Earlier this year, the Midlothian Tourist Forum reached out to ask if we'd like to explore more of what Midlothian had to offer; as someone who has lived here for a while, I was fairly confident they wouldn't come up with anything I hadn't visited already… but I'm very happy to have been proved wrong!
This review is sponsored by Midlothian Tourist Forum but all thoughts, words, and images are our own.
'Midlothian – surprisingly close for adventure, mystery, freedom and fun'
Secret Herb Garden
Many moons ago, I was sent some gin from the Secret Herb Garden (which was very nice!) and it's somewhere I've always driven past meaning to visit 'one day'. Needless to say I'm absolutely kicking myself for not visiting sooner.
Followers of my Instagram will know I'm a big fan of house plants and when the weather is warmer I'll happily potter about in the garden for hours. So after one visit to the Secret Herb Garden, I'm already trying to scheme how to create a miniature version at home!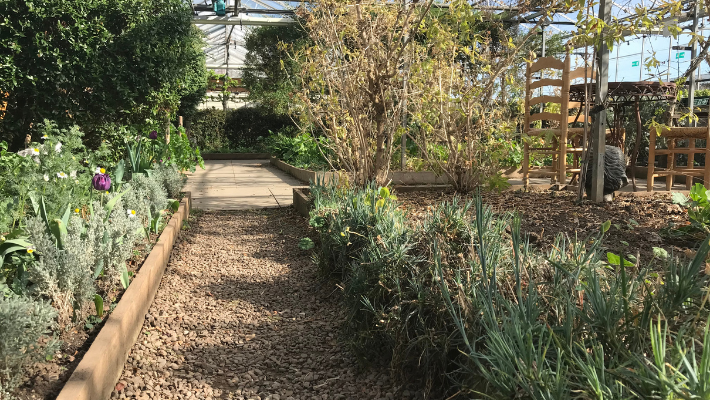 The Secret Herb Garden is a garden centre, shop, and cafe – but not quite any other I've been to. We were booked in for a midmorning breakfast/brunch and were shown to a table hidden away behind plants in the centre of the greenhouses. Despite being chilly outside, the morning sun streamed through between the plants make it more like a beautiful summers day!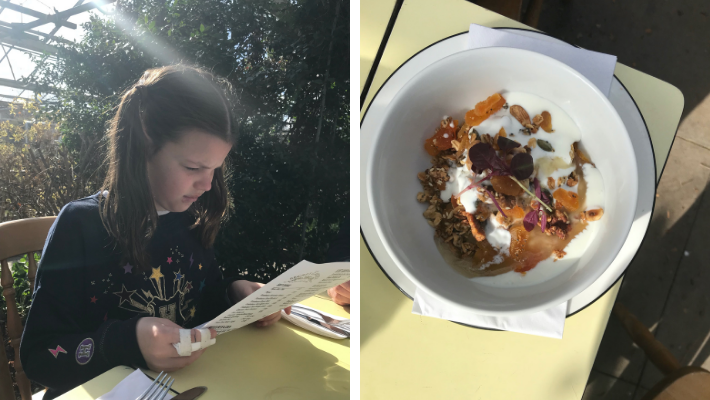 Whilst we waited for food the kids explored the myriad of pathways close by – discovering statues, new blooms, and as Thomas put it – a throne!
The menu had a variety of very reasonably priced food – from filled morning baps to the more decadent smoked salmon on Irish soda bread. I opted for nut and oat granola with yoghurt and beekeeper honey, which combined with a coffee and the morning sun, transported me to an Italian vineyard in an instant! Utter bliss.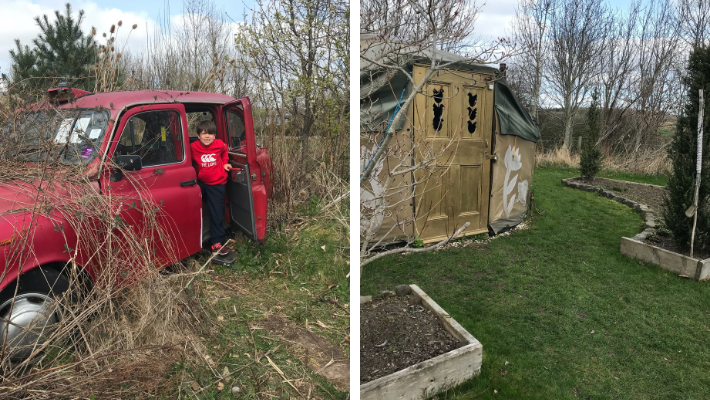 After breakfast we took the opportunity to explore the gardens a little more – the kids were delighted to find an old taxi to play in and were soon running through the pergolas and willow tunnels. You could just glimpse Spring breaking through, and I can't wait to return to see how the season progresses.
Eden Rock
We're veteran climbers and had heard of Eden Rock – but absolutely weren't expecting to find a whole children's room there. On arrival, there is a big viewing window from reception and I have to admit the kids were a little daunted by the climbs. They had only ever been places with a top rope and I wasn't sure how they would get on. But after heading down stairs, we were soon introduced to the most amazing kids space!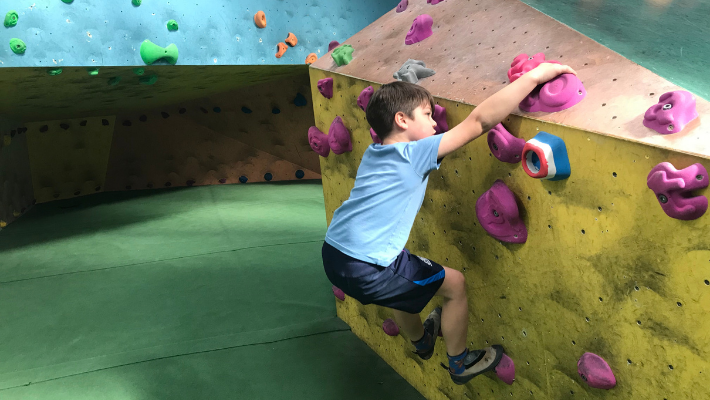 The kids room had a huge variety of routes and challenges for the kids – which kept both Katie and Thomas happy for well over an hour. They slowly built up confidence but after some encouragement – and a little competitiveness kicked in – they were soon both climbing up (and over) the castle walls! There were much younger kids climbing (around aged 3) so it's definitely a good option for families with varying ages.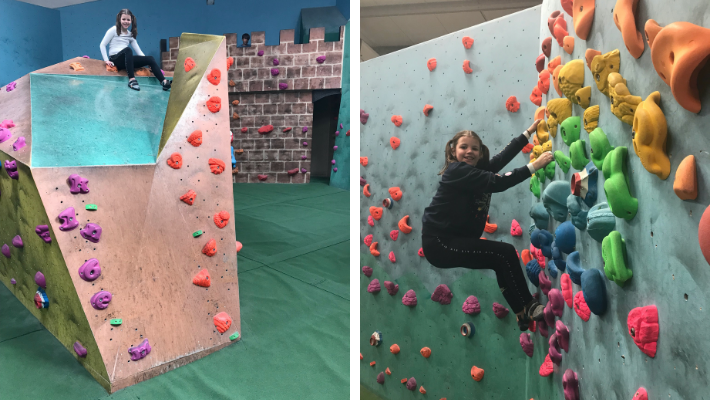 If you haven't climbed before then there are induction courses available so you can supervise your kids independently, and shoes are available for hire. I always think of climbing as vertical yoga and definitely notice the difference when I haven't been a while. So it honestly is a great way for the whole family to get active!
Eden Rock have an incredibly popular kids club for 7+ with a fairly extensive waiting list – but they do have space in their Easter Classes this year. I'd expect them to be running similar schemes in holidays to come so if your kids are keen then do keep an eye on their Facebook page!
Keeping Active
We were super lucky with the weather in the morning, but as so often happens in Scotland – it soon started raining! So Eden Rock was a great option for a drizzly day, but Midlothian has a great range of rainy day options like Ryze Indoor Trampoline Park, but we're equally believers that 'there's no such thing as bad weather, just inadequate clothing!' So if you're not afraid of a bit of rain, or we are having a stretch of fair weather – check our Adventure Sports Provider Driftwood Adventure or even Midlothian Snowsports Centre!