We often talk about how one of the best things about living in Edinburgh is just how many things many things are right on your doorstep. We're tremendously lucky to have countless easy family days out that are close to home. So when the Midlothian Tourism Forum got in touch to ask if we were up for exploring some more days out in Midlothian – we leapt at the opportunity.
People who are visiting the city often get in touch to ask about family day trips from Edinburgh, and it's always fun to suggest some itineraries for them. But as someone who has lived here for well over a decade with my family – there's so much on offer that it's still remarkably easy to miss out on some gems and fall into the trap of visiting the same places. Hopefully, with this series of blog posts, you'll get some inspiration for the Easter holidays and beyond!
This post is sponsored by Midlothian Tourist Forum but all thoughts, words, and images are our own.
'Midlothian – surprisingly close for adventure, mystery, freedom and fun'
An itinerary for a family day in Roslin
Morning
After we were done with the inevitable chaos of kids' sport on Saturday morning, we drove to Roslin – finding free parking close to Rosslyn Chapel. I should also mention that there are three buses that go through Roslin, including the Edinburgh-Penicuik Lothian Bus 37/M37 that runs from Princes Street in the heart of the city centre – so it really is perfect for visitors or anyone without a car as well.
As rain was lingering (when is it not), we headed into the Rosslyn Chapel visitors centre. Aside from housing a small shop and cafe, the visitors centre contains a range of extra information about the chapel and its life through history. There was plenty for the kids to do including brass rubbings, puzzles, an arch building challenge, and interactive story-telling pods.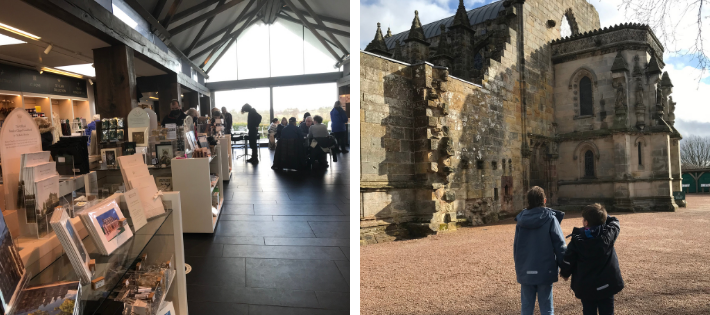 Thomas was particularly taken with the pods – when standing in one the sound from the rest of the centre is effectively blocked out and you're surrounded by the voice of the story-teller. Each pod has a touch screen that then displays animations as the stories unfold. Both of the kids wanted to listen to all the stories so we were here for quite a while!
We had booked a time window to visit the chapel itself – this obviously means visitor numbers are limited and distancing is still possible. But it also meant that we had space to be able to explore which was really nice. We were invited to a more formal talk, but felt Thomas would be a bit squirmy for that!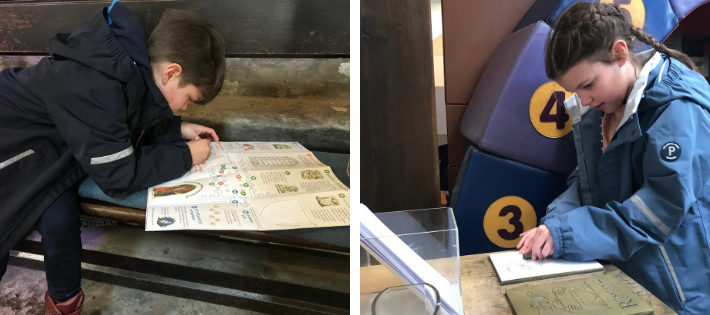 Both of the kids were given a specific children's guide with many challenges and extra bits of information about the history of the church. I was struck that it wasn't just a token effort, but printed on nice card, in colour, and written in age-appropriate language. Both were happy to follow the map found within, and spent time in the chapel colouring in and completing some of the challenges. This gave the adults time to pause and just stare in awe!
Obviously, the chapel is famous for a number of reasons – Da Vinci Code anyone?! – and it's meant to be shrouded in mystery. But there really is nothing quite like it… everything you see – whether it's at the stone work, stain class windows, or even the structure itself – is just impressive. It utterly baffles the mind how people were able to do all of that way beyond the advent of machinery.
Currently, as part of VisitScotland's Great Days Out campaign, you can get half price tickets, booked in advance, while stocks last by using the code VS50P. But ordinarily, adult tickets are £9.50 whilst children go free and are booked through the Rosslyn Chapel website. We were there for 2 hours and easily could've stayed longer if the kids weren't complaining of hunger!
Lunch or Snack stop
Located 300m away from Rosslyn Chapel, is a the perfect spot for a refresh in the form of Dolly's Tea Room. We received a warm welcome from owners Richard and Amy, and it was immediately apparent how welcoming it was to families as they were closely followed by their toddler.
Dolly's offers a range of food throughout the day, and has numerous options available on their children's menu – which also features a handy colouring in section. If you book in advance, it's also possible to book a full afternoon tea for an extra treat!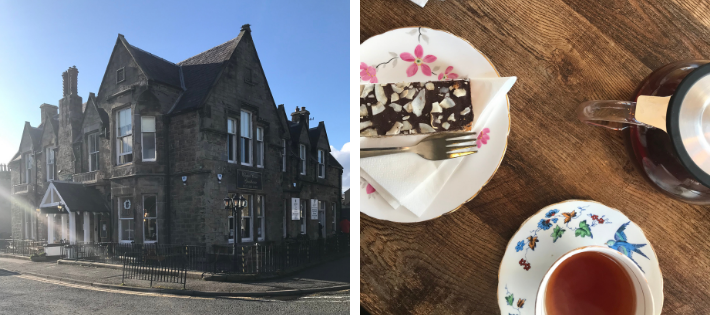 However, for my gang it was impossible to look past Dolly's famous milkshakes. Available in a variety of flavours, both Katie and Thomas opted for the 'E-I-E-I-Oreo!' and soon exclaimed that this was the 'best day ever.'
I took a while to pick a type of tea – but with some helpful advice soon settled on the 'strawberry and cream' – a black fruity tea funnily enough, with strawberries. I would also recommend not having it with milk (as Dolly's advise but I did try it with both!). Between us, we tried a number of cakes – including a cinnamon bun, lemon drizzle, and a dark chocolate and coconut flapjack slice. In short, there was something to keep everyone happy!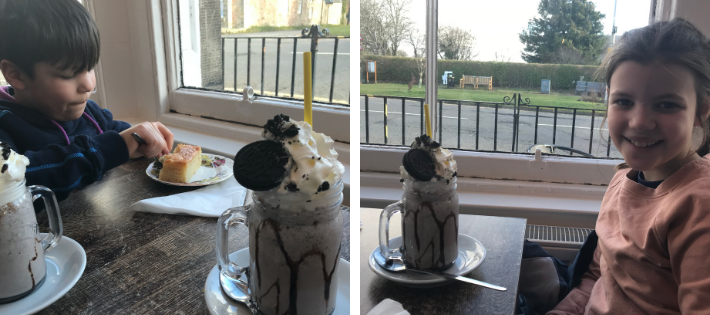 The tearoom itself is warm and welcoming, and we were delighted to be able to enjoy some of the afternoon light streaming through the windows as the rain finally passed over us.
Afternoon
Now fully refreshed, we were definitely ready to make the most of the blue sky that had appeared and headed off to meander through Roslin Glen. You could spend an entire day exploring the Glen and still probably not be able to find everything. It's a winding network of woodland paths, with some steep drops to the River Esk below.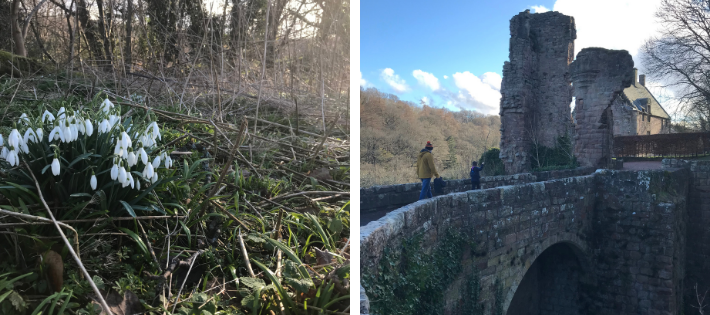 We found numerous signs of Spring along the paths – with clumps of snowdrops appearing, and the smell of wild garlic beginning. Thomas inevitably was soon armed with a giant stick, and both kids relished the chance to stomp through some muddy puddles! We had expected things to be a bit slippery underfoot, so had opted for boots/grippy walking shoes and were glad to have made that choice.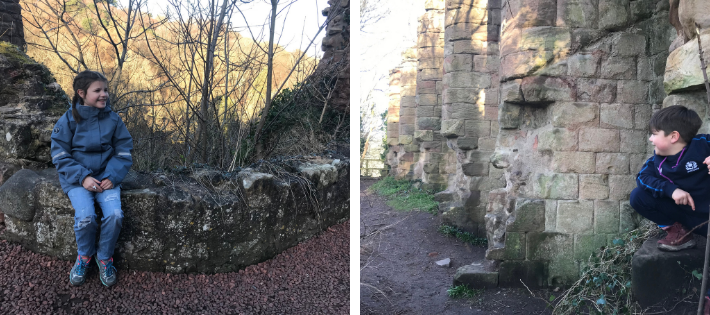 A short 10 minute walk downhill from the chapel, you can find Rosslyn Castle. This was originally the ancestral home of the St Clair family – who built the chapel. But it's now rented out as holiday accommodation through the Landmark trust. The garden directly outside the house is roped off to allow for an element for privacy for whoever is staying, the you can still cross the bridge to the castle and explore some of the ruins. The bridge is very high so absolutely not one to allow the kids to run away to peer over the sides alone! But the views over the glen were incredible and certainly one that could be enjoyed no matter the reason.
We can't wait to return to Midlothian for more adventures and to find out more about what's on offer. So be sure to check back for more ideas for family days out as the Easter holidays approach!
In the meantime, you could check out Emily's review of Dalkeith Country Park and for the more adventurous – don't forget to visit the Go Ape experience there!