Do you ever get the feeling that people have been keeping secrets? I feel like I have been massively missing out by not finding out about Foxlake Adventures before now, and whilst I'm wanting to ensure you're not missing out either, I am rather aggrieved at not discovering it sooner!
Katie and I recently were invited to spend the day at Foxlake and try out some of the activities available. From the moment we arrived, the grin on Katie's face was utterly immovable and I have a real sense that we've discovered a real gem.
Located just outside of Dunbar, a 50 minute drive from Edinburgh, Foxlake Adventures is Scotland's first cable wakeboarding park. People were already zipping up and down the lake as we arrived, and in all honesty, I would've happily just grabbed a coffee and chilled out watching them launch off the obstacles dotted about in the water. But Foxlake has a lot more to offer…
It's also home to the UK's only ropes course constructed over water. Imagine a typical obstacle course you might find in a play ground, then imagine it high up… then above water with a zip line at the end heading straight into the lake! FoxFall is designed for ages 6+ (and over 1.2m), with 4 routes of varying difficulty. I always like a challenge and it was clear that Katie was raring to go!
FoxFall
After signing in, we were both sized up for wetsuits before heading to the changing rooms. There were plenty of cubicles and lockers to secure our belongings before heading back out to grab helmets and lifejackets. We then had 45 minutes to complete the course as many times as we wished!
The kids in our group quickly set along the blue and green routes – which are the easier of the two. This seemed like a sensible option to initially build confidence, but wanting to get going – I set along the most difficult one. To be honest, this was trickier than I expected but at the same time – great fun!
I slightly regretted wearing trainers that were a little big on me as I navigated the wall climb and definitely challenged my balancing skills making my way over the seesaw! Katie was way ahead of me skipping over her obstacles but together we reached the zip-lines to eventually drop into the lake!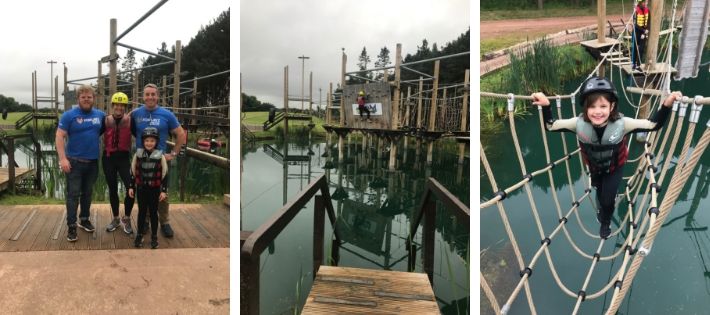 Despite Katie's claim that it was cold – the water was actually 20 degrees! With a snug wetsuit, I have to say it was really pretty pleasant and not what I imagined from outdoor swimming at all! I wasn't surprised to see posters up for outdoor swimming sessions throughout the season and I'm weirdly tempted to go join one.
Back on try ground, James – one of the owners of Foxlake Adventures – quizzed me as to the route I had taken and pointed out that I had skipped part of the black section entirely! I obviously had to go back and find the missed obstacle – monkey bars – but had to admit colossal defeat at the slackline! I sat for a good 5 minutes considering whether should a) jump off the platform, b) attempt the slackfline but inevitably fall off, or c) just cross the monkey bars again and face the seesaw again!
On this occasion, option C won out – which gives me a good excuse to go back and try again! Time really did fly although Katie managed to navigate for course four times in all. This film of her zip-line dismount will absolutely be played at her 18th/wedding/graduation etc… watch to the end!
Boardside Cafe
Before kicking off our next activity, we had a little time to watch some more Wakeboarding, enjoy a hot drink and something to eat from the Boardside Cafe. They had a great choice of breakfast pastries, traybake, pretzels, sausage rolls but it was hard to look past the variety of morning rolls on offer too!
As a proper coffee addict, I was soon happily clutching an Americano whilst Katie was scoffing a bacon roll and oat milk hot chocolate. They had an impressive variety of milks on offer and again, it struck me that I'd be happy to visit even if I wasn't taking part in an activity.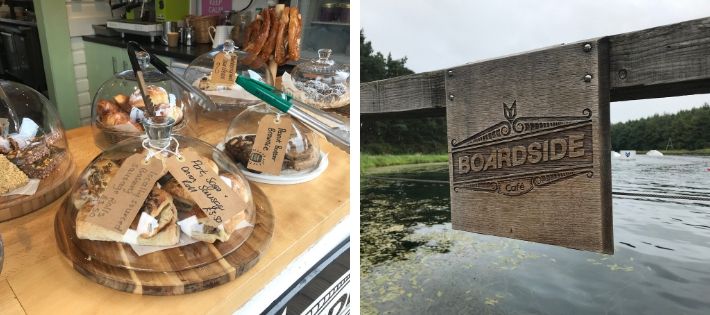 They have a playground for smaller children on site and I spied signs for walks around the lake and beyond to the John Muir Way. A younger child's (pirate themed) birthday party was in full swing, utilising the furnished railway carriage type unit on site, and it really did look so cool!
Ringo Ride
Refulled and raring to go – our next activity was the Ringo ride. Essentially this involves clinging to a giant inflatable raft as you're pulled up and down the lake by a overhead cable line. The controller is able to set different speeds, and basically to get to bounce up in the air with big splashes on the way down!
We tried out the larger of the two options which meant that 4 of us could fit on at a time. Katie joined another family group we had befriended and soon her squeals could be heard for miles! The controller called out different challengers – turn on your back, kneel, wave etc. as they zipped up and down!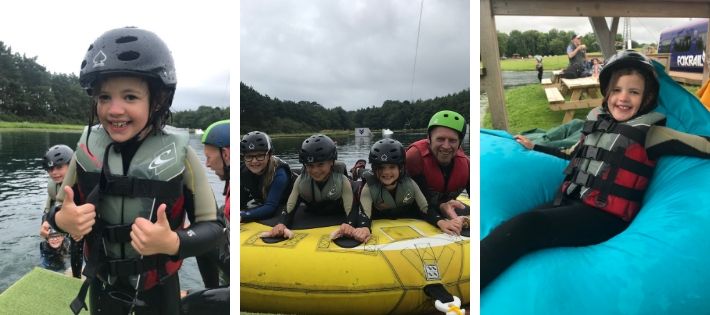 Next it was my turn with another group of friends. I'm convinced we went a lot faster and I definitely had no plans to let go as we tore down the lake! But I had to admit it was impossible to no let a whoop of delight as we shot back in the air on each journey down the lake!
Katie's only complaint was that it was over too soon for her. She wanted to go again, and to try wake boarding, and to go again EVERYDAY. I think she hung around on the giant beanbags chatting to the operator purely in the hope that either a) she could sneak back on the raft or c) she'd let her on the controls. The only way I could convince her to watch the ZipTrail was with the promise we'd return soon!
Ziptrail
Ziptrail is exactly what it says on the tin – a zip-line course trailing high up in the trees through the first by the lake! Using the 'CLIC-IT' system, you're always connected to the cable by your harness, so the focus can be on scrambling along obstacles or leaping from one tree to the next!
The Ziptrail has an age restriction of 8 and participants need to be 1.4m in height, so Katie was a tad too little to take part but was delighted to come along as an instructor. It was lovely to hear her shouting encouragement to the people in the trees above – some of the sections are 30ft high so it's not for anyone with vertigo!
After an initial training session to familiarise ourselves with the CLIC-IT system, we had the change to navigate through two different zones in the forest. I'd be hard pushed to pick a favourite activity at Foxlake as they're all quite different, but this was an absolute blast. The final zip-line across a field to a giant mound was a definite highlight!
We're already planning our return visit to try Wake boarding and I'm also really looking forward to the Foxtrail running events through the winter! Details on how to book can be found on their website and would highly recommend their Instagram too.
P.S. This is a collaborative post with Foxlake Adventures, a company that we're delighted to be working with. You can find out more details on how to book your own adventure here!