After a long week of homeschooling, we were delighted to be invited to enjoy a meal from our local Wagamama. We're usually regulars here with the kids so it was the nicest treat to have a giant bowl of normality!
On the off chance you haven't heard of Wagamama, it's a nationwide chain of restaurants inspired by Japanese ramen bars that aims to celebrate asian food. Every meal aims to be fresh and nourishing – with an array of tempting colour, and aroma. Right now, they're open in Edinburgh for click and collect, or delivery via Deliveroo – so I was keen to see if our normal experience could be replicated at home.
Wagamama has always been our go-to restaurant for the kids. It's where they request for birthday treats, or when they need a pick me up. Obviously, the food comes quickly but they have a great kids menu with lots of options that suit. When Katie was a baby, we frequented our local so often she quickly became the 'Wagababy' there as she would scoff down any bowl set in front of her – and that really hasn't changed!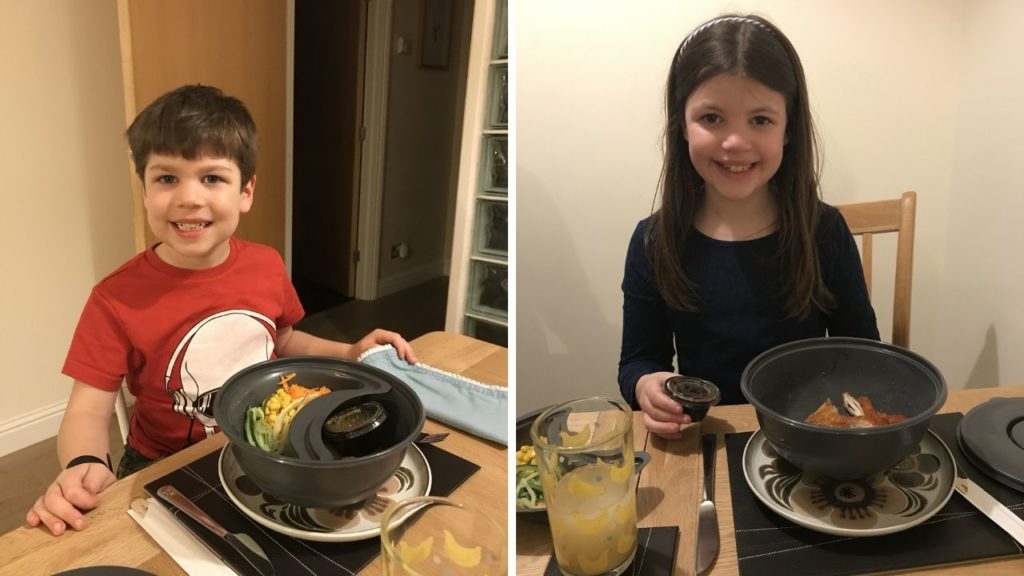 Katie's hands down favourite is the mini chicken katsu with amai sauce. The sauce is fairly sweet and we do have to stop her drinking the remnants at the end of the meal – with a trio of carrot, cucumber and sweetcorn on the side it's rare she leaves a scrap of the meal.
Thomas tends to vary what he has a bit more – he goes through stages of not wanting his food to be 'mixed' to being quite happy with a Cha Han style dish. For this particular meal he opted for Crispy fish bites and sticky rice which is a definite favourite.
I did note that there is a whole new range of vegetarian and vegan dishes – including a wide selection for the kids. Many of the kids dishes centre around fried tofu, which I know my kids will eat as it quickly takes on the flavour of the things it's cooked with.
For the rest of us, we enjoyed a range of sides – including two of the newer vegan dishes: the mixed mushroom hiragana steam buns, and the sticky vegan 'ribs'. My initial thought on tasting the ribs was that if all vegan food tasted like that I'd quite happily convert! I couldn't have told you before what mushroom and soya protein taste like but I wouldn't have guessed like this. I would have quite happily just snacked on those and a side of edamame beans!
I was however curious to try one of the Kokoro bowls that I spied on the menu. 'Kokoro' means 'spirit, heart and mind' so is meant to be the bowl to feed your soul – in under 650 calories. As I knew I wanted to try some sides, I thought the option of a slightly lower calorie dish sounded appealing and wanted to see if it lived up to some of my favourites… over the years there's been a few dishes to come and go but the Itame was one I was really sorry to see go ; but I knew that the chicken in the 'naked katsu' had a similar marinade so opted to try it!
I really was not disappointed – it still came with a generous side serving of katsu sauce to dip into or pour, but chicken was delicious by itself. The mixture of edamame beans with shredded carrot and brown rice left me absolutely stuffed and quite happy I hadn't chosen a weightier dish!
Another newer element we were keen to sample was the hotter version of the chicken katsu. Mike is a big 'firecracker' fan and although this wasn't as hot as that, it definitely had more of a kick to it and turned the dish up a notch! Not to alarm any long-term fans of Wagamama – you can still get the usual katsu sauce too, and the yaki udon was just as remembered!
The meal itself came packed in re-suable plastic bowls of varying sizes with clever inserts for sides and sauces. The lids fit on snuggly and will definitely come in hand for left overs etc. Although they are recyclable too as I noticed that they are now grey which is a plus – as I remember when they were black, which many councils don't recycle!
I was wary of hitting road works after picking up our dinner (we do live in Edinburgh!) but thought ahead and took a couple of our insulated food bags! I don't know if these were absolutely necessary but our food was still toasty by the time we sat down at home – so would recommend it as a trick!
It still sometimes hits me that we're really living in strange times. This morning I walked past the Edinburgh Playhouse and remembered all the wonderful shows we've reviewed there. Even as we strolled round St Andrew's Square before collected our food, I was reminded about how much has changed. So this meal was really such a lovely taste of normality. Familiar, nourishing, food – resulting in very happy children with nothing but the sound of the occasional 'yum!'
Thank you to Wagamama, St. Andrew's Square Edinburgh for gifting us this meal. We were under no obligation to write this review, and all thoughts, words and images are our own! You can see find the full Wagamama menu here plus details for click + collect and delivery.