Do you eat out often with your kids? Or is all a bit, well… stressful? There's always the fear about if there will be something they'll eat. Or if you've got a small delinquent like mine – whether they'll launch something across the restaurant.
Last weekend, we were delighted to discover the solution. We were invited to review Sunday Lunch at One Square. Spoiler alert – it is actually possible to enjoy a three course meal, in beautiful surroundings, with three kids. Sunday Lunch really will never be the same again.
Sunday Lunch with a Difference
On arrival, the kids were immediately distracted by the four-piece live Jazz band. To state the obvious – good tunes and something to look at generally translates to happy children! But then… the food.
The buffet at Sunday life was seriously amazing. For starters there was a HUGE choice – Atlantic prawn cocktails, Scottish Smoked Salmon, Fresh Tomato, Basil and Feta platters… and of course, because the food was immediately there – it meant no waiting.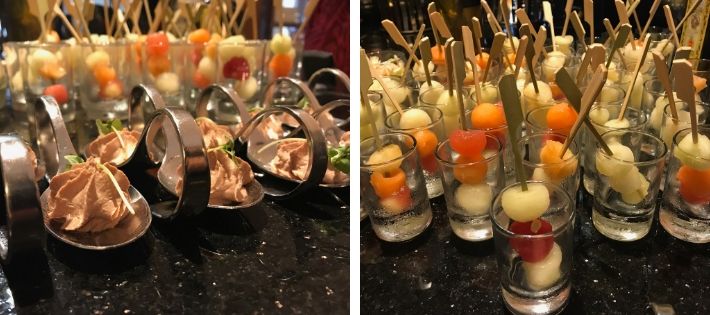 For main course, the kids could either chose from a dedicated kids menu or the buffet. For my lot, having spied the Yorkshire puddings on an initial recce there was no question – the only issue was whether to choose the Crispy Pork Loin or the Roasted Orkney sirloin of Beef.
The biggest surprise was actually Ben, who is normally a very picky eater and who doesn't really eat big portions. His face lit up at the sight of the rare beef, and happily piled his plate with an assortment of potatoes and a medley of green vegetables. Never in a million years did I expect him to say – 'How do they get vegetables to be so yummy?!'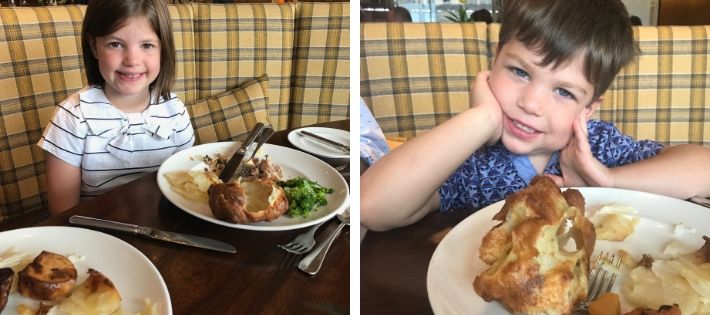 The complements kept coming as the kids all tucked in with Katie declaring it was the most delicious thing she had eaten, and Thomas saying he wanted to eat potatoes like that every day!
For dessert we were equally spoiled for choice – not only did they have a chocolate fountain and ice cream cart but the selection of cheese cakes, chocolate torte, crème brûlée, and macarons equalled a very difficult decision. I eventually opted for chocolate torte AND a mini crème brûlée whilst the kids couldn't resist the chocolate fountain! Mike doesn't really have a sweet tooth but was equally delighted with the cheese selection.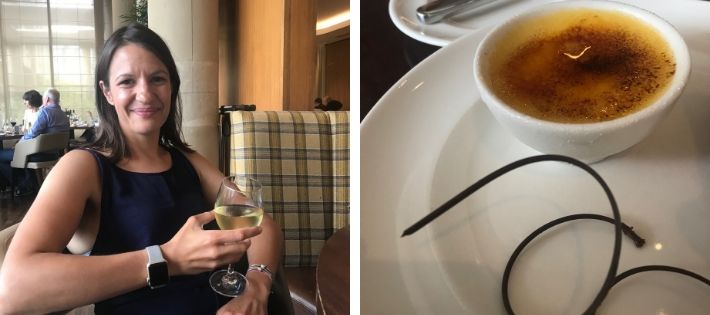 The kids quickly devoured their dessert whilst Mike and I were still enjoying ours – and a wee glass of wine – but rather than getting bored I was able to drop them off with Sparkle Arts!
Complementary Kids Entertainment
We entered a room complete with every imaginable treat – disco lights, George Ezra tunes filling the air, face paint, balloon animals, and talk of an expedition to find Super Heroes! Both kids happily skipped in and joined the fun – whilst I headed back to chill with Mike and Ben.
Thomas doesn't often join in group activities and as I went to collect them – this was indeed the case. But he was utterly delighted with the selection of Duplo Bricks and Trains whilst Katie was dancing with a the most complex balloon animal ever created! It was amazing to find something they were both happy with, and was a a treat for both. It also meant that we could all enjoy food at our own pace. The sessions run from 12-3pm so the kids easily could've gone before we ate – although I'm not sure they would've wanted to leave!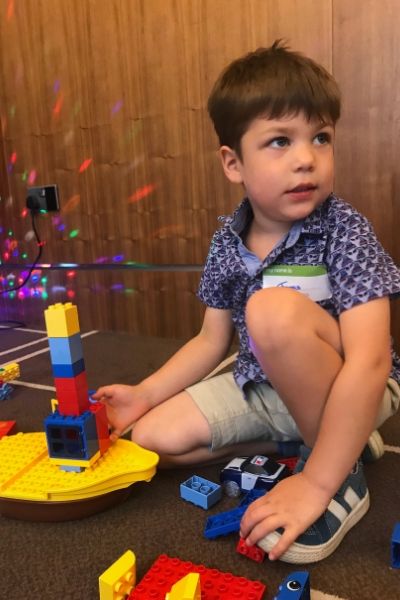 All of use left One Square feeling like we had a real treat. In many ways it felt a little like Christmas but that we had simply been celebrating time as a family.