What do you need from a restaurant when eating out with your kids? We look for a crucial combination of friendly whilst speedy service, something to keep the kids entertained and of course, food that they'll all eat. So no big ask…!
I was chatting to someone earlier this week about kids and fussy eating. All my kids ate incredibly well as infants – exploring a great range of foods and flavours. But now we're in this horrible routine of Katie pointing to a previously loved food and announcing 'Yuck. I wanted pasta.' This of course, is followed by Thomas grinning manically and copying in relation to another food group. Until we either cave and serve plain pasta in despair, or encourage, bribe and in all honesty descend into a meal time of stress.
This really isn't what I want dinner to be. It's a time we have together as a family. Sometimes the ONLY time we have together on hectic dates. It needs to be a time that we're not only fuelling our bodies but our souls too.
Last week, Caroline wrote a great post on encouraging mindfulness in children. One of the techniques she highlighted was 'mindful eating'; paying attention to the food and how we eat it. Taking time to acknowledge not only the taste but the texture too.
I found this idea really inspiring but absolutely did not want to even attempt it at one of our 'normal' mealtimes. So we decided would eat out instead. Of course, we needed a restaurant with our magical combination… so naturally we headed to Wagamama.
Wagamama
When Katie was a baby, the staff at Wagamama referred to her as the 'Wagababy' – they took joy in watching her grow between visits, celebrated her eating and always praised her behaviour. Combined with fresh food that fitted with all our allergy demands – it has remained a firm family favourite.
Last Sunday, we headed across the city to Lothian Road. This was the first Wagamama to come to Edinburgh and holds fond memories for us. Mike had never eaten at Wagamama before and had been reluctant to try a place not walking distance from our house. As a fan of many years this drove me insane, so it wasn't until I won a bet (I can't even remember what for!) that we got to go together. Of course, the rest is history and he's had every spicy dish on the menu!
I decided a good trick would be to get the kids to dress for lunch. In the book 'French Kids Eat Everything', author Karen Le Billon found that using table mats, nice crockery and cutlery actually caused her children to behave better at mealtimes. Perhaps they sense that it's more formal and that in turn encourages good behaviour. Or perhaps it's just being distracted by something novel. Either way, I wanted to create the impression that this was a special lunch together.
Katie really took to this idea selecting a dress and blazer the night before – before moving on to plan what the boys should wear. This wasn't exactly difficult given that the boys only own 1 or 2 shirts each but I was surprised she really took to the idea.
Whilst I knew the clothes would soon be covered in splashes of Amai Sauce, it was worth the extra washing as the kids headed to lunch excited and happy to be out of the house together.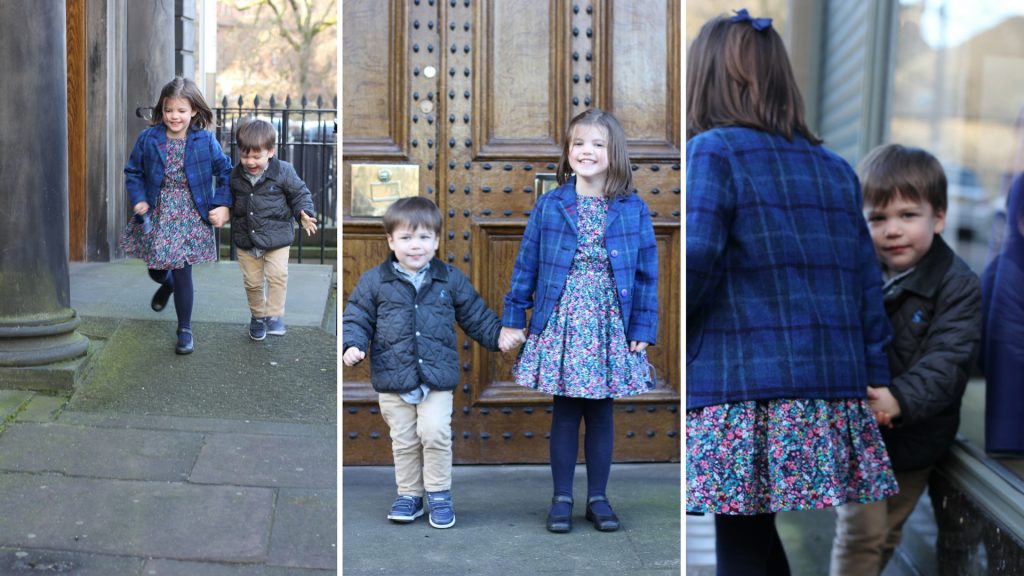 Taking time together
Whilst I could've ordered our meal as soon as we got to the restaurant, we decided to take a little more time by ordering drinks first. Wagamama always provides kids with activity sheets and crayons, but have also branched out this month into colouring for adults too!
Partnering up with Mind to raise awareness of mental health, each placemat encouraged diners to relax and make time for themselves. Taking time to study the pattern, before starting to colour. Whilst this is a very gentle introduction to mindfulness, it struck me that it perfectly echoed Caroline's article: it doesn't matter what we're concentrating on, this simple act of focusing can reduce stress and help us train our thoughts and attention. It doesn't matter what age you are.
Our waitress encouraged us to take time to colour and ensured each of the kids had their favoured crayon too. However, it was also reassuring that she sent off the kid's order as soon as we decided to their wait for food really was minimal.
Mindful eating
All three kids ordered different meals; Cod Cubes for Ben, Mini Grilled Chicken Katsu with Amai Sauce for Katie, and Grilled Fish and Noodles for Thomas. Straight away having this element of choice (and control) meant that there wasn't a fight from the kids. But as their food arrived, we asked the kids what they could smell, what colours they could see on their plates and what they thought it would taste like. Whilst their answers didn't really get any more creative than 'yummy' it did ensure they were looking forward to eating!
What followed was the most hassle free meal we've had in a long time. Each child just steadily ate. There was any cries of yuck or refusal to eat certain foods. They just ate. Commenting occasionally on the various things they could see around them, but really just enjoying their food.
Admittedly, not particularly tidily or with a lot of grace – particularly Thomas the noodle sucker – but it was just a really stress free meal. Which in turn, meant that we could also enjoy our own food.
Mike ordered Chicken Katsu as a divergence from his normal Firecracker whilst I opted for my gluten-free favourite, Prawn Itame minus the chilli. Whilst it was still spicy, by concentrating on the food I could acknowledge the lime as it broke through the heat. I could appreciate the more mellow coconut underlying all the other flavours. I actually noticed it had mushrooms in for the first time – even thought I've been eating this dish for years! It was also incredible how much I could actually smell by just taking a moment to pause. In short, I actually relaxed enough to note a huge variety of colours, texture and flavour!
Need another excuse?
If you haven't already discovered Wagamama and weren't already tempted, as part of their partnership with Mind – until 6 March for every positive juice sold 25p will be donated to their work supporting people experiencing a problem with mental health.
Whilst Wagamama food is obviously a great way to nourish our bodies – it's lovely to see that they're also paying attention to our minds too!
(P.S. We're proud partners of Wagamama and were gifted this meal in return for an honest review. Thank you so much for supporting the brands that make Edinburgh with Kids possible.)