Is it raining again?! If the weather in Edinburgh decides to throw a little rain cloud your way, then sadly it's not surprising – and it may well snow later… before the sun comes out! But don't worry – W=we've got the inside scoop on how to turn a drizzly day into a memory-making adventure with the kids. Check out these wet weather options that'll keep everyone smiling, rain or shine! When the skies open up, Edinburgh doesn't miss a beat. There's a whole world of indoor wonder waiting for you and your crew:
Dynamic Earth
Step into the world of Dynamic Earth, where kids can journey through time, space, and even witness volcanic eruptions! It's an interactive experience that'll have their minds blown while staying perfectly dry.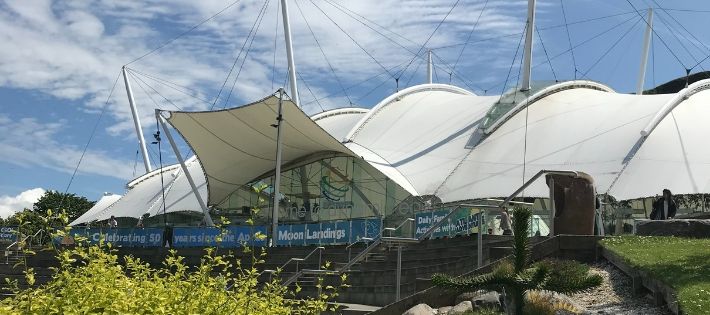 Camera Obscura and World of Illusions
Prepare to be dazzled! At Camera Obscura, the kids can explore optical illusions, quirky exhibits, and even enjoy a rooftop view of Edinburgh. Rain? What rain?
Museum of Childhood
This treasure trove of toys and games from yesteryears is a hit with kids of all ages. They can marvel at the toys of generations past, and even have a play in the interactive exhibits.
The Royal Yacht Britannia
Visiting the Royal Yacht with kids offers a unique opportunity to step into the world of royalty and maritime history, making learning fun and interactive. The ship's fascinating exhibits and interactive displays engage young minds, providing an educational experience they won't forget. Additionally, exploring the beautifully preserved rooms and decks of the yacht allows children to imagine what life was like for the royal family, sparking their curiosity and imagination.
Potter Around in Cafés and Bakeries
Why not turn a rainy day into a culinary adventure? Head to one of Edinburgh's cozy cafés or bakeries, where the little ones can indulge in delicious treats. Plus, it's a great way to warm up!
Crafty Escapades at Local Workshops
Edinburgh boasts a plethora of craft workshops that are perfect for creative little minds. From pottery to painting, there's bound to be something that'll ignite their artistic spark. Our favourite is Doodles in Morningside – the perfect place to make a keepsake with your wee one.
Dive into Indoor Play Centers
Let the kids blow off some steam at one of Edinburgh's indoor play centers. With slides, climbing frames, and ball pits, they'll have a blast, rain or shine. For small kids, Scrambles at the Commonwealth Pool is great but if you can drive, then it's worth going out to the Climbing Area at Ratho – it's also much better for a mix of ages.
Family Film Frenzy
When the heavens open up, there's nothing like a trip to the cinema. Edinburgh has a range of cinemas with kid-friendly screenings, so you can all enjoy a cinematic escape – Fort Kinnaird is a great shout if you want easy parking or head to the Dominion in Morningside if you want a bit more character – after 85 years it's still independently owned and family run!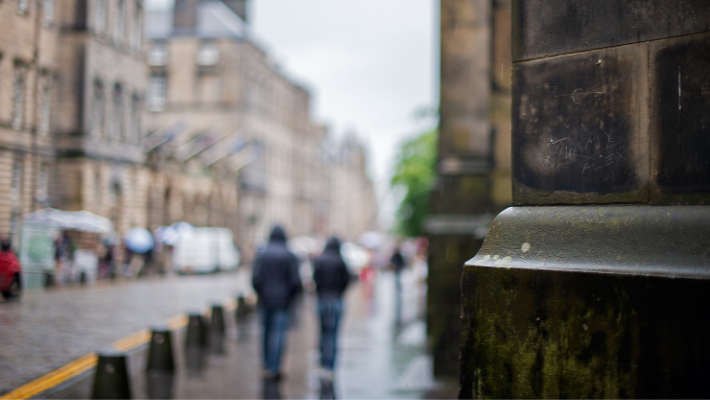 If you can't avoid the rain clouds then…
1. **Layer Up:** Even though you're indoors, the weather might mean some extra layers. It's always best to be cozy!
2. **Umbrella on Standby:** Bring a compact umbrella, just in case you have to dash between indoor spots.
3. **Keep Snacks Handy:** A small stash of snacks can be a lifesaver during impromptu breaks.
4. **Map Out Your Route:** Plan your indoor adventure in advance to make the most of your day.
5. **Embrace the Rainy Day Vibes:** Rainy days make for cozy memories. Embrace the unique charm of Edinburgh in wet weather.
Edinburgh's wet weather options are a testament to the city's determination to keep the fun going, rain or shine. So, gear up, grab your little adventurers, and get ready for a day of indoor delights in Scotland's capital! 🌧️🎉