This week I FINALLY got round to visiting the Royal Yacht Britannia and actually had the nicest time with Katie. Despite hearing about it from my Mum, I had never fully appreciated how much there was to see and do. I had wrongly assumed it would be like a museum and not that suitable for young children. But it actually made for a brilliant day out.
We started off being greeted by an incredibly welcoming guide. He took lots of time to chat to Katie (and encouraged her to put her coat back on!). Katie was instantly beaming at the extra attention and was raring to get going with her audio handset. She was given a specific one for children and received an explanation of exactly how to use it. The guide also explained that a number of Corgis were hidden around the yacht for Katie to count. 
We were soon found ourselves on the Bridge – busy hunting for the 'pups' and actually learning a lot about what went on. Katie was full of questions about what everything was but really listened to the handset intently. The views across the water were lovely and despite being a bit chilly it was nice to just walk around and have a good look at everything.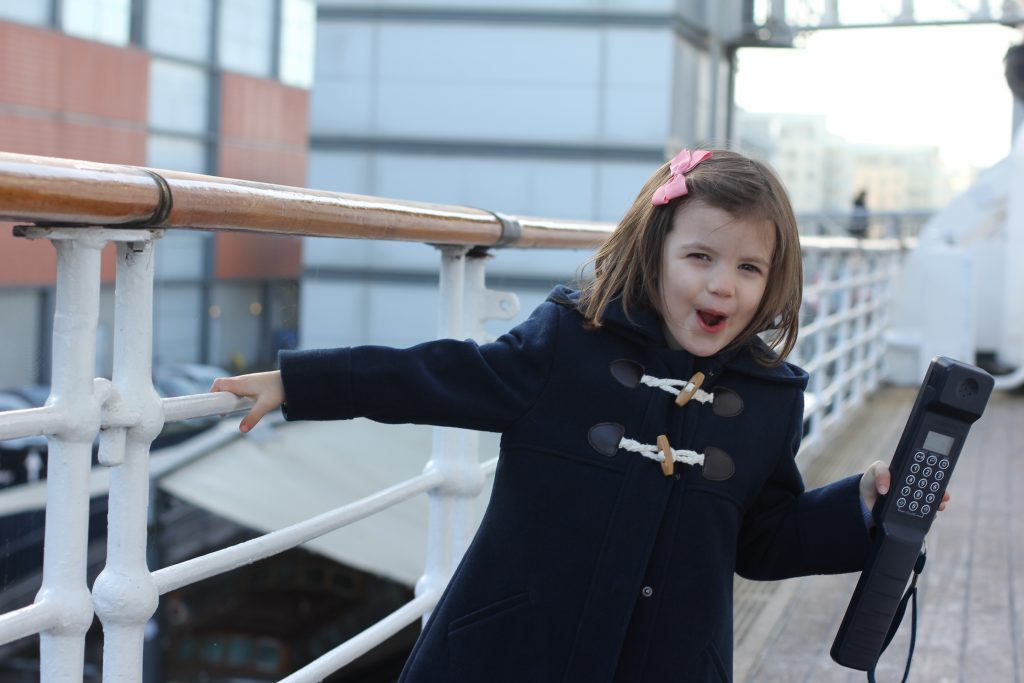 Next on the agenda were a number of rooms belonging to Senior Crew and of course, the Royal Bedrooms. It was really interesting to see all the different photos of the Royal Family on holiday. It was nice to see them in more informal photos and the different visitors they had welcomed on board. These weren't a height that Katie could see but she was kept busy looking for the pups and enjoyed just moving from one part of the yacht to another.
Although many rooms were behind glass or ropes, I was surprised at how many areas were totally open for people to go and explore. At one point there was a chance to try on different hats and take a 'Corgi Selfie.' In the Officer's mess there was a chance to just sit in front of the fire and later in lower ranks quarters we actually could just sit playing dominos.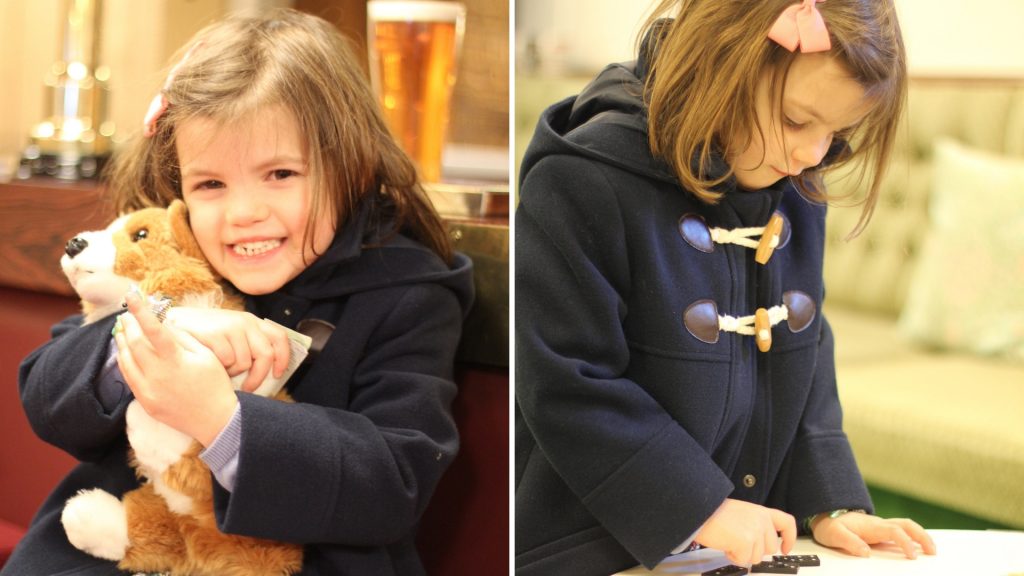 During the course of our explorations we even discovered the sweet shop – resplendent with fudge made on board. Katie was given a number of free samples and funnily enough, was quite taken with the experience!
We sadly missed the Royal Yacht Tea Rooms as Katie had recently eaten at. Although she was on great form, I wasn't convinced she would really want to sit and watch me eat! This is definitely on my personal agenda for the year ahead though.
Upon purchasing my ticket (Under 5's are free), I was given a form to send off granting me admission for the rest of the year. I was also offered another form upon leaving so they were quite keen to make people aware of this. So although £15.50 for an adult ticket may seem pricey – considering that this is really the price for a year's membership I would consider it very reasonable. I also think that popping in to the Royal Yacht for a cuppa beats the chain stores available in the adjoining shopping centre!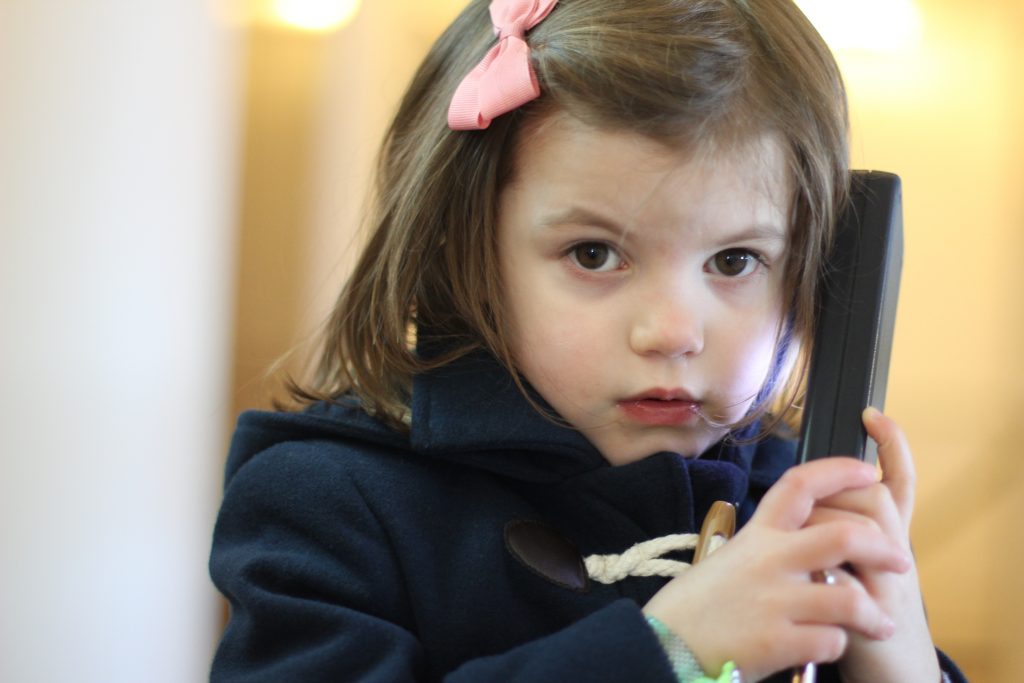 I had shied away from visiting a number of times because I thought it would be impossible to navigate with children. In actual fact, each level of the yacht could be reach by lift, each area was easily wide enough for a buggy and the staff were really superb with Katie. There were toilets in multiple places throughout the tour and many signs advertising changing facilities for babies.
We were stopped a number of times to be asked if we were enjoying ourselves. Workmen passing greeted Katie and pointed out things she may have missed. One guide offered to take our photo and even suggested a possible move in dominos to assist Katie.
We of course, concluded our visit in the Gift Shop (sadly unavoidable) and of course, Katie made a beeline for the Corgis. Unable to say no – she is now the very proud owner of the imaginatively named 'Corkey the Corgi.' She had a wonderful couple of hours on board and I really enjoyed spending time with her. We may not have listened to every audio description but really had a great experience.
Have you ever been on board? What did you think? Please comment below or come over an comment on Facebook.
I have a board full of ideas for Days Out if you'd like to follow me on Pinterest.