The weather continues to be 'variable' this Spring, if frequent rain clouds disrupting the attempts at sun. Whilst we've been out braving the wet a fair amount on some days you really do just want to stay dry! Today was one of those days…
This post is sponsored by Midlothian Tourist Forum but all thoughts, words, and images are our own.
Brunch at the Papermill Lasswade
After a lazy morning at home we headed out to Lasswade for a late brunch. The Papermill is incredibly easy to find – being just off the main road into Lasswade – and has plenty of parking outside. The kids were quick to take a peek over the wall to the river below but were keen to head inside for food!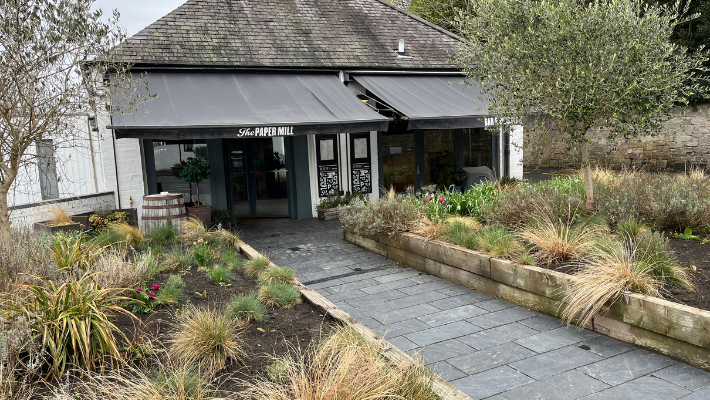 We had booked ahead and were glad we had, as it's evidentially a popular venue for brunch and there weren't many empty tables. As a bright and airy location, it was no surprise to see a number of families there and the staff were very welcoming to children of all sizes. We were seated in one of the booths in the main bar, which was great for a chilly day but I'd love to return to sit out on the garden terrace when the weather does pick up a bit.
As the sister restaurant to the Secret Herb Garden, it's no surprise that The Papermill has a tempting menu. I was torn between the Baked ricotta pancakes with mascarpone cream, mixed berries and heath honey drizzle and the Crushed Avoca and poached eggs – but think I made the right decision as the home dried tomatoes and balsamic glaze were delicious. The only downside is that Katie seemed to eat half of mine!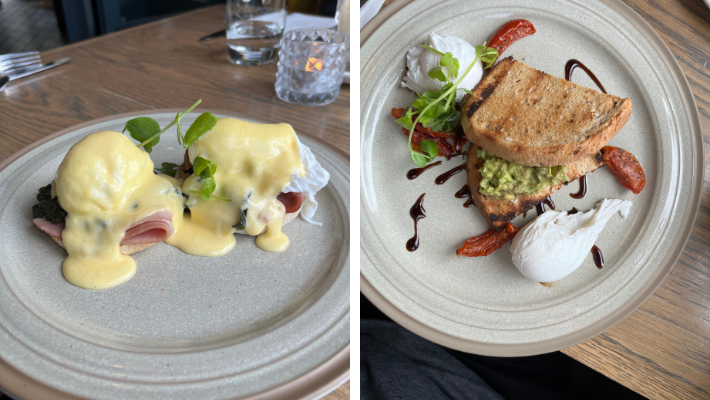 She was pretty hungry so forewent the Kids menu in favour of Eggs Benedict, but didn't miss out as Thomas shared some of the beans from his cooked breakfast! Mike by far was the most modest of all of us simply opting for a Breakfast bap with bacon and egg… although as the yolk seeped through the bread it did look like a good choice!
The kids had eyed up the array of baked goodies on arrival, so alongside a decadent hot chocolate, the kids also shared an empire biscuit. Although it took a fair amount of debate between them to agree as Katie was vying for a mini egg cake whilst Thomas also wanted a cream egg brownie!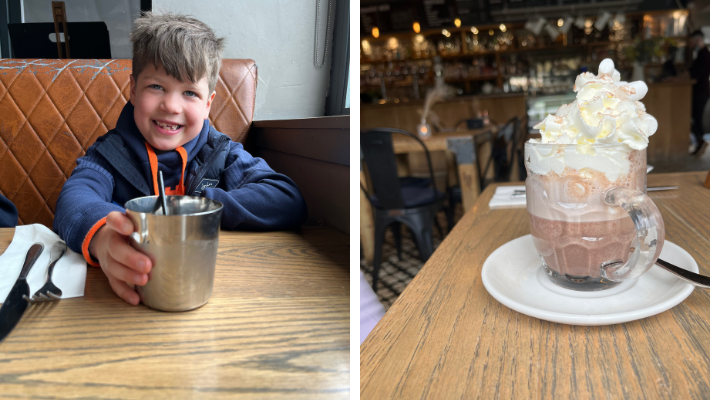 Melville Golf Centre
Now brimming with energy, we headed to the Melville Golf Centre. It had been a few years since we had all played – and a first for Thomas – but it was good to get back into the swing of it!
Melville Golf Centre is the first 'Toptracer' Driving Range in Edinburgh and the Lothians which definitely adds a fun dimension to things. Essentially it shows you exactly what happens to your ball after you've hit it in terms of air time, bounce, distance, swerve… the list goes on. But there's also a number of games that you can play too – from getting the ball to land in certain areas to getting 'closest to the pin' on golf courses from around the world.
As it was Thomas' first time playing, the Toptracer element was rather beyond him and he was just happy to hit the ball! But was very enamoured with the pop up tee that loaded the ball automatically each time! Katie had completed a few weeks of Young Masters Golf a few years ago but seemed to have initially forgotten a lot of what she had been taught! However, at the end of the hour she was asking when we can go back – and whether she can have a go on their 'real course'.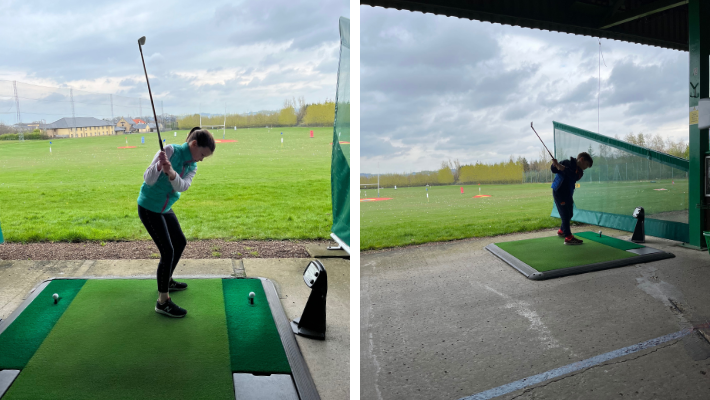 Melville Golf Centre have a 9 hole 'pay and play' golf course, specifically designed for beginners whilst still providing a challenge for the more experienced! A family ticket is available at £21, or juniors can book on for £7.50. If you don't have your own clubs then you can also hire a half set for £5. I feel like this approach makes golf far more accessible for people who just want a go or don't have time to play that often. Membership at private clubs can be seriously hefty if you don't have time (or the desire) to play frequently!
If you wanted to make more of an evening out of a golfing adventure, then the time to book is Thursday and Friday evenings as there's the addition of the 'Pizza Paddock' which you can choose to order ahead or have one freshly made for when you're done. It's also there from 11am – 5pm on a Saturday so you can time things properly!
For more ideas about Midlothian family days out – check out Visit Midlothian!