Craigmillar castle is a favourite of ours for a number of reasons. In my mind it looks like a proper 'castle' type castle, complete with big walls and winding staircases. From the castle ramparts there are amazing views over the city and the surrounding area. All with the added bonus of being three miles south-east of the city centre – so within very easy travelling distance.
With the weather has been rotten recently, the benefit of Craigmillar castle being close to home means that it's not a big deal if you only go for a short time. However, there are a number of rooms that are well covered – with proper windows and doors!
We decided to visit last week, with our friends Megan and Dave (and of course their super cool children!). To Katie's delight this meant she had her wee pal to run round with and explore all the nooks and crannies that Craigmillar castle has to offer – the girls were soon playing hide and seek, and taking every opportunity to look up old chimney stacks. Whilst always a delight to see them being confident and independent, they were a little too keen to go off exploring on their own. The castle is well-enclosed, and there are of course safety barriers etc. but obviously, as a historic building with many winding and steep staircases, I was certainly glad that we had enough adults to keep a close eye on their shenanigans!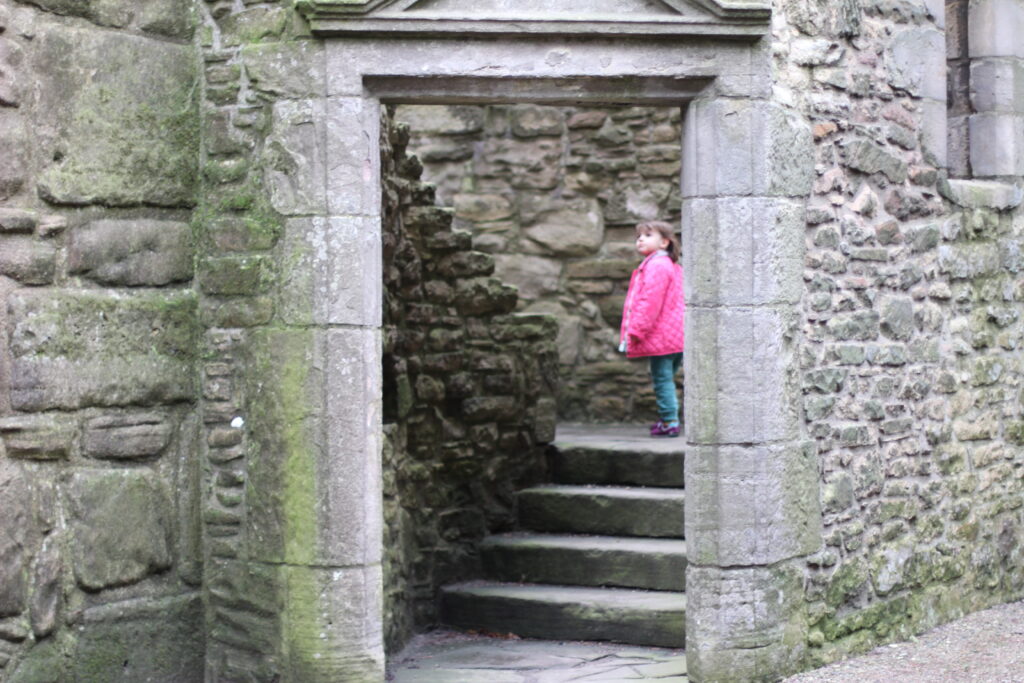 Craigmillar castle has a rich history – most notably relating to Mary Queen of Scots. Although she only stayed in the castle a couple of times, it was there that the plot to kill her husband, Lord Darnley, was hatched. As Craigmillar castle has been so well-preserved, it's easy to image the bustling life that it must have housed in the 15th century.
One family, who were visiting at the same time as us, had all taken the opportunity to dress up in cloaks and arm themselves with wooden swords and shields – whilst this isn't necessarily something I'd be mimicking in a hurry – it did seem like a lot of fun for older children. It strikes me that many children their age would've been at home stuck behind a computer screen in cold weather, and that it was really cool to see kids using their imaginations!
After climbing to the top of the castles and exploring the myriad of rooms that Craigmillar castle has to offer, the girls continued to play chase on the grassy areas just within the walls of the castle. However, it was undeniably cold and whilst the kids may not have been flagging that badly – the adults certainly were.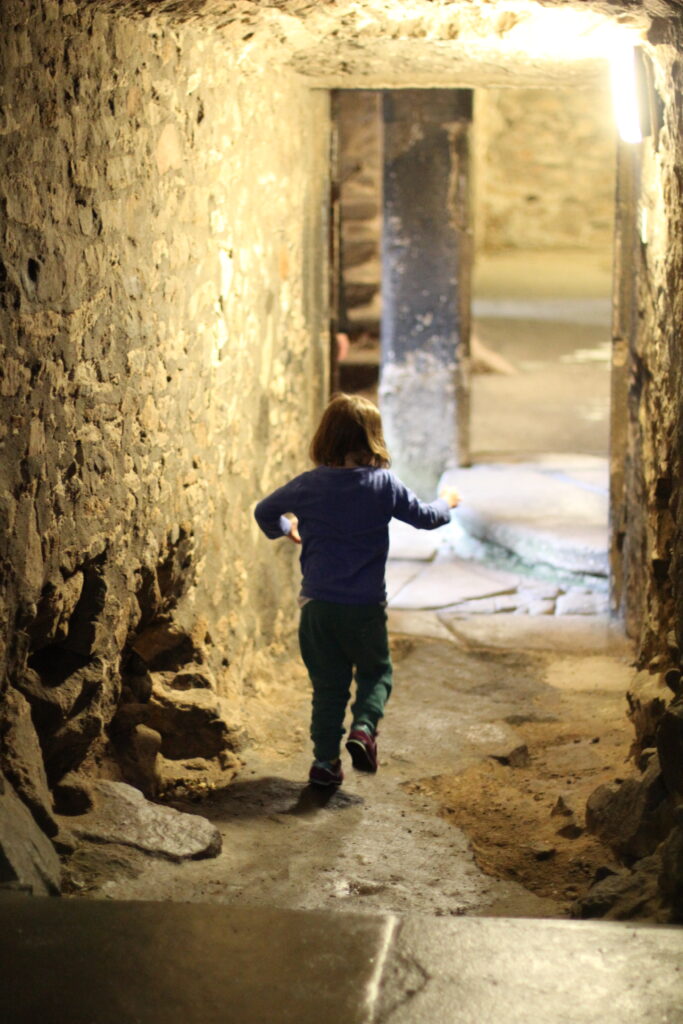 In retrospect, I could have been a lot more organised. We have a wonderful friend who always turns up to such events with a sneaky stash of hot drinks and home-made snacks. Whilst I always appreciate this,  I never quite manage to mimic it. If I had produced a flask of hot chocolate alongside a stash of scones? It would've been cool… but also throughly unlikely. I can but endeavour to do it another time!
Craigmillar castle is owned by Historic Scotland – we're maintaining our membership this year, which allows us "free" entry to the property. Guest prices and opening times can be found on the Historic Scotland website, along with a little bit more information about Craigmillar castle itself.