#Gifted – I first became interested in Interiors as a teenager and decorated my own bedroom with the most horrific scheme imaginable. I would seriously advise against a combination of purple and blue walls over wood chip. But as the years have passed, I've developed a deep love for colour cards, sample books, and of course – furniture design.
So it's entirely understandable that the idea of getting to spend an ENTIRE DAY learning more about Interior Design was seriously an offer I wasn't going to turn down. We're lucky enough to have Aleksandra writing for Edinburgh with Kids – but I really was keen to learn more from her.
Alek is an Interior Designer based in Edinburgh, and after graduating from Glasgow Design College she set up Skela Studio. With a background in Retail Styling and Visual Merchandising this was obviously a great direction for her. But she now also shares her expertise through Design Workshops for Interiors junkies like me!
Meeting on Saturday morning at Out of the Blue Drill Hall, I found myself as one of a class of eight. To start, we shared a little about each of us and why were there. I loved that we were all in totally different places – some with a lot of experience and some with next to none. I learned as the day went on, this really didn't matter as Alek helped us each to achieve our own goals.
Over a large mug of coffee, we began by considering our personal design briefs. I knew that I wanted to focus on our Master Bedroom as it's a room I've struggled to get 'right'. Lack of storage has been a perennial problem, it's always felt a little cluttered, and no matter what I've tried – really not that relaxing.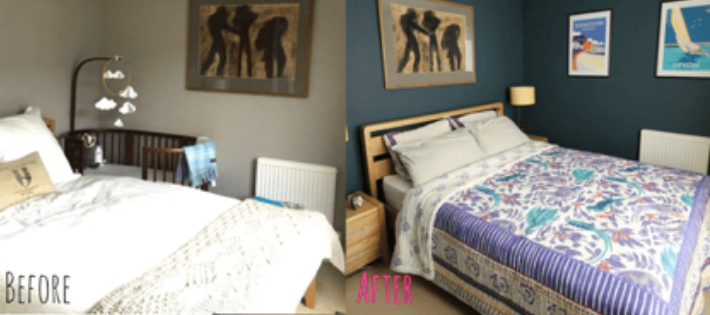 Although there were a LOT of useful components to the day there was a few things I found super helpful. Firstly, we spent quite a lot of time understanding what different styles actually looked like. I had always described my home as 'scandi boho' but I came to realise that in lots of ways it was really more industrial. This realisation helped me identify WHY things weren't working in a few rooms and really helped me go in the right direction.
The other thing I really enjoy was creating a mood board – but not actually looking for specific furniture or fittings etc. More just trying to get what 'feel' I really wanted. We learned a lot about colour schemes and the theory behind them. I realised that one of the reasons I wasn't happy with our master bedroom was because of the amount of contrasting colours. It just wasn't that chilled out! Creating a mood board really helped me work out that I really wanted a much more monochromatic approach.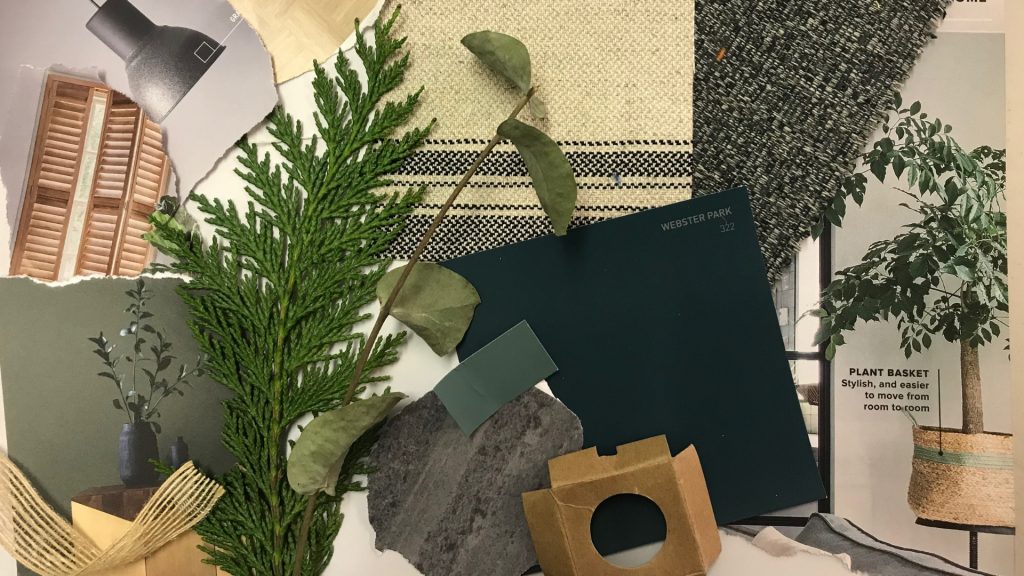 Finally, I really enjoyed learning different ways of drawing my designs. I had been in the habit of getting lost in Pinterest or in an Interiors blog and just trying to mimic someone else. Of course, this ends up being frustrating as my home isn't the same – what works for them isn't always going to work for me! Spending time looking at the space we have and how I could use it was just an absolute novelty for me.
Aside from really enjoying my day, I came home equipped with a plan and we ended up ripping out cupboards the very next day. Although the master bedroom is currently very much in that 'shabby chic' phase – I feel for the first time in a long time, that our house is working with us. I know what I'm doing and how to tie it together.
My final conclusion is that Alek really is a interior design genius and I am very happy that she is writing for the blog! You can check out her latest post here!