Anyone who knows me well will be aware that I'm a little fussy about what we have in our house. I'm not a massive fan of things that are plastic or garish, and I positively loathe anything emblazoned with cartoon characters. Having kids, with a relentless love of thing like Paw Patrol can therefore be pretty tricky. You can therefore appreciate my joy at receiving a beautiful set of High Chair Cushions from Messy Me to review – not only are they practical but they look good too!
---
The High Chair Cushions
Upon receiving the cushions, I immediately went about attaching it to our Tripp Trapp High Chair. We previously had a branded fabric version which after several cycles round the washing machine had seen better days. Even with Thomas' help this was a very simple process and just involved velcro for the back piece and buckles for the bottom.
The buckles could easily be adjustable although I did 're-thread' them as I could adjust the tightness of the seat without first unclipping it. Thomas was intrigued to see the clips but thankfully did not start undoing them.
We don't usually use the full 'baby-set' as Thomas is happy to sit in a normal chair now. However once I brought it out to see how it would fit, he of course insisted that it stayed on. I was really impressed how well the cushions fit round the fittings of the high chair, but that they were equally good when the chair was switched up for older kids.
The cushions themselves are nicely padded and the fabric itself is beautifully soft. Although obviously it's Oil Cloth, it doesn't feel like plastic and Thomas was very keen to road test it.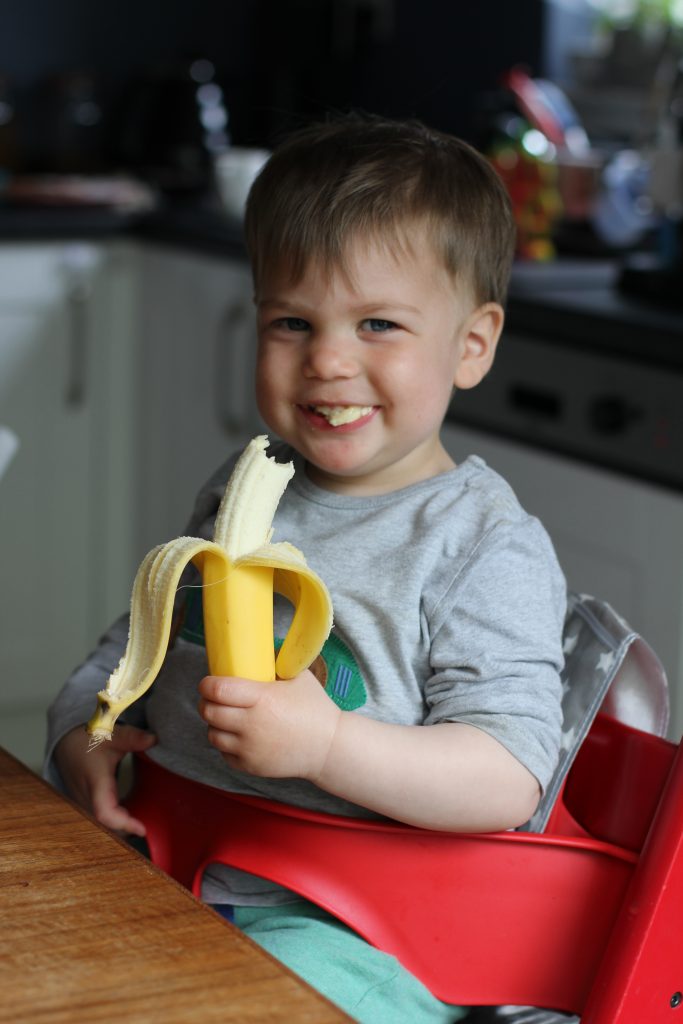 Fabric
We have an Oil Cloth tablecloth which often adorns our kitchen table so I'm aware that it can stain. But I would say that from experience that happens when spills are not dealt with quickly. Obviously, I haven't used the seat cushions over the same amount of time but thus far – it's wiped clean really easily and accordingly hasn't marked.
They first night we had it was curry night -which usually would result in the seat cushions going in the wash. It was a nice change to just wipe them down ready for the morning!
Colours
The High Chair Cushions come in a choice of seven different colours and I have to say it was a pretty tough choice. Obviously it isn't a traditional 'boy' option but I was really taken with the Vintage Floral, but actually really liked all the Star fabrics too.
Our kitchen is Juniper Ash by Little Greene – a dark blue – and our Tripp Trapp is red so I thought the Grey Stars would look the nicest. It's definitely improved the look of the chair and has actually made it a nice bit of furniture again.
I was on the point of ditching the cushions entirely as they were so worn looking. But I had always resisted because I felt it was nicer for Thomas to have something softer to sit on. It's been really nice to re-vamp the chair and still have a comfy boy!
---
Overall, if you've got a Tripp Trapp I would totally recommend these. The cool thing about the Tripp Trapp and these cushions is that they adapt with the child – so I'm planning on still using my Tripp Trapps until the kids are more adult sized. It doesn't feel like a waste to buy a new accessory because obviously they can potentially be used for years.
Messy Me, is a a family owned business, based in Farnham. Founded by a mum-of-three, Helen Hibberd, it's quickly made a mark on the market by attracting an array of awards. As always, it's great to support a local UK business, which in turn has sought to keep production in the UK wherever possible. It's even easier to support local businesses when they produce great quality products that are attractive too!
PS. I was very kindly sent the High Chair free of charge for the purpose of this review, however all opinions are my own and I'd still be a fan even if I'd paid for it.