Edinburgh has seen an explosion of eco food shopping options in the past few months with most sides of the city now catered for by a bring-your-own-container type packaging-free grocery shop. This is undoubtedly a good news story, despite it having been borne out of the bad news that our planet is trashed. I have been carrying a canvas bag for groceries since university and have written at length about how much I love my reusable coffee cup but that just isn't going to be enough.
It is now easier than ever to create sustainable shopping habits in Edinburgh and the city should be proud to be leading the charge on zero waste food shops. Here is a quick run down of the newest additions to this growing market:
The one with big ambitions
The first of Edinburgh's new breed of eco shops, The Eco Larder, crowdfunded its way on to the scene, and on to Morrison Street, in November 2018 to much fanfare about the novelty of the zero waste concept.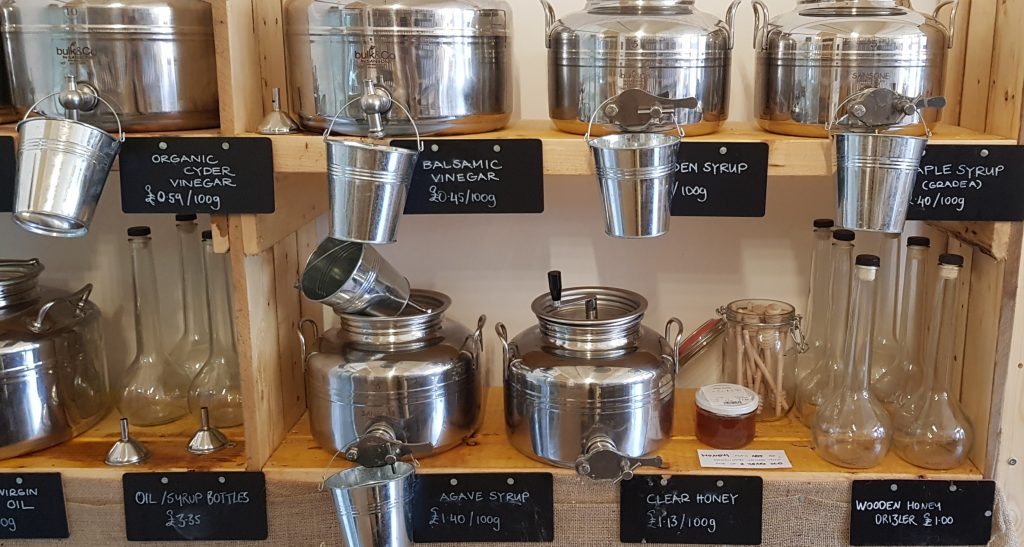 What I love most about The Eco Larder is the diversity of its offering. The shop stocks the usual sorts of dry goods and spices alongside fresh oj, nut butter, bread, oils, vinegar, coffee, vegan raw cakes, Dash water in cans, as well as other sorts of zero waste hygiene and household goods – from menstrual cups to beeswax wraps – but founders Stephanie and Matt are really trying to have an impact beyond purely selling waste free products. Their monthly beach cleans, eco brick and craft club initiatives are examples of this and their ambition to achieve real change is evident in the Plastic Free Edinburgh Badge program which aims to create waste accountability for companies. The shop is also staffed by a small army of volunteers and it's clear that bringing like-minded people together in this environment has the potential to build a powerful community, collectively seeking change.
The one to watch
The Refillery is Newington's newest plastic free grocery store with an array of produce largely similar to The Eco Larder, and also some BPA-free packaged foodstuffs. But owner Kelly Wright is not stopping there; she has plans to develop the shop to include a new coffee and tea bar and deli. All eco-friendly, Fairtrade and plastic-free of course.
I was utterly convinced of Kelly's commitment to the shop's eco credentials when she started talking about sustainability in the supply chain and the lengths that she has gone to to ensure that every item on the shelves has been ethically and sustainably sourced. Creative solutions have resulted in zero waste deliveries, as far as that is possible, with the focus on re-using any packaging that it required. It is testament to Kelly's passion for plastic-free shopping that The Refillery already has a loyal customer base of all ages and from all walks of life after only seven weeks of trading. Extremely friendly and knowledgeable, I can see why people are persuaded to return after having met Kelly.

Although it's the wrong side of town for me I still can't wait to pop in again when the new coffee and tea bar opens up. Watch this space...
The rustic one
The last stop on my eco shop tour was Weigh To Go on Leith Walk. The new kid on the block at only a few weeks old, this shop is fabulously rustic with it's fixtures and fittings having been re-used, upcycled and sourced locally wherever possible. The shop's soundtrack was the best of the bunch and the vibe was laid-back. The selection of goods is slightly smaller than the other two refill stores but all the basics are there, as well as some things that are not basic at all and sound delicious – fig balsamic, anyone? Weigh To Go also offers milks in glass bottles (you can bring them back to have them refilled) and was the only shop to have a selection of "karma containers" which are free to use by anyone who's come along empty handed instead of with empty containers.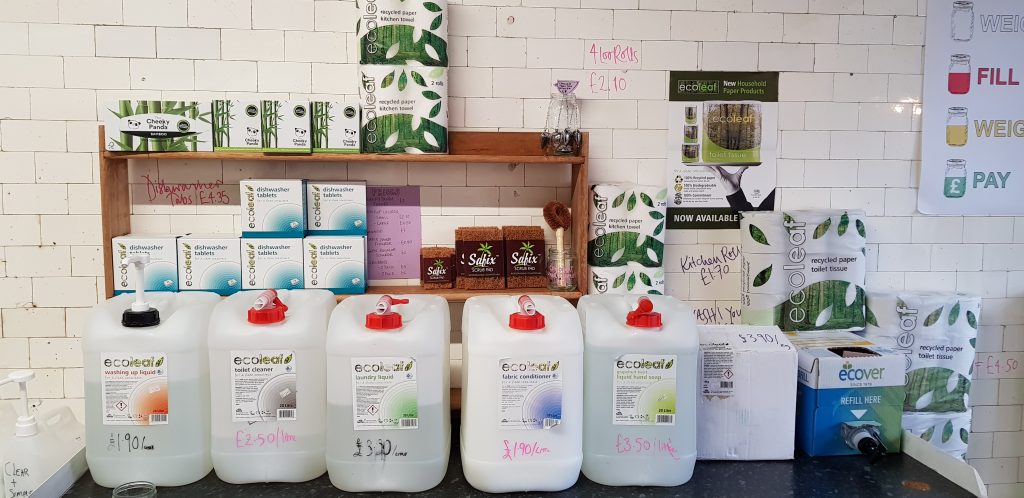 Weigh To Go wants to "look back to a time before single use plastics and use those methods to protect the planet for the future." I heard a similar message at The Refillery where older customers are apparently nostalgic for the days when loading up with loose goods was the norm. These shops are trying to make it the norm once more.
The others…
The New Leaf Co-op on Argyle Street has had Marchmont covered for low-to-no waste packaged wholefoods for a while, having revitalised an existing wholefoods store on the site in 2012. The front of the shop has a wide selection of organic and fresh produce, including nut butter ground on site, and the back room houses the majority of the dry foods, including a vast array of spices.
The Hearty Squirrel Food Cooperative is Edinburgh University's student food co-op, operating out of the basement of a lecture theatre on Thursdays. The volunteer run program strives to provide healthy, local, ethical, organic and Fairtrade food to students and staff and packaging is minimal.
Food sharing at The Shrub Swap and Re-use Hub on Bread Street is a slightly different concept to the zero packaging revolution that we are currently seeing but it is an important part of the battle against waste in general and food waste in particular. The good work being done here could fill a whole blog (and we might well come back to this in future) but it is worth mentioning at least in passing as part of this post.