He has always just been my friends brother; sometimes, the son of the most wonderful vet, with the kindest words to say, when my first cat got run over. But mostly, one of my oldest friend's, brother. I've watched Ben's television appearances occasionally and listened to my husbands envy as he hears of another adventure Ben is undertaking.
Fast forward to the heatwave in London last summer and I'm having dinner with his sister, an overdue catch up with a junior school friend. 'If Ben's tour comes to Edinburgh, it's worth seeing…..it's really good. And the boys would love it.' High praise from his younger sister.
Then in September, I'm in the Edinburgh Bookshop with my youngest son Walter, aged seven, encouraging him to buy some fiction with his birthday book vouchers. He immediately picks out Mr Dog and the Seal Deal by Ben Fogle, Walter is a huge animal fan and the seal image on the cover was an immediate winner. Walter takes it home and reads it himself over a few evenings. 'Mum it's a brilliant book. An adventurous story, and it was really really like you were in a film. Films can make you feel like you're there and make you feel different emotions. And it's hard to do that in a book but Ben Fogle can!' More high praise from my brutally honest seven-year-old.
It was inevitable that I would go to Ben's Tale of the Wilderness Tour at the King's Theatre and I also took my husband and my 11 year old son, Conrad.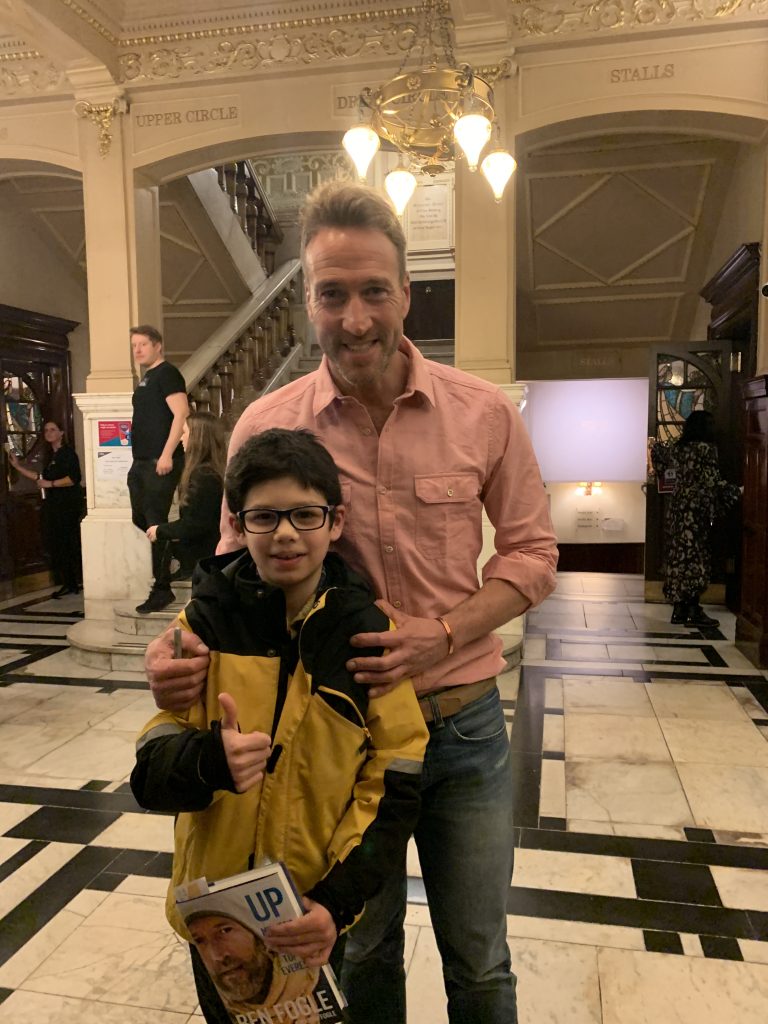 Ben's story that evening started with a metaphor of a broken vase or teapot which relates to his school life and never achieving the goals or grades he wanted. He explains 'It's easier to break something than to fix it' and his adventures have a become a way of proving to himself he can achieve anything he puts his mind to. He takes the audience on a journey through his life to date. Beginning with school (including his N for Geography A level), going travelling and then onto becoming one of the thirty-six chosen to be on the first ever reality show that the BBC undertook with Castaway in 2000. He reminded us it was more an experiment than a reality show with no phones or way of communicating with the outside world from Taransay, where they lived for a year. He shared some examples of the luxury items fellow 'contestants' took like a home brewing kit and a double mattress as well as his beautiful black Labrador, Inca, that joined him. On to television presenting, the Marathon de Sables, rowing across the Atlantic with James Cracknell and their South Pole trek across Antarctica. Ben talks of their plans of completing the Tour Divide and how they were thwarted when Cracknell had a life-threatening accident. Cracknell's recovery and their reunion on their third adventure together through the Arabian desert with camels is followed by illuminating tales of Ben's research mission swimming with crocodiles.
Ben opens his heart by sharing details of the stillbirth of his son Willem and how his mantra changed soon after the devastating experience. He lives now by adding life to his days, rather than days to his life, which is where the dream of climbing Everest started to become a reality. He dispels myths along the way, invites the audience to share some of his secrets and is honest about his strengths, weakness' and triumphs.
It's clear where Ben has drawn inspiration from for his children's books Mr Dog and a Hedge called Hog, Mr Dog and the Seal Deal, Mr Dog and the Rabbit Habit and Mr Dog and the Faraway Fox.
The evening felt more like a string of tales rather than a verbal autobiography. Every now again you would be reminded that the stories of these adventures are Ben's lived experiences. A story of resilience and dreams and how anything is possible if you want it enough and put the effort in. Ben is a true storyteller with wonder filled stories to recount. He's gone from being a friend's brother to an inspirational role model for my three boys.
In Conrad's words 'I didn't know what to expect as I hadn't been told very much about it. They were some of the best stories I've ever heard and as I was listening I was always trying to guess what happened next. Ben's life story so far is amazing and very inspirational. I loved it!'
Ben wrote a letter to his children before he left for Everest. A letter they thankfully never had to open and read. He shares this at the beginning of the talk and if there's one thing I hope Conrad took away from the evening it is his first sentence 'Life's about the journey not the destination.' A reminder to us all to aim high, reach upwards and climb our Everest's, whatever they may be.
All of Ben's books are available on his website as well as further tour dates around the UK: www.benfogle.com
And if you are on Instagram, Ben has been sharing his adventures through Instagram Live most recently. Aimed at children I guarantee adults will enjoy them too!