Mandala is the sanskrit for circle and can be interpreted as a representation of the universe. This week in my children and teen yoga classes I linked the word mandala to our creativity, connectedness, wholeness, complete breath and being together practicing yoga.
I often included an activity whether it is a game or (as one of my students calls it) Caroline's Craft Club. A focused activity, where the mind does not wander, is a children's version of meditation. When I did my foundation course, in teaching children meditation with Lorraine Murray of Connected Kids, she described a child's focus when creating something out of lego as a form of meditation. The focus and intent concentration means they are often unaware of anything that is happening around them. This is similar to an adult meditating, closing down the senses to reveal an undisturbed mind.
You may have come across mandala colouring books for adults or children. Colouring in, is another example of a focused activity for children that becomes a meditation for them. The Staedtler website has a Mandala Creator which children can use to create their own mandala to print out and colour in. A simple yet lovely way to while away an hour.
The creative and emotional parts of the brain are closely related. Connecting a creative activity with movement can help children to become more attuned with how they feel and how their bodies react.
With this in mind, and the mandala theme for yoga this week, I encouraged the children to create mandalas using items from nature; things we had found on the ground. At this time of year there is an abundance of leaves in a variety of colours, conkers and twigs. Just collecting things in a bag round your local area will generate enough items to create a simple mandala. We created them on trays and them took photos and gave the items back to nature.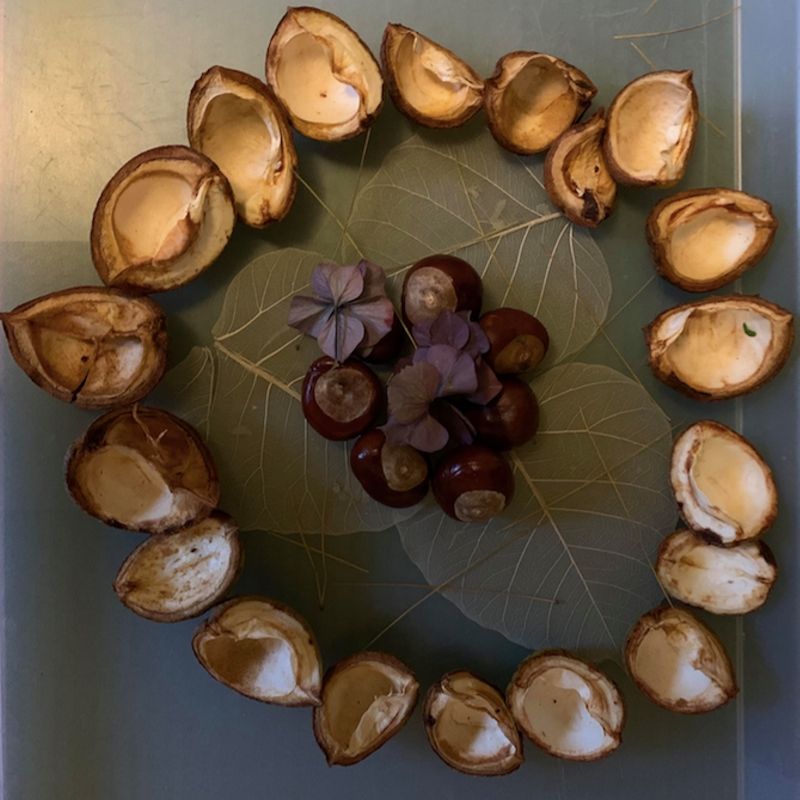 For a meditative Autumn walk with children, I can highly recommend some cardboard and carpet tape to create a picture from nature. Carpet tape is double sided and very strong, easy to find in hardware stores and can hold small pebbles, stones or conkers. Stick the carpet tape to a piece of cardboard and once you arrive at the start of your walk take the backing off to reveal a sticky surface children can stick things too. As they find items they like, they can stick them down to create a picture or a memento from the walk.