I've been trying my best to develop a capsule wardrobe for about five years now. I find it helps to simplify life and really like having a wardrobe that is manageable to keep track of. I've written about season capsules a few times here on the blog so enjoy looking back to see how my style has slowly developed.
I've always been slightly bemused that these posts have return visitors to them as I wouldn't really consider myself to be particularly stylish – let alone a queen of fashion! But I enjoy maintaining a capsule wardrobe for a number of reasons:
a) They're sustainable: In the UK, it is estimated that £140 million, roughly 350,000 tonnes of used but wearable clothing, makes its way to landfill every year, while 700,000 tonnes are sent to recycling facilities. Some of the items in my wardrobe have remained there since at least 2008 and looking back – it hasn't changed a huge amount since 2018.
b) It's more cost effective: I try to only shop seasonally and very rare impulsively. I definitely hit a snag teaching towards the end of the summer term as I really don't own many 'work appropriate' options for when it's warmer. However, I ended up up just pairing simple tees with smart trousers and just tucked them in which didn't attract any complaints about dress code!
c) It requires a lot less thought: by keeping to a limited colour palette everything just 'goes'. When I owned more options I found myself reaching for the same things on a daily basis anyway – so now I just ensure that option is a good enough quality that it can stand up to frequent washing and wear!
I haven't ever put together a 'year round' capsule post before, so found it interesting to see how many pieces I actually do own! My Winter Capsule of 2018 had 31 items, whereas my Sumer Capsule in 2017 only had 23 items – this kind of makes sense given the need for layers in Edinburgh – but I'm also not sure I really included EVERYTHING I was wearing. Whilst this stands at a whopping 52 pieces – I'm okay with that given it includes coats, bags, shoes and even gloves.
The biggest change has come as a result of working from home – I still had to dress smartly for online lessons but I've found that I have a more versatile wardrobe that before. It's not so divided in terms of work/home and aside from a formal suit – I'd wear everything happily whether at work or not!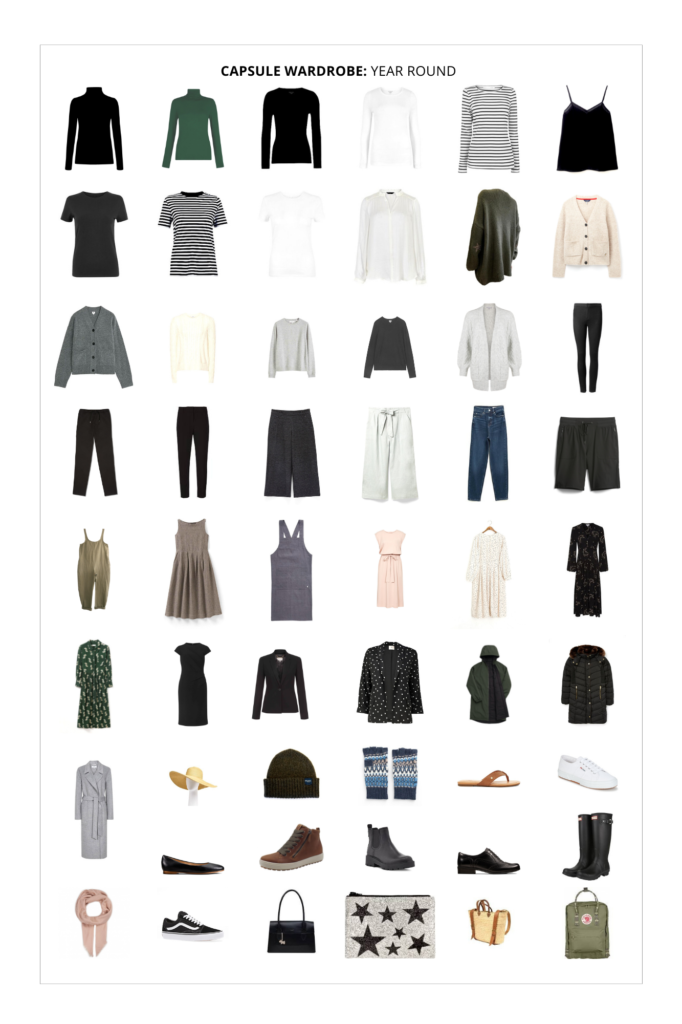 Tops
Roll necks – I love the Mischa Roll Neck from Hobbs partly because of it's versatility – it's easy to layer whilst equally smart enough to wear alone – but also because it's unbelievably soft. I have in black and green – and replaced my green one as soon as it wore out!
Long Sleeve Tee – I'm not sure I really rate Boden for longevity but I do love their tees. Again, easy to layer with other items and as the description goes – 'Supersoft.' I have this in three versions – worn in rotation from Autumn-Spring!
Silk camisole – admittedly this doesn't get a huge amount of wear – but I like to keep it around for the rare dinner out that I fancy feeling a bit more feminine.
Straight fit tee – I used to favour tighter fit tees but definitely finding the 'Mum Tum' harder to control with passing years, and feel that these are slightly more forgivable. Surprised to find myself opting for M&S for anything but socks – but feel they're doing basics rather well at the moment. Again, I have three colour-ways and would add the sleeveless version if I thought summer actually had a chance of being hot!
Ruffleneck blouse (similar) – after years of wearing button down Oxford Shirts, I've ventured out into a silkier option with a ruffle neck. I think lockdown allowed me to just go for what I was drawn too, rather than seeing what other people were wearing and feel much more comfortable in myself as a result.
Khaki chunky oversized cardigan – I bought this in a small Edinburgh boutique – Rosy Penguin – back in 2017 or 2018. It has sequinned stars on the elbows as an added detail and gets lots of wear as an extra layer through the winter!
Oatmeal V Neck Cardigan – I wear this at least once a week, and often find myself wearing it round the house as an extra layer in the evening. Beautifully soft and a colour that just seems to go with everything!
Alpaca & Merino Cardigan – it appears like Arket have stopped (or at least paused) making this in grey but I'd happily buy in another colour way. I often wear this to work, or equally grab as a layer with a more casual outfit too.
White cable knit jumper – another Rosy Penguin purchase from 2018. It's maybe looking a little bit worn and I inevitably tip coffee down it within 5 minutes of putting it on – but it's still a fav!
Grey crew neck – I got this one from Joules but can't find a similar. It's a wool knit rather than cashmere, and a little bit swingy rather than fitted. Another one that looks fine for work but equally can be added to shorts if it gets chilly!
Cashmere crew neck – I used to have this jumper in both charcoal and dark green, but after an unfortunate washing machine shrinkage – I now just have it in charcoal. Still wish I had opted for a marginally bigger size for a more relaxed fit but will keep an eye out for what colours are on offer come Autumn/Winter.
Grey cable knit oversized cardigan – this is a thinner knit than my other cardigan so it tends to be the one I grab on a summer evening when it's colder. I bought it off a friend 12 years ago and still looks perfectly fine.
Bottoms
Skinny jeans – I've been wearing these less lately, partly because they're not actually that comfortable but also because I read some post effectively entitled how can you tell if someone is over 40… top of that list? Skinny jeans. Spoiler: I'm not over 40 and didn't particularly enjoy the post!
Adventure trousers – these are one of my most recent purchases and I have the shorts too! They are designed for cycling – so water resistant with a reflective pocket that can be tucked away – but equally smart enough for work or walking about the city. They have some technology that means they don't have to be washed as often, adding to the eco credentials – but I think they're wonderful regardless of that!
Richmond 7/8 trousers – these are a stable by Boden and my favourite work trousers as they have a little bit of stretch. I find that they are as comfy at the end of the day, as they are at the beginning – so winning in my book!
Sailor Jersey Culottes – I've been trying to find a wool mix version of these for a long time now but picked these up in the sale last Autumn. I'm hoping that they will wear well and not bobble/fade as I really like them. A little bit of stretch and only downside is the lack of pockets!
Linen culottes – another White Stuff purchase but got these Summer '20. I'm not a massive fan of the tie waist so generally just tuck this in. I'm not sure how long they'll stay in my wardrobe as I really wanted the 'Breath Easy' trousers from Nadinoo but opted for these as the budget friendly option. In reality, I'm not sure it was budget friendly as I've not worn them anywhere near as much as my other Nadinoo items!
Mom High Waisted Jeans – In reality these are a much more comfortable option – but my ankles do get cold in winter!
Adventure shorts – the shorter version of the trousers mentioned above! Also wonderful!
Stalf Jumpsuit – I had wanted a Stalf Jumpsuit forever but they hadn't produced a colour that fitted my capsule and for some reason have stopped producing black ones! Crocodile green is obviously perfect for me, but if I were to ever invest in another pair I'd get it a little longer in the body as it can feel a tiny bit tight when I'm lounging!
Dresses
Linen gingham dress – I call this my 'wafting' dress and bought it specifically in lockdown for just that. I couldn't go out, was fed up of existing in my PJS, so just wafted about whilst imagining I was somewhere else! Nadinoo don't seem to do this style anymore so I'm even happier I made the investment. I wore through Autumn layered with a long sleeve tee but it didn't get much of a look out in Winter.
Pinafore – again, not a style that Nadinoo seem to do anymore but actually wonderful. I feel like I should be on the great pottery throw down in this – huge pockets, can be tied loosely if I feel like it, and can be layered if necessary or wore by itself with a sports bra.
Knee-length blush dress – another Rosy Penguin purchase from 2018 originally bought for a night out where I was feeling a little lost! The owner – Judith – is a trained stylish and wonderful at pulling together outfits from her collection. This has been worn to countless events since and filled a gap in my summer wardrobe for work. Always paired with my spotty blazer!
Beige spotted dress – another recent purchase for Spring '21 but another I'm delighted with and have worn weekly since purchasing. Olive don't do sizes so you do have to work out if something will fit but I love that this is lose and adjustable with a waist tie so I know can remain in my wardrobe whether I gain or lose a few pounds!
Abstract Star Ghost dress – in reality, I own a plain black dress a little like this one – but since I've been coveting this particular dress since last Christmas I'm including it. I check weekly to see if it's included in a sale… currently living in hope.
Toast Fan Print Dress – another dress I had coveted, thought I had found on eBay (got outbid), and then happily saw a notification it WAS in a sale! It happily coincided with earning some extra money through some free lance writing – so I treated myself. Think it'll work equally well with trainers or for a smarter event!
Hobbs two piece suit – there was a time I felt I should wear a suit to work daily, I very much hope not to return to those days but still feel this is a 'must-have' item for parents evening, interviews etc. Only challenge is staying small enough to fit into it as the dresses really aren't forgiving!
Jackets and Coats
Oversized spotty blazer – I adore my oversized blazer from Rosy Penguin and really wish it was replaceable with an identical (but new) option. It goes beautifully over dresses but equally works paired with my Richmond trousers or jeans.
Turning tides Coat – this is probably the most complimented item I own. It's long enough to cover a knee length dress, reversible, smart but casual… all kinds of wonder so of course, they don't seem to make one like it anymore. Patterns really are overrated! If I win the lottery then I'll be buying a Meander Coat to replace it when it wears out!
Joules Winter Coat – pretty standard for a Scottish winter… knee length, like wearing a sleeping bag, huge hood with soft lining, copes with rain!! Can't really go without from November to March!
Grey maxi coat – this was a bit of a gamble last winter but one I'm glad I made. I had been wearing an old Hugo Boss coat my parents bought for me when I was about 19 – I don't think I'll ever part with it but it's definitely more on the worn side! This one (similar here) isn't lined, and still feels a little like wearing a dressing gown but for teaching through winter – with the windows and doors open (thanks COVID) – it's really been a treat!
Accessories
Straw hat – after a few friends have had treatment relating to sun damage, I'm much more conscious than I've ever been before about the sun. So oversized straw hat it is… along with factor 50 moisturiser!
Meander lambs wool beanie – another recent purchase after I misplaced my large bobble hat. I've somehow found myself wild swimming and warming up afterwards is a must!
Fingerless gloves – another purchase to cope with a winter of teaching with open windows/doors.
Oversized pink scarf – a Rosy Penguin from 2017 or 18? Perfect as an extra layer or even as a lap blanket!
Radley laptop bag – this was a gift from an ex – so 2008 ish… it's definitely seen better days and I'd like to find someone who can sew up the leather where it's coming apart as it's still a great bag!
Straw basket backpack – admittedly, this is not particularly comfortable but after seeing it on Bon Tot's feed back in 2019 I couldn't resist grabbing my own. Useful for fitting a lot in and for feeling like I'm in a hot country.
Fjallraven backpack – kind of grubby, definitely seen better days… but still useful!
Shoes
Leather flip flops – so it turns out that Uggs do much more than ugly boots. Love these sandals that are into their 5th summer.
Supergra – if I were replacing these I think I'd opt for Vegan trainers by Veja as a more ethical option. But these are still in great nick (I opted for the leather options so as not to get soggy feet – I live in Scotland) and they've worn really well thus far!
Black flats – a must for work that really have seen better days! Need to replace before the start of term, so please do share any comfortable/ethical options out there!
Ecco boots – I bought these in 2019 to replace some very worn out Uggs. Still furry on the inside but just look a bit smarter! Definitely one for the casual side of things rather than work though.
Chelsea boots – so these are by Uggs too and soft inside – but look like a traditional Chelsea boot. I think I bought these back in 2018 and have worn with a wide array of outfits.
Black brogues – I bought these to replace a brown pair as I felt they went with the rest of my wardrobe. I haven't worn as much as I thought through sheer laziness – I have to undo the laces to get them on whereas my black flats are easy to slip on running out the door!
Hunter wellies – these are from about 2009 as well – a little on the small side (after my feet grew thanks for pregnancy) but still useful for wading through the occasional Edinburgh monsoon!
Vans Classics – these were a surprise Christmas present from Mike and remind me of being a teenager. They're incredibly comfortable and go with most things in my casual wardrobe! Happy days!
So I think that's about it – I hope it's given you an idea of how a capsule wardrobe could work for you. I have all of these items to hand in my wardrobe rather than packing away any seasons as Edinburgh can be so changeable. There's definitely some additions I'd like to make – this jacket would be ace for cycling and some of the sudden downpours we've been having – but I'm working hard on not being so impulsive and will see if I feel the same in a month or two!
Obviously, I haven't included sports kit or lounge wear but let me know by commenting below if you'd like to see a post on any of those aspects!