I think the majority of people actually have capsule wardrobes whether they are aware of it or not. How often do you find yourself reaching for the same item of clothing each day? Surely we all have favourites that are worn as soon as they're clean again?! In short, I think it's a safe bet to say that most people have a finite number of clothes they actually wear.
As the summer holidays arrived, I found myself once again confronted with a wardrobe that was best described as chaos. My 'work' clothes were at the forefront and drawers were bursting with clothes that didn't fit, had seen better days, or were just the completely wrong season. And of course – I've just been wearing the same things in rotation anyway.
It was time for a refresh – and for many things to head to the recycling!
Back in the Spring – I explored different ideas for updating your wardrobe for Spring/Summer 2017. My personal problem has been that I just haven't really had time to hit the shops. I was also aware that I probably actually owned a few things I had forgotten about and just needed to dig a bit…
After a few hours of sorting, I have a very short wish list and a workable capsule for the summer.
---
Wardrobe Organisation
I follow the rule that my capsule is the number of items that works for ME. I don't like to wear heels in the summer holidays, I'm generally just running round after the kids, and only have a couple of formal events this summer. This obviously means I don't need that many formal items.
I do however go to the gym three-four times a week. Therefore gym clothes and trainers are remaining in abundance and I simply don't count them as part of my capsule. The same goes for 'lounge' clothes – as well as sweatshirts – sometimes you just need something to throw on to run after the kids.
My main wardrobe however does have thought and structure behind it. Largely so I don't actually have to think much in the morning. Particularly before consuming coffee.
I've retained my work clothes in my wardrobe largely so I don't have to think about work until the very last minute. I've simply just hung all of these to one side so I can pretend they're not there for the next six weeks or so!
There's also a few additional items in there that I've not yet decided about. They might stay out. They might not. That's the joy of doing a capsule my own way.
Capsules are also pretty tricky in Scotland with our weather. Today I was absolutely freezing in the morning but we've just finished eating dinner outside. The solution to this is of course, layering.
As a result, I'm still on the look out for a striped sweater and a long sleeve tee. I've spied a few denim jackets around but I just feel like I've got too much denim already. My leather jacket doesn't really seem right for summer either. In Edinburgh, it makes sense to opt for a raincoat as a layer though!
My Summer Capsule
Colour palette: Obviously, my wardrobe contains quite a lot of denim and I often migrate to monochrome for tops. But I've been conscious about trying to include a bit more colour. Many years ago now, as a birthday treat, some friend organised for me to 'get my colours done'. As a result, I'm aware I suit a variety of greens but rarely am organised enough to pull these to the forefront of my wardrobe.
But in total contrast, I sometimes think it's a shame to avoid colours you like simply because they're not in the little book. I'm really meant to wear a more vibrant pink but I really liked this shade. Life is definitely too short not to just wear what you want!
Tops: During the day it's MUCH easier to just wear tees in my book. They're easily to wash and easily layered. As an added bonus they're also comfortable. However, there's a couple of things over the next few weeks that I'd like to be a little more dressy for. We've got dinner plans with friends and we're planning to head back to the Jazz festival. As a result, I've moved a couple of blouses usually reserved for work which can easily be paired with skinnies and my flip flops.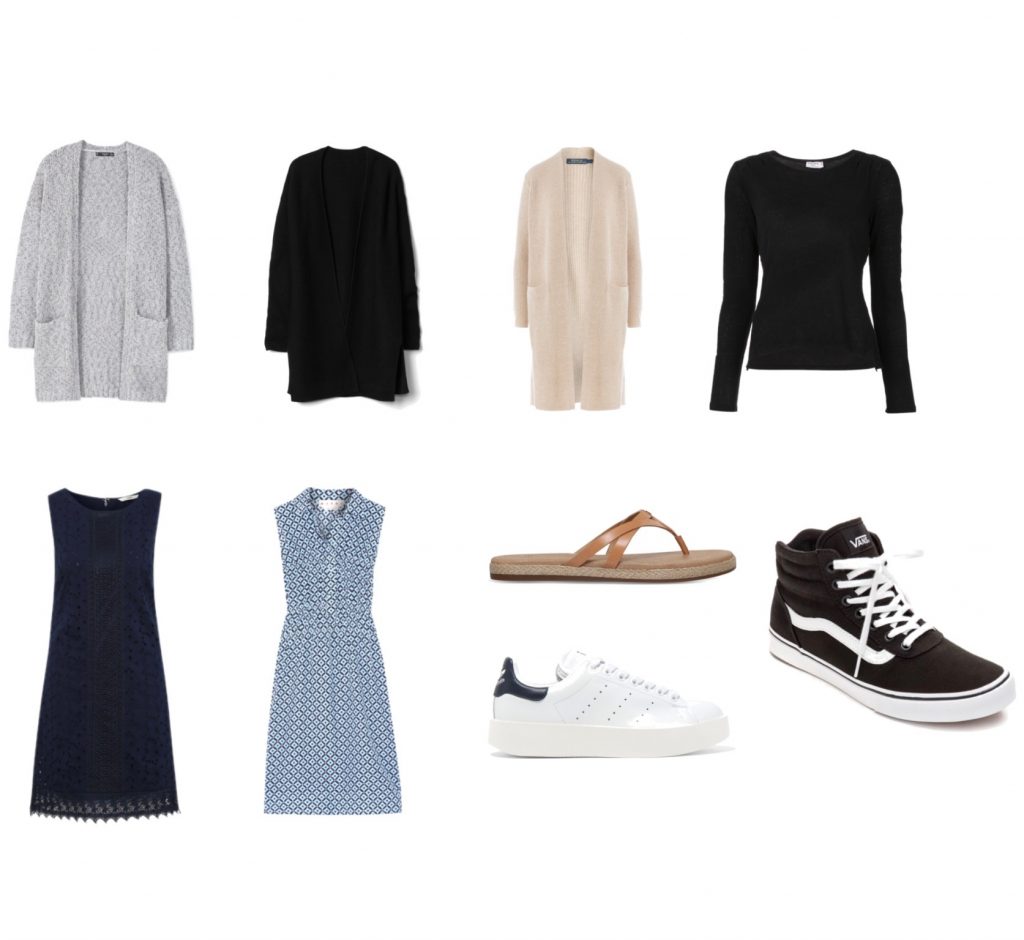 Outer layers: Summer doesn't really feel like the time for cardigans but Scotland really does get cold. I kind of figure that cardigans are easier enough to shove in a bag and can easily be dressed up or down.
Dresses: I would love to be someone who could wear dresses on a day-to-day basis but I can't seem to relax in them. I wear skirts and dresses to work the majority of the time so maybe that's the issue. The only event I plan to wear a dress is for a naming ceremony this summer. I'm still not 100% sure what I'm going to wear so I've kept a few options out. I may even experiment with wearing them for an 'ordinary' day and just seeing how I do!
Shoes: I feel like I shoe probably have more shoes here but I generally just own boots – and fur lined ones at that! My flip flops are leather rather than plastic so I wear them whether I'm aiming for formal or casual. If I had a bigger budget right now, I'd maybe opt for some clogs or slightly dressier flats – but I can't honestly say I'm that bothered.
Bottoms: Edinburgh is rarely warmer consistently, so I've largely kept in longer legs – the shorts are there in hope!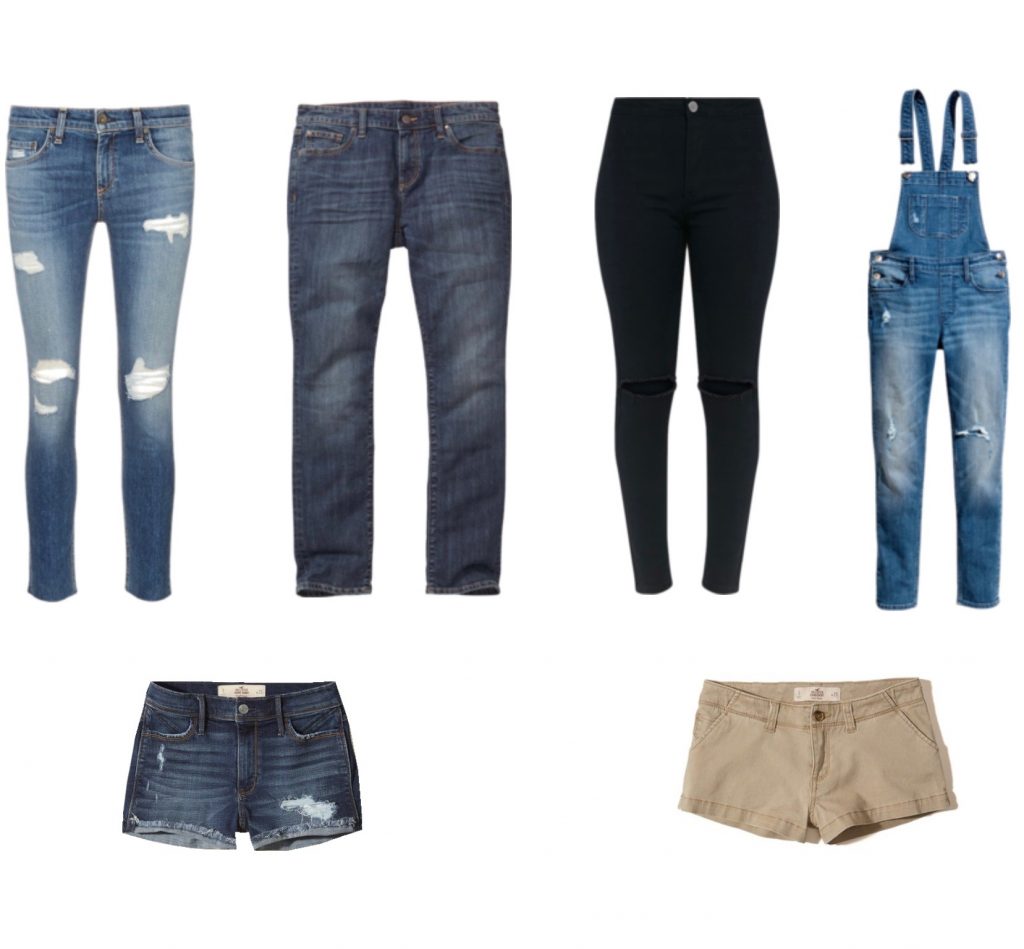 ---
This is probably the most reduced my wardrobe has ever been but I can't say I'm really that worried. I'm fully aware that I basically live in a rotation of jeans and gym wear as it is! Is there anything you'd add for this summer?
I'll try and include myself in my Instagram Stories a little more so you can see how I get on! If you're not yet following me then follow along here!