The term 'capsule wardrobe' is certainly not a new one. However, a quick Google will soon find a whole myriad of 'rules' and a vast variety of 'how to' guides. In my mind, there's no hard and fast way that capsule wardrobes have to be put together. Some people protest that when they expand to 30+ items, that they can hardly in considered capsule. But I reckon, that whatever works for you is best!
I don't have a huge space to store clothes, but equally live in a climate where it really wouldn't work to wear the same clothes all year round. For that reason, I like to keep the same basic wardrobe but to update it or rotate items seasonally.
Back in March, I put together my wardrobe for Spring which saw me through most of the Scottish summer too. I had to add in a few pairs of shorts for our holiday in America, but for the most part it has remained the same.
Obviously, the return to work necessitated that I also needed to address my formal wardrobe. I'm still about 4lbs above my 'normal' weight now but was well over a stone heavier upon my return. For that reason, a capsule wardrobe made more sense than ever; I didn't have the budget for vast variation but needed something that would fit well and be functional.
I do still like to adopt a more casual look on the weekends though; and actually changing my clothes is a good way to 'switch off' work mode. Therefore, for Autumn/Winter 16 I effectively have a capsule with two subsections. As I said before – my wardrobe, my rules!
Capsule wardrobe for 'work'
1-3. Hobbs suit
I love a good tailored suit but in teaching you really need clothes that are hard wearing and practical. In the past I've coveted more unique designs or fabrics; but in reality, adaptability has to win. Hobbs certainly isn't what I would deem 'affordable' fashion; however it does provide cost effectiveness in that it wears well and provides options that are machine washable. I have some beautiful LK Bennett suits (in a smaller size) but I found I didn't wear them often purely due to the cost of dry cleaning.
By buying a jacket that has a co-ordinating dress and skirt, I have so many more options available. I could go more informal by matching the dress with a cardigan; and I can of course match a variety of tops with the skirt that can vary through the seasons.
4. White shirt
I attribute a crisp white shirt for getting me a job to begin with so it makes sense to retain one in my wardrobe. On days where it's necessary to adopt a formal look, I find that you can't really go wrong with a well fitted shirt. I favour Thomas Pink for shirts but as long as it's clean and crisp – I wouldn't care too much about the label.
5. Sleeveless blouse
I have at least one day a week where I teach for several hours in a room with no windows and no fresh air. It's incredibly hard to regulate the heat in the room and find it can get unbearably hot sometimes. By having a top that can easily be layered with a jacket, I don't look like I'm heading to the beach and can adapt easily to the demands of the day.
6. Simple t-shirt
A t-shirt wouldn't be the first thing I would consider 'formal' but I don't think they should be ignored. By choosing a different fabric mix or by pairing it with a formal jacket, they can easily be 'dressed up'. Additionally they are comfortable and fulfil that all important rule of being easily washable.
7. LK Bennett heels
After suffering with years of blisters from cheap shoes, I finally realised that the shoes that had lasted me the longest were sadly the most expensive. I have a few pairs from LK Bennett and my gold flats are going into their 7th year of service. I decided that rather than buy two or three cheap pairs for a year, it made more sense to invest in a single pair. Whilst gossip papers may not be the most reliable, it's also said that the Duchess of Cambridge wears LK Bennett shoes. Given the time that she's on her feet – it follows that I'm not the only one to find them comfortable.
8. Duo flats
Edinburgh used to be home to a wonderful branch of Duo shoes. Sadly, it has now disappeared but the brand has emerged online rebranded as 'Ted and Muffy'. Whilst not the name I would've chosen, I would hope that there shoes continue to be of good quality. I've had two pairs of black patent flats from Duo over a span over about nine years; and on days where I just can't face the heels – these are my go to item.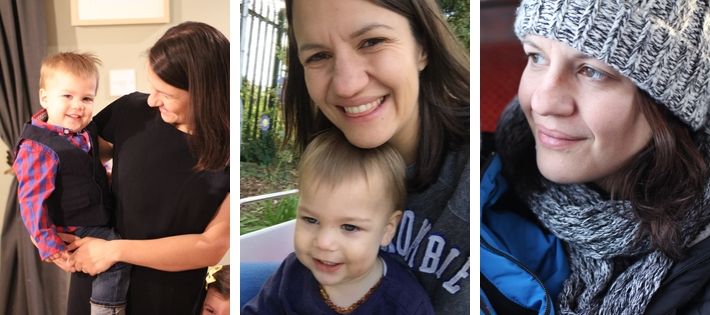 Capsule Wardrobe for casual wear
Last Autumn I posted about what I was wearing that week – true to the idea of capsule wardrobe – things haven't changed that much! However, I have admittedly been attracted to few things that are probably more of a passing trend…
Capsule wardrobe for 'play'
1. Dungarees
I am not convinced that these are the most flattering item but I think they have a number of advantages. They are incredibly comfortable and practical for running round after kids. As an added bonus for me, they are also great for breast feeding. I've had a lot of positive comments whilst wearing them and they can be paired with lots of items from my wardrobe.
2. Chunky cardigan
Layering is crucial for me when the weather begins to dip. I got a beautiful chunky knit from Hollister last year that looks as good as when I got it. The colour goes with a lot of different things in my wardrobe and feels autumnal to me.
3. Ponte leggings
These also featured in my Spring capsule wardrobe and are a rediscovered favourite. They didn't fit that well before but do now I've lost a bit of weight. They are thick enough to provide some warmth and the high waist helps to hide my mummy tummy. They're easy to pair with my boots and even my husband has commented they look nice.
4. Checked shirt
I had a myriad of shirts in my wardrobe whilst on maternity leave for good reason. They're easy to layer, wash well, and provide easy boob access for feeding. The brushed cotton ones I have are so soft I'm not about to part with them.
5. Slogan sweatshirt
I posted about Slogan sweatshirts last Spring and I actually have three in my wardrobe. I find that they're easy to throw on and great for running about with the kids. Katie has a similar one in Pink and after all, twinning is winning!
6. Striped top
I'm not sure how long I've had this top before it's pretty much a staple in Mum wardrobes. I think they're universally flattering and are obviously easy to throw on in a hurry. I pair mine with pretty much everything in my wardrobe.
7. Ripped jeans
I needed to buy new jeans after finding my maternity jeans were falling down but I didn't quite fit in my old ones. Fortunately I found a pair from Top Shop that had a nice amount of stretch but also a good high waist to pull everything in a bit. I also decided that although ripped jeans might feel a bit 'trendy'; I'm not ready to be overly sensible enough yet.
8. Chelsea boots
Another purchase from last year, my Ugg boots in disguise are still going strong. These are waterproof and look nice, but are lined in sheep skin and are soft like my Uggs of old. Rapidly becoming my favourite boot of all time.
9. Stan Smiths
Whilst not great for wet weather, these are so adaptable that they have to stay in my winter capsule wardrobe too. I can pair them with everything in my wardrobe and they wouldn't look silly. I've seen they do a slightly slimmed down version now which I would probably opt for next time, but only because I have giant feet after two pregnancies!
10. Padded jacket
Finally, I have a couple of Winter coats lurking in the cupboards but this one is sufficient for the moment. Bought from Hollister in the sale, it's incredibly toasted with the added bonus of having a hood that stays up. I'm glad I have a more weatherproof one for the really horrible weather: but on days when it's not too wet this one it great.
What are you main 'must have' items for Autumn/Winter? Do you have a capsule wardrobe or prefer to have a bit of everything? I'd love to know if you think I'm missing something crucial for the season ahead as I could always add it to my Christmas list!