For any budding witches, wizards, or even wannabe centaurs, Edinburgh is undoubtedly the place to live. Magic seems to ooze out of the streets in Old Town, and it's certainly not hard to imagine extra buildings suddenly appearing in the gaps! So when we were invited to sample a 'Wizarding Afternoon Tea' at The Cauldron, it seemed like the perfect treat for our little Harry Potter fans.
Walking down the stairs to The Cauldron, really feels like your headed down to a potions dungeon but rather than Professor Snape waiting to greet you – you're actually greeted by someone ready to fit you for your own wand (in our case this was an elf). The kids had a choice between wand core – each with a different attribute – and were warned they would be crucial for the tea ahead!
After having our temperatures taken, and have booking into the 'magical network' (aka WiFi) to record our arrival were were taken further into the depths of the building to our awaiting table. The Cauldron itself really is more like I would imagine a Tavern – low beams, low lighting, and an assortment of old paintings set at odd angles. A passage way to additional tables was lined with crates of potion bottles, whilst the bar area had various shields bearing different magical creatures.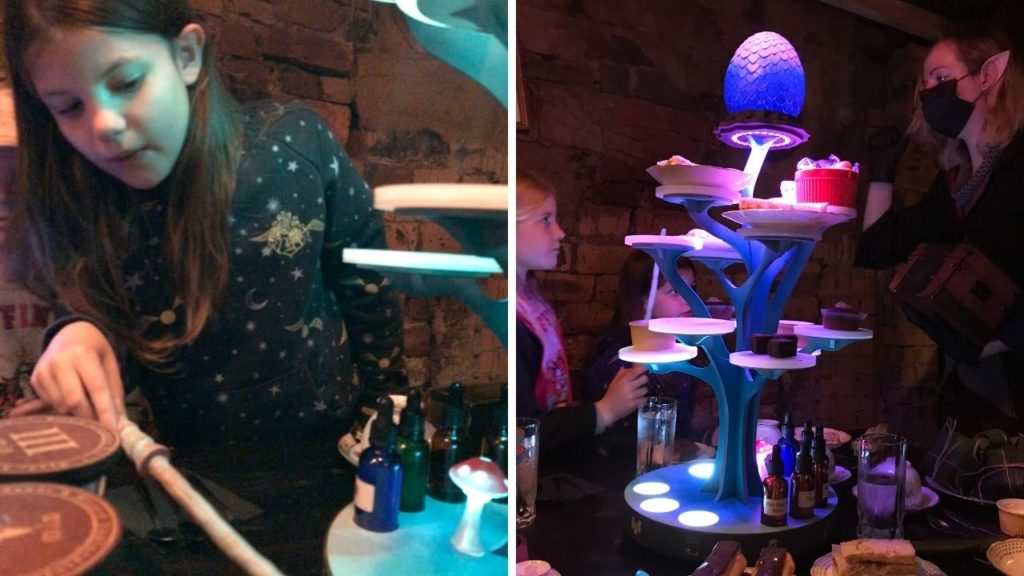 At our table, we sat around a layered cake stand, with a large egg sitting at the top, referred to as the 'dragons nest'. After some helpful direction from the elf, the girls soon discovered they had the power to light the nest, with their wand – as well as summon cakes and sandwiches to the table!
Whilst the food itself was pretty 'muggle' it was still a treat; a variety of sandwiches arrived first – cream cheese and cucumber, ham and onion relish, and coronation chicken (dietary requirements could've been catered for) – before plates of mini brownies, chocolate eclairs, fairy cakes (or maybe cake that contains fairies?!), and bowls of freeze dried skittles and mint humbugs appeared. For me, the highlight of all this was the 'elven' scones wrapped in banana leaves with accompanying pots of clotted cream and jam.
After managing to inhale cakes and skittles, the girls used their wands to make the 'dragon's egg' pulsate (they needed to tap the correct logo on the stand) to summon our friendly server to open the tea chest! By tapping the mysterious symbols in a set pattern, the chest opened to reveal a selection of ingredients that could be ground together and popped into a tea bag. The adults were then given a pot of hot 'magical serum' to add to the tea cup before selecting a 'time turner' to measure the length of the brew.
Whilst this undoubtedly was exciting by itself, others in The Cauldron (which is also a functioning bar) were enjoying 'potion making' classes aka cocktail sessions. Whilst I wouldn't ordinarily take kids to a pub for the day, these weren't quite your normal afternoon drinking sessions – as cauldrons bubbled with smoke, and at one point the table next to us had a drink that involved flames being shot into the air! It definitely added to the excitement!
Once the food had largely disappeared (we did take some home!), and the first round of tea had been drunk – our elf returned with a pot of tea and three different potions. These were set on glowing disks on the dragon's nest, and we set about creating a pot of tea coloured blue! Once this was complete, this was divided between three beakers and the mixing began – we made a potion for love, one for bravery, and one for individuality – all different colours and taste. Some were decidedly more palatable than others in my opinion!
With potions complete, and stuffed full of treats – our time was up and we were ready to locate the bus home (sadly not the Knight bus!).
Ordinarily, tickets cost £34.99 for the Arcane Wizard's Tea and £19.99 for the Little Wizard's Afternoon Tea – and can be booked here – our tickets were gifted but we were not required to provide this review and all thoughts/words are our own! We're really grateful for all the businesses that support Edinburgh Life with Kids and we hope to continue supporting our local area by providing content for you!