It's been a few years without being able to take my daughter to the kind of silly, acrobatic show we've always enjoyed together at Fringe. Seeing A Bee Story yesterday with her made me realise how much I missed the giggles and awe that a good circus performance can inspire.
Entering the theatre, our eyes were drawn immediately to the brightly-coloured props: umbrella flowers, be-petalled unicycles, honey jars and a giant bloom towering over centre stage. Then when the show started with a particularly visually-entertaining gag involving a long gold skirt, an energetic set of legs, and a royal queen bee waving to the crowd, we knew we were in for a good time.
There are just two performers onstage as part of A Bee Story, and they don't use any words, but through crowd-engaging clowning, impressive acrobatics and live music, they creatively tell the story of a worker bee and queen bee looking for a place for their new hive after their previous one is burned by a bushfire.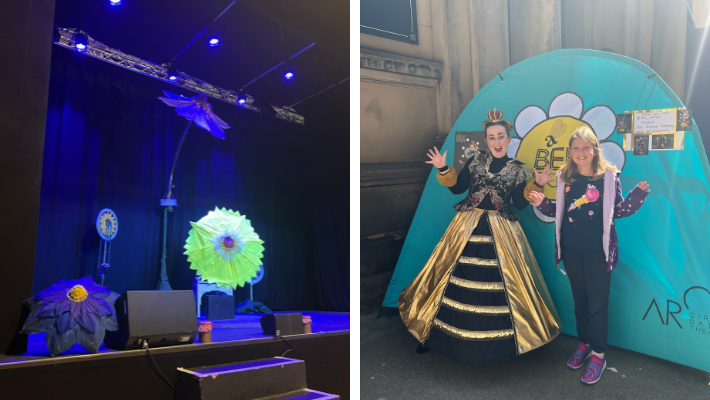 For some sensitive kids, the portion of the show where the hive is destroyed (depicted with stage smoke and fabric flames), may be a bit sad (this is in part credit to the acting of the two main characters). But very shortly thereafter, the characters are joyfully reunited and enthusiastically working together again to overcome some silly, tricky obstacles while they look for their new hive location.
Because of its nonverbal nature, we thought that this show could work well for a wide age range (Fringe website suggests 3-14), but some adult interpretation might be needed at points for the younger crowd. Likewise, while we didn't pick up on any explicit messages about environmentalism (as mentioned in the show description), the show certainly provides a context for starting that discussion with your children.
A Bee Story is on at 11:45am everyday (except 15 Aug) from now until the end of the month at Cowbarn (Underbelly, Bristo Square). To find the entrance, walk to the side of McEwan Hall and to the back of Teviot Row House; the venue is in the Reid Concert Hall. There is also an opportunity to meet the cast after the show, take photos, and purchase merchandise.
We were gifted press tickets in order to provide this review but all thoughts and opinion are entirely our own. You can buy tickets here.