We were delighted to start off our festival adventures with another production from Theatre Fideri Fidera. Specialising in theatre for children, their show last year stood out as one that really introduced kids to what theatre can be. So I was hoping for something original that would take us to into a different world – and thankfully, I wasn't disappointed.
From the very start of the performance, the kids were captivated by the use lighting and movement to create suspense and – very quickly – laughter as Ogg and Ugg emerged. Played by Jack Faires and Natasha Granger, we were soon introduced to two Yorkshire hunter gathers who were on a hunt for food. The audience were soon involved in this quest through the use of questioning, song, and movement. It certainly wasn't 'cringe' participation but rather, it allowed the audience to be drawn into the story.
Simple but clever
The set was simple but I thought it was clever how Faires and Granger utilised each piece within the story – either drawing things together or turning pieces as the story moved on. With the addition of sound and clever lighting, and at one point a smoke machine, I certainly didn't think anything more high tech was required!
Soon enough we were introduced to Tooth and Nail – two talking wolf puppets – who could also beat box… I loved that the kids just readily accepted this as part of the story and were equally happy to answer queries posed by the wolves as they were Ogg and Ugg. The wolves were moved and voiced by Granger and Faires, but by simply adding hooded jackets over their costumes – and with a voice change – this wasn't a distraction at all. I considered it clever story telling.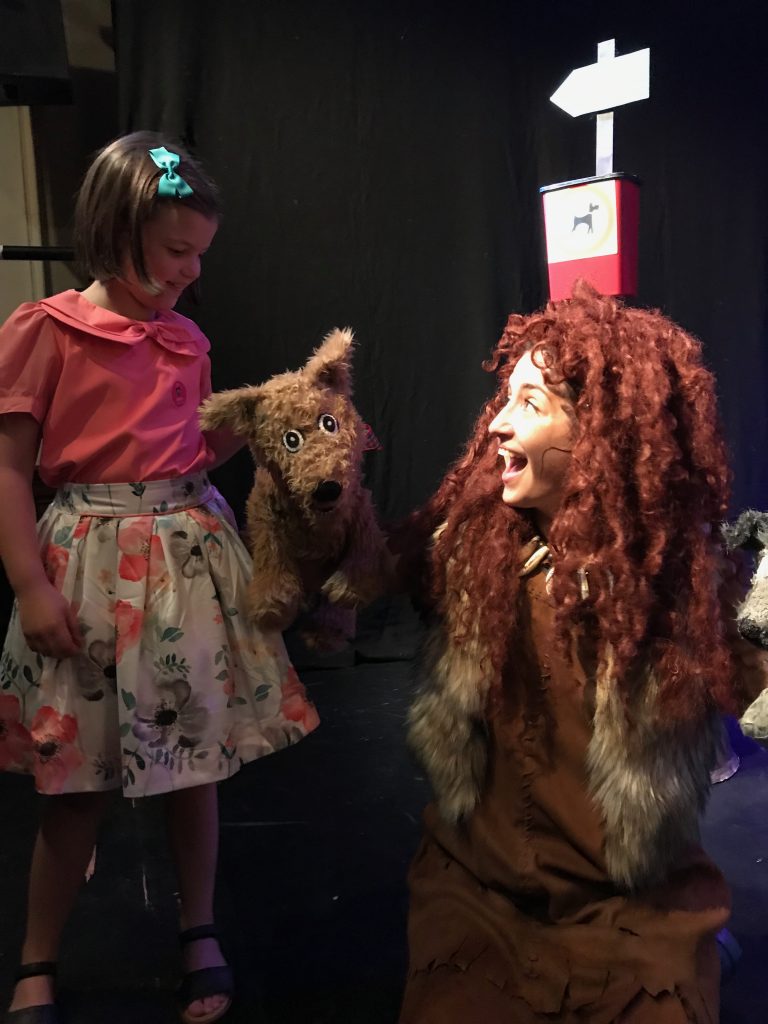 Humour for all
Laughs continued as the story developed: beat boxing wolves (and flying snakes) helped the pace of the story; Thomas (just turned 4) laughed hysterically at the occasional toilet humour; whilst Katie (aged 6) bopped along to the various songs that were interjected throughout. I also had to smile at an older girl in front of us who turned to her parent and said, 'I'm SO glad we picked this!'
After half an hour or so set in prehistoric Yorkshire, in which we learned where dogs had emerged from, we were catapulted to the present day to find two ramblers on the 'Ogg and Ugg' trail. I'm not entirely sure if this part of the story was that necessary, whereas Mike (husband) enjoyed that aspect best. He thought that it added a clever dimension and the kids were certainly still compelled by the story.
At the end of the performance, the children were invited to meet the puppets and to spend time with Ogg and Ugg. I was amazed that Thomas readily marched to the front and wanted to engage EVERYONE in conversation. Although I'm not quite sure that his suggestion that the dog really should've been called Simon will be adopted, it struck me that Thomas clearly had felt like that he was part of the story in order to do this. I was also incredibly grateful that we found something that held his attention for a full 50 minutes. Usually, he's the boy you have to bribe with Lego to sit still. But as he said… 'Mummy – they had bows and arrows!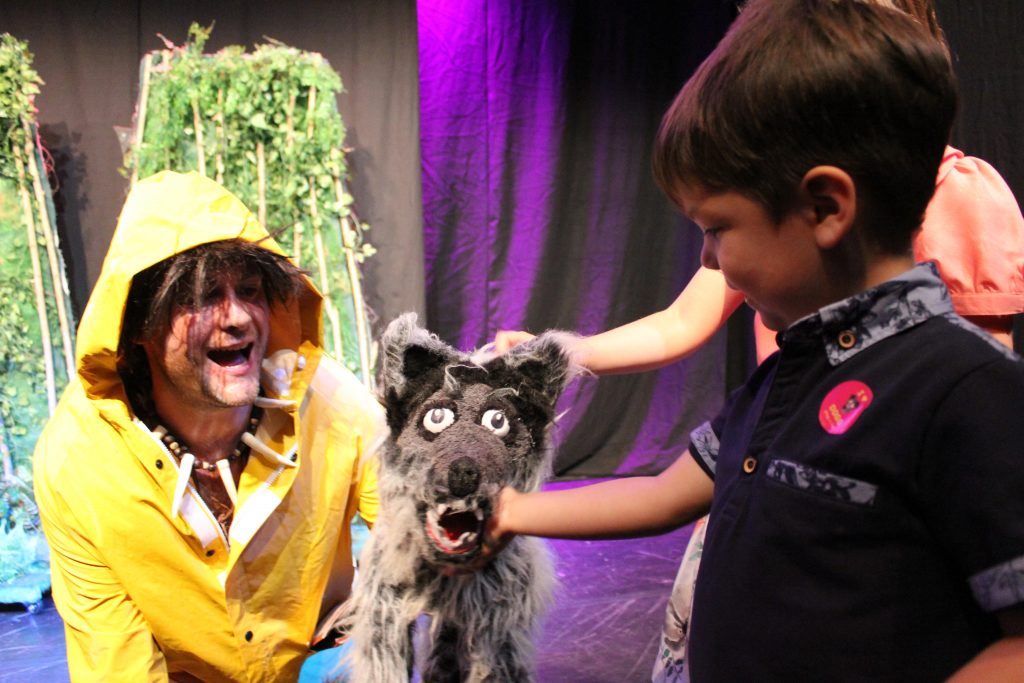 Story-telling at it's best
In short, this was good story-telling at it's best. The scenery and costumes were all used effectively to set a scene and take all of the audience with them. It was a great way to start our Fringe and I hope it'll be one on your list to see. Would recommend for 3-9 year olds – although there were babies in the audience who seemed very happy!
P.S. We were gifted press tickets in order to provide this review – but all thoughts, words and opinion are entirely our own. Tickets can be purchased here.