Have you heard of the Pantone Colour Institute?  Every season they evaluate the colours shown by fashion designers in their collections at New York Fashion week, and then use this to create a colour report for the upcoming season. For the first time ever, they even added in a London Fashion Week report too.
I had to wonder where Edinburgh would be in comparison to these palettes – I know for sure I've been seeing a lot of mustard around. I know, because it's a colour I've always loved but really don't suit AT ALL.
A few years ago now, I had my colours 'analysed' by Judith Campbell. I really enjoyed the experience and left equipped with a folder of swatches of colours I know suit me. They're colours that enhance my natural colouring rather than leaving me drained or looking slightly ill. In short, it's a great basis for shopping! At the time, I felt so boosted by the time I spent with Judith and felt like I had a really clear direction with my wardrobe and personal style.
I was therefore delighted to hear that Judith had opened her own shop – Rosy Penguin – earlier this year. I was already following her on Instagram but was loving the outfits appearing on her stream. Friends began to show off items that they had acquired, and with recommendations for her store coming in thick and fast. It was definitely time to visit.
Rosy Penguin
I emailed Judith for a 'free personal styling' session, knowing that there was no minimum spend, but equally confident that she would be able to help me with my dilemma:
Are you ever unsure about what to wear for an event? Do you have that moment when you're just staring into your wardrobe it just seems to be nothing but sweatshirt or suits. Two extremes with nothing in between? This is always me.
On my arrival, I knew that it was going to be a stress-free shopping experience. The displays were attractive but uncluttered, and best of all the clothes were in colour palettes so it was easy to find clothes I knew would suit my colouring.
I explained what I was looking for to Judith who immediately began to find options. She explained the current seasonal trends, how to dress up more casual outfits up, and best of all – selected clothes that would fit the bill.
But I was also totally overjoyed that she questioned me to find out what I had in my existing wardrobe and explained how I could pair those items with things I already own. She wasn't offended when I didn't like things she had chosen, but also gently encouraged me to try things I wouldn't have before.
I ended up trying outfits that I wouldn't have selected in a hundred years but didn't go through that hot and stressed phase. Judith found clothes for me in my size so I didn't have to rummage, and there wasn't any issues with things being too tight (or too big!)!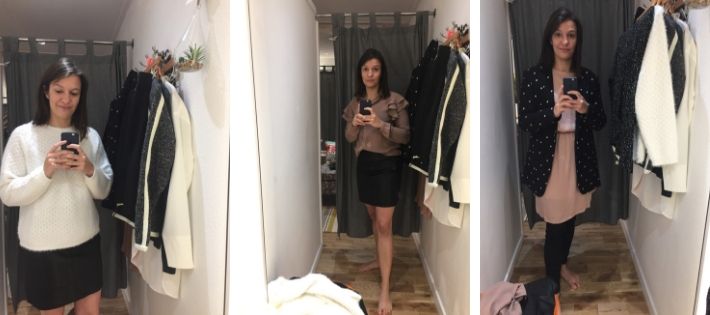 Judith wanted to see each outfit and was honest in her appraisal. Some things worked, others didn't – and I was left having to choose between multiple outfits that I loved.
I totally got Judith's point about velvet being a great fabric for Autumn/Winter – and adored the Nümph velvet bomber I had tried on (Bottom right). But equally, given I'm still maintaining a more capsule approach to my wardrobe knew I'd be able to pair the dotty oversized blazer with more (Top Right). I subsequently wore it as part of a different outfits every day that week.
Although I love the pink dress that I bought, I do have some regret that I wasn't brave enough to opt for the Nümph leather skirt and Saint Tropez white jumper combo (Top left). I was worried that it was a bit too much out of my comfort zone – but the jumper was so incredibly soft and it's definitely something I'd return to get.
Overall, I'm not sure what the top colours for Edinburgh are this season – but I know that I've got some that suit me! And I love my dotty blazer!
Up for an update?
Happily, Rosy Penguin have their Christmas Collection Preview on the 8th November. There will be sequins, velvet, statement dresses, fizz, 15% DISCOUNT and more! It's only £5 per person and all proceeds from tickets got to MacMillan Cancer Care.
TO BOOK: choose from the time slots below and email judith@rosypenguin.com
 9.30am – 11.30am
12.30pm – 2.30pm
4.30pm – 6.30pm
7.30pm slot sold out ☹