To me, swimming is a essential life skill. Aside from the obvious – that people need to be able to deal with falling into water – being able to swim well really is a joy. When I'm not quite up to a gym workout I know that I can easily go and swim a kilometre or so quite comfortably. It's the sport that I found first and have always retained. Nothing quite beats that initial push off the side into deep water. It's a gift that has immeasurable value to me.
I am incredibly grateful that my parents not only invested in swimming lessons, but also made the time to take me to the pool each week. I was lucky to attend a primary school with a pool (outside and so cold you learnt to swim FAST) and to go on to swim each morning in High School. I can't really remember a time where swimming wasn't part of my life and accessible to me.
Watching my kids learn to swim has brought a mixture of feelings. I started lessons with Katie when she was around a year and just soaked up the joy she had in the water. But then she moved on to group classes. Watching her freezing sitting on the side of the pool was well… less fun. 
Full wetsuits were purchased and we've persevered. But in all honesty, the joy has been intermittent. A good teacher would appear only to be replaced. Group sizes would vary from week to week and progress was unremarkable to say the least. The little girl who spent every baby swimming session smiling had been replaced with a kid who spent most of her time on a float. I seriously was beginning to wonder what had happened to the girl who could swim 25m aged 3.
Enter Swimming Nature…
When Swimming Nature got in touch to ask if Katie wanted to try out some lessons, I definitely was interested. I thought a block of individual lessons could be just the thing to really get her going again. I wasn't wrong but there was some unexpected added benefits.
In the run up to Katie's first lesson, we were not only sent details of how to get to the pool but also a profile of her teacher. Katie has had so many teachers this year it was really nice to be able to talk about the person she was about to meet and actually know something about her. In short, it was the foundations needed to actually start a genuine relationship.
We arrived at George Watson's pool and spent a little bit of time observing lessons through the window together. It certainly appeared busy and it was immediately obvious that each swimmer had the attention of their teachers. Parents were relaxed in the waiting area – chatting or using the free wifi to catch up – but out of the way enough that the kids could just focus on their lessons!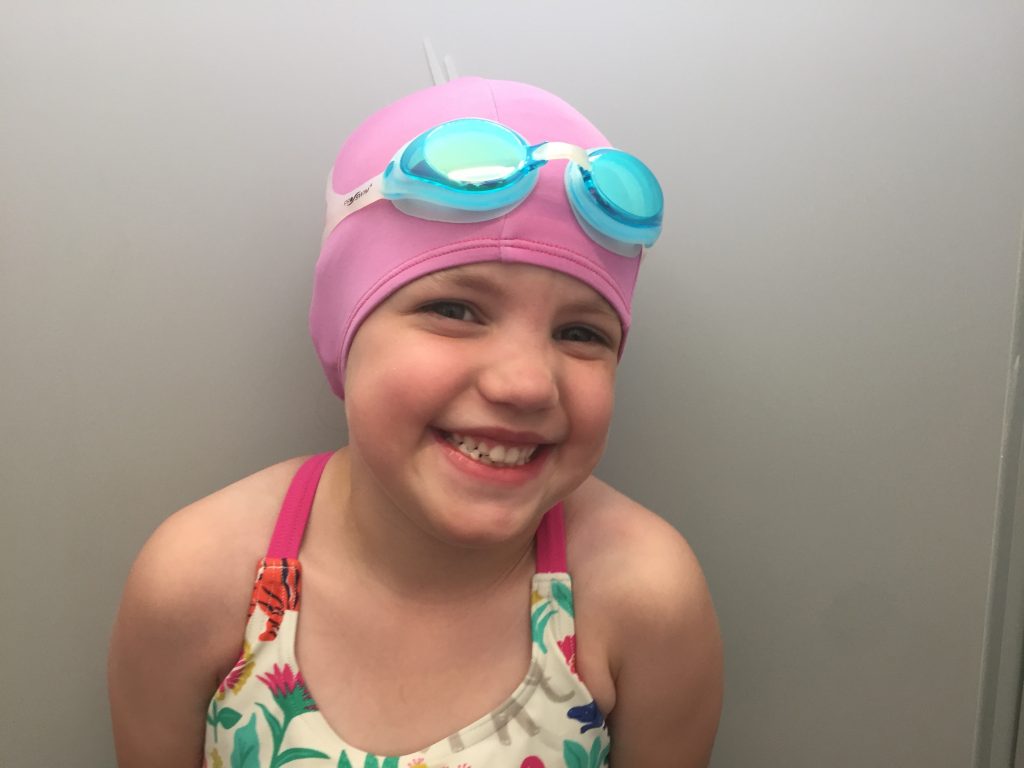 The changing rooms were clean and spacious, so obviously we soon found ourselves on poolside. I was immediately struck at how different the end of lessons were. The teachers were actually talking to the parents to give feedback on the lessons. The only time I had experienced this was when I had basically chased teachers down the pool to ask what we should be working on. So this was promising!
What I observed next was amazing though. I was used to watching Katie spend the first 10 minutes of her lesson on a float. Emma – her new teacher – in the first 7 minutes of her lesson had corrected three elements of her backstroke and had her swimming 25m. I watched for the next 23 minutes as Emma assessed what she did, gently correcting bad habits and really helping her to improve. 
But the best thing? Katie was smiling. She was chatting away to someone who gave their full attention and listened to what she was finding tricky. 
At the end of the lesson, Katie was exhausted but really bouncing. In her words, it was EVERYTHING was good. She mentioned that she wasn't cold, she got to swim ALL the time, it was much more fun-er than her 'normal' lesson, and Emma was really really nice. It was the first time in a long time, that I got the impression that swimming was Katie's joy.
The next week…
The next week, I was was slightly apprehensive that the experience would be able to be replicated! Such a high standard had been set but Katie approached it with the announcement her 'listening ears were on' and that she was going to win 'all the stickers'!
Aside from just having a online record, Swimming Nature provide each child with a record book and stickers to add each time they achieve something new. It's also worth noting that there's a number of badges at each level so kids aren't going for months without receiving a record of achievement. 
Whilst I didn't notice a marked improvement in her second lesson, Katie's enthusiasm was again evident. She was a little frustrated she couldn't really 'get' front crawl arms but her solution was to ask to swim the next day to practice… and the next… and the next. Needless to say we didn't manage more than one session but it was just amazing to see her engaging with the lessons.
It was at this point I realised that we really needed to ensure that the lessons extended beyond the trial we had been offered so I started to look at costs. It's undoubtably more than we had been paying for lessons, but it absolutely was a world apart. Whilst the pool and changing facilities are nice – it really is the individual attention and teaching style that warrants the cost.
It struck me that I had been paying for Katie to be swimming for a max of 15 minutes – given she spent most of the lesson hanging on the side of the pool. And of that time, she hadn't really been getting a lot of feedback. So although the lessons may have seemed reasonable we weren't really getting great value.
In contrast with Swimming Nature, we were getting 30 minutes of absolute attention with feedback for all of the time. Emma was correcting each of Katie's bad habits, even when she didn't quite get it and Emma's patience was evident as she demonstrated the skill in a slightly different way. The lesson was absolutely tailored to Katie.
Week three…
The next week, I decided to take Thomas along for a trial lesson as an absolute beginner to see how he got on. Unlike Katie we didn't take him to baby swimming as he would just fall asleep or spend the lesson clinging to me. But our family trips to the pool have been frequent and so I really thought it was about time he started 'proper' lessons as he turns 3 next month.
Thomas was bouncing before going into the water and didn't seem to stop. I was a bit worried that he wasn't really listening to Emma as he kept trying to disappear up the pool (hanging on to the side!) but certainly was smiling the whole time.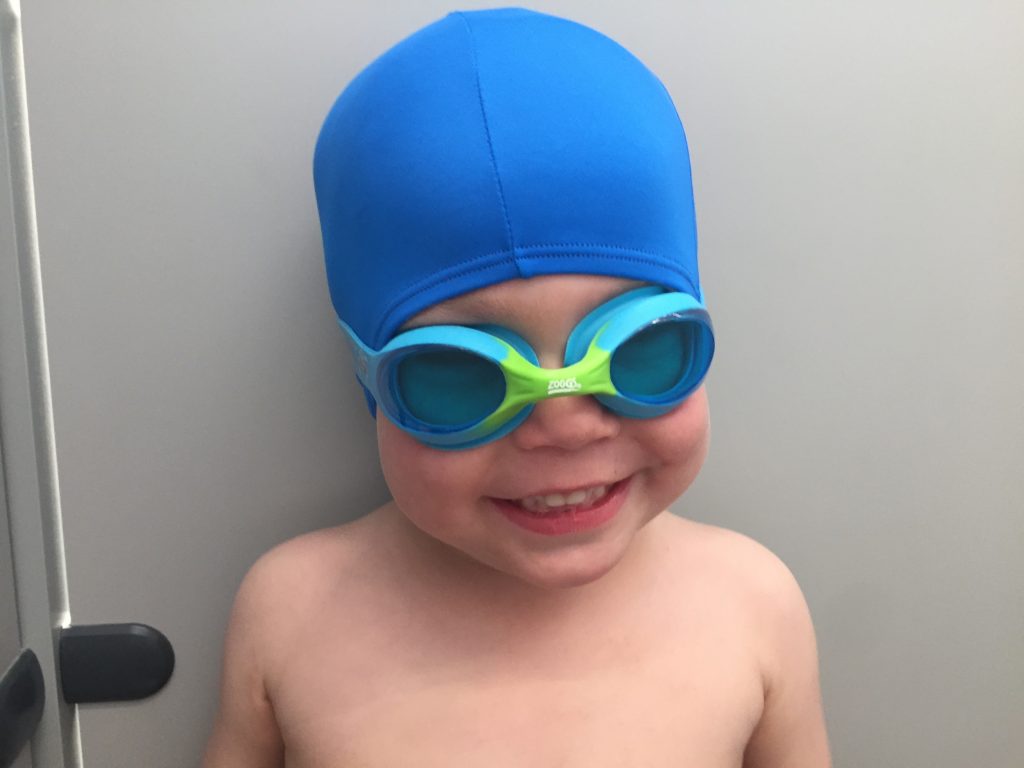 At the end of the lesson, Emma was quick to allay my fears and reassured me he was fine. He certainly enjoyed jumping in and just needed to calm down a wee bit – which will obviously happen in time! It was a timely reminder that he is still little and actually, it's not unusual to be a little excitable at that age. I'm confident in signing him up for lessons that his swimming journey will be off to a good start and will have the kind of happiness that I want for the kids.
Katie's third lesson with Emma was a similar kind of happy. As they focused on backstroke, Katie was launching up the pool really trying to work on her positioning in the pool. At moments, she actually was succeeding in the correct arm positioning for front crawl and her progress with breathing to the side was evident. It struck me that even in a single week, I've seen her come on more than I have in the last six months. She's brimming with confidence and was delighted to come away today with her 'Deep Water Confidence' badge.
For us, the next step is obvious. Katie is booked into an Intensive Swimming Week with Emma this summer and both children with be continuing lessons in the Autumn Term. Kids need to be able to swim, but swimming should also be fun – I have no doubt that they'll find that combination at Swimming Nature.
---
If you'd like to book some lessons in Edinburgh for this coming Autumn term then simply visit Swimming Nature and use the code ELK10 at the point of payment for 10% off. If you live outside of Edinburgh, then do call the office and mention Edinburgh Life with Kids. We were delighted to be gifted these lessons and thank Swimming Nature for bring some joy back into swimming and supporting Edinburgh life with Kids!