We had the nicest morning today hiding from the rain in The Front Room of the Assembly Rooms, gathering as part of a small audience to watch If You Give a Mouse a Cookie. If you've got a free morning over the next few weeks, I would definitely encourage you to do the same:
Kid's shows come in all shapes and sizes – some go all out with music and lights, others opt for high energy silliness throughout… whereas others take a more gentle approach. If You Give a Mouse a Cookie made it's mark not because of any tricks or particular jokes, bur rather because it was just good kid's theatre.
The story was quite simple – starting with a boy left alone to read his comic book, he soon is approached by a mouse requesting a cookie. Things quickly escalate as the mouse becomes more and more demanding. Much silliness ensues as the mouse attempts to drink from a giant glass of milk, give itself a haircut, refuses to take a nap and eventually ends up asking for another cookie.
Although this play is an adaptation of a children's book it's not one I am familiar with. I was reminded though of the 'Tiger Who Came for Tea' in that, you might imagine a Tiger being a rather fun visitor but actually – it's all quite exhausting! In this story, whilst the mouse was rather demanding and the boy certainly found her exasperating at times – their relationship really was rather sweet.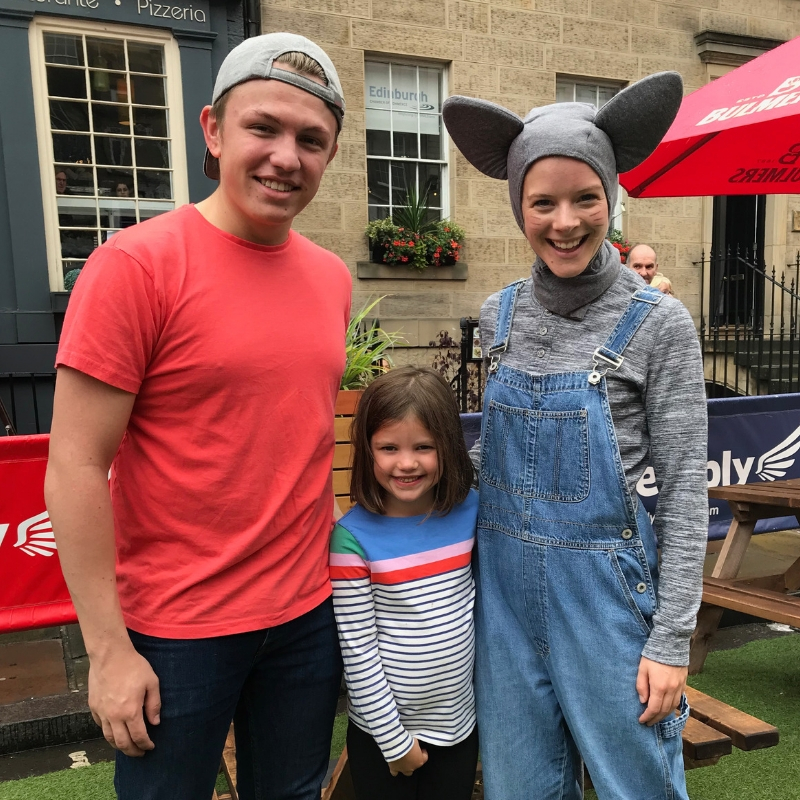 The story was rather cleverly delivered by the boy initially addressing the audience directly and through added asides throughout the play. A lot of the telling really was in the interplay between three people – the boy and two mice who sometimes switched places and at other times bounced off each other. In our discussion following the play, Thomas thought the two mice were the best. Whereas Katie thought the second mouse was 'pretend' and was just there to make the boy feel like the 'proper' mouse was a LOT of work. I'm not sure – but either way – the mice were funny!
Whilst some dialogue was necessary, much more was delivered through movement and music. There were moments everyone in the audience couldn't help but laugh and others where the kids just wanted to dance along. Music was interjected in certain moments throughout with some familiar pieces appearing, along with others that just helped the story along.
Audience participation was minimal (no being dragged up on stage!) but I did really appreciate the way the actors involved the kids at certain moments – asking a question or two and asking for their help to throw things at the stage for a particular scene. I thought this was just a really lovely way to bring them into the story and make them part of it's telling.
The staging for the play was really very simple – just a few white frames with minimal scenery. The size of the venue automatically makes is a quite intimate experience with the front row very much on the stage. I felt it was quite tricky for the actors to address the audience at the sides of the stage – so would advise you to try and sit centrally if you go as the initial dialogue was directed here. Whilst my kid's certainly didn't pick up on this, I thought the kids who were sat there would've gotten more from the start.
The play lasted just under an hour but this was perfect for my kids. Katie (almost 6) and Thomas (just 3) both sat quite happily throughout the show and clearly enjoyed themselves. I asked Katie what she liked best and her response was simple, 'Everything!' When I attempted to press her further, she pretended to call her bestie from school and told her 'I've just been to see a really funny show, you should go, ok? Bye!' (She's a random kid!)
Overall, I was left feeling that the play really deserved a larger audience but for those in the audience this morning – we really were given a treat! The cookies handed out before the show also went down nicely with my coffee!
Star rating? 5***** – it was everything children's theatre ought to be!
---
P.S. We were kindly gifted tickets for the purpose of this review but all thoughts, words and opinions are our own.
P.P.S Photo Credit:  Olivia Miller (Age 16), Marketing & Street Team Credits: Tori Simpson & Erica Wilson (Age 17), Performers: Kamen Brown, Sarah Haddath, Imogen Reither (Median Age – 22)
If You Give a Mouse a Cookie is on until 25 August 10.30, at the Assembly Rooms – Front Room (it's on George Street!) – grab some tickets here!