It is so easy to amass a huge number of toys – with them being so readily available in supermarkets for low prices, I often found myself caving into demands and buying something thinking 'it's only a couple of quid.' But the problem with this approach is that those toys slowly built up. They were quickly forgotten about and shoved into boxes in an effort to tidy, but over time those boxes began to spill over.
I found trying to do a tidy-up with the kids impossible, both Ben and Katie would claim the long forgotten tat as 'the best toy ever'and play with it for 5 minutes before it was abandoned, usually broken or with bits missing.
Last year things really hit a point where I was just fed-up with the amount of stuff. We don't live in a big house so space really is at a premium.  I was desperate to have a playroom for the kids to actually be able to play in but it had actually become more like a mass storage space. I took time to reflect on the toys that I actually played with then I was little – as I recall we actually didn't have very much, but what we did have got a lot of use. The four things that really stuck out were a wooden Brio train set, a big box of cars, Playmobil and a heap of Lego.
I decided that as a way forward, I would think of categories of toys and designate a box for each category. We have a big shelving unit from Ikea and I decreed that if the toy didn't fit in one of the 12 boxes then it wasn't coming into the house! Of course, I haven't succeeded in this aim given that Katie's play kitchen doesn't fit in the box and we now have Thomas' play gym etc. but on the whole this system  does actually work.
Having very set categories gave me license to think carefully about the toys that filled them. Rather than just filling them with random bits and bobs, I wanted to choose things that had real play value – that could be used in a variety of ways in different schemes of play.
I find that a lot of modern toys are very 'labelled' in that they're emblazoned with stickers that declare it 'spy' or 'alien' instead of just being a truck. Even some of the toddler building bricks come in different colours e.g we have multicoloured boy ones and princess girl ones. Obviously, this is a great marketing trick but I rather thought it wasn't particularly imaginative! Whilst this partly ties into the problem of gender stereotyping, which I wrote about yesterday, I think it's actually more about acknowledging that children like to play in different ways and it's nice to have toys that facilitate this.
Rather than being defeated, I took to eBay and found a lot of retro Playmobil from the 80's and 90's that was much plainer. I set about finding Lego blocks that were just for building things instead of in specific themes or kits. Alongside putting together boxes such as art materials, noisy musical noises, trains, cars, make believe and,  as you can't get away from it, 'plastic fantastic' (which at least is now contained in one box!).
Thus far, the result has actually been that both Katie and Ben play with these toys in very different ways. Ben likes to create tableaux with the Playmobil in static scenes, whereas Katie likes to create long drawn out stories with them. Ben generally will prefer to build with Lego whereas Katie opts for the 'Logic' box which is filled with puzzles and shape sorters. Slowly but surely, I'm attempting to find toys that not only will appeal to all three children but will also last.
It's for that reason that I've sought out a lot of wooden toys. I find that they stand up to play really well and look nicer to boot. I really hate the look of plastic playfood for example, and dislike how easily it squishes but have some lovely wooden bits and pieces that populate Katie's kitchen.
With this last aim in mind I give you my top wooden toys:
1. SARAH & BENDRIX – Wooden Duck Stacking Toy – £9.50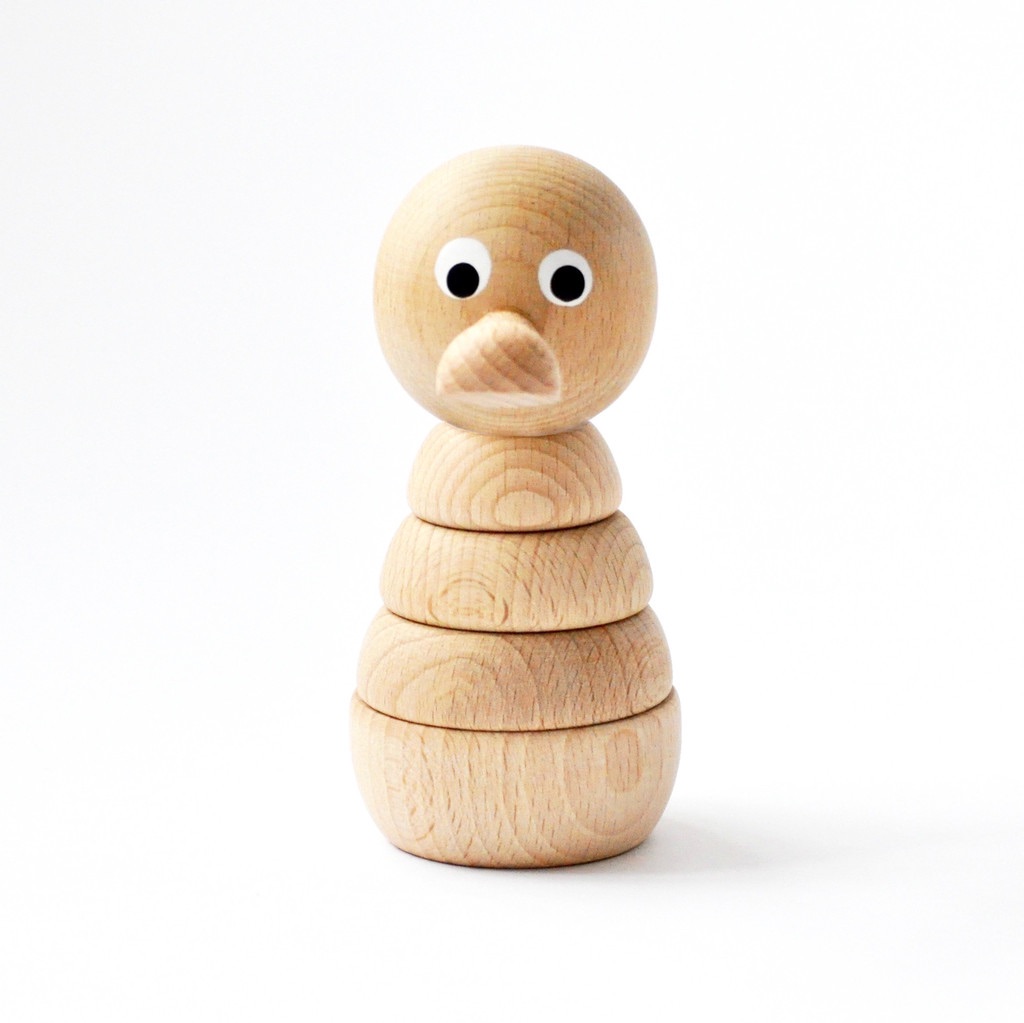 We received the cat version of this for Thomas but I think the duck has a bit more expression. Sarah and Bendrix are big on renewable toys and each product is made to last. The toys come in individual cotton bags with tags requesting that they are played with, loved, and then passed on. It's cool.
2. Twig creative – Pixie Wooden Toy Camera in Mustard – £27
Whilst definitely on the expensive end of the list, I just think that this camera is adorable – again, something I would gladly put on display in the playroom or as a prop in one of the kid's bedrooms. It has movable buttons and a turnable viewfinder which is everything Katie ever wanted her plastic version to do. Katie is constantly after my DSLR and whilst I think she is now at an age where she wouldn't be fooled by anything but the real thing, this is so beautiful it had to go on my list!
3. Wonderworld Rainbow Sound Blocks – £22.49
I first saw these are Katie's preschool but thankfully, also received some as a gift. They live on our mini bookcase so Thomas can access them each day. They are stacked, rattled, thrown etc. and still look beautiful. We wouldn't ditch the duplo for them but they have there own play value.
4. Le Toy Van – Coffee Machine – £26.99

I first spied this in the Treehouse in Stockbridge (the monkey shop as Katie likes to call it) and has caught my attention on subsequent shoe buying trips! I have a Nespresso machine in the kitchen and greatly enjoy putting it to good use throughout the day, so I was highly amused when Katie's nursery teacher reported that Katie frequently was offering to make coffee for her teachers. I finally caved and bought this for her but wished I had even sooner. Thomas enjoys playing with it as well and it's been a great addition to their make believe cafe scene. Katie still frequently asks if I want a coffee, even seeking the clarification of decaf or non-decaf. She's definitely my daughter.