Hands up who else is missing the Edinburgh Christmas markets already?! To tell you the truth, we've always found them to be a little stressful and too busy, especially with a buggy in tow. They did create such a lovely buzz in the city though, and I think every local has at least one 'Christmas market day' in their social calendar!
Not to fear though, we have a great alternative for you this year to bring about some festivity and Christmas cheer. And it's EVEN fun to do in the wind and rain. So if you are able to visit Edinburgh city centre, why not give our Christmas Tree Trail of Edinburgh a go!
The Route
Obviously it doesn't matter at all what direction you complete the trail, but we started it from the East (closest to our home!) to the West end of Princes Street. Check out our DIY route map on Google Maps by clicking the link below- green trees are the key stops, and bonus stops are marked with a blue tree!
1.The Scotsman Hotel
Greeted by a lovely friendly face at reception, we were directed to the left of the lobby where the most Hogwarts style staircase was decorated with wreaths and a traditional tree. If you continue down to the bottom (which is a better angle for a tree photo!) you'll come across an original printing press and newspaper dated from 1820 – 200 years old this year! This hotel used to the home of the national newspaper, The Scotsman and there are quite a few nods to its history throughout the building.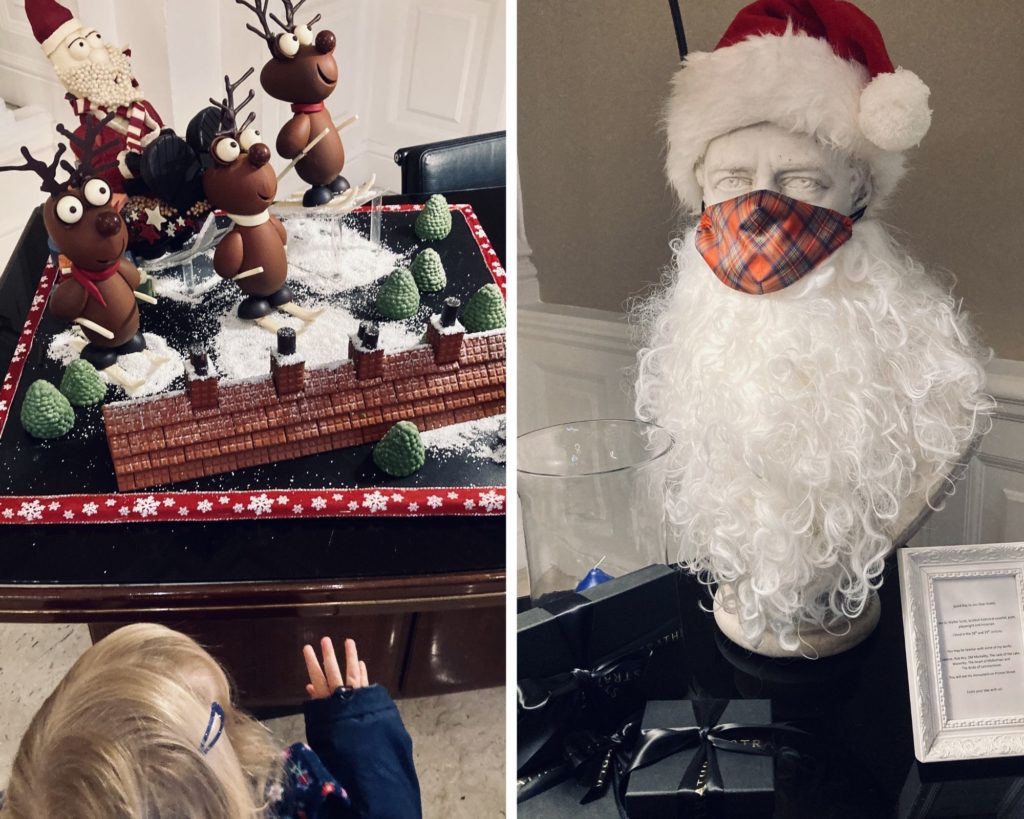 2.The Balmoral Hotel
This hotel's Christmas tree is just as iconic as the clock tower view it's exterior provides – it even made Wren 'wow!' Also make sure to spot the chocolate scene display and and the silly Santa statue, these little touches are so great. We make a monthly visit to this hotel lobby as it's installations change every month and are always spectacular. The displays are designed and created by Planet Flowers, who we coincidentally had as our wedding florists!
3.The Edinburgh Grand
You don't even have to come inside to marvel at this one – just enough to open the automatic sliding doors and you'll get a view of their tree. We would highly recommend stepping indoors though as the view up to the top of the domed ceiling is beautiful.
4.The Ivy
Installed by Wild Flowers Edinburgh, this restaurant facade is unlike anything we've seen before. It is themed on the whimsical world of Narnia and is even complete with a wardrobe door entrance! The ice throne and wintery backdrop make for perfect photo opportunities.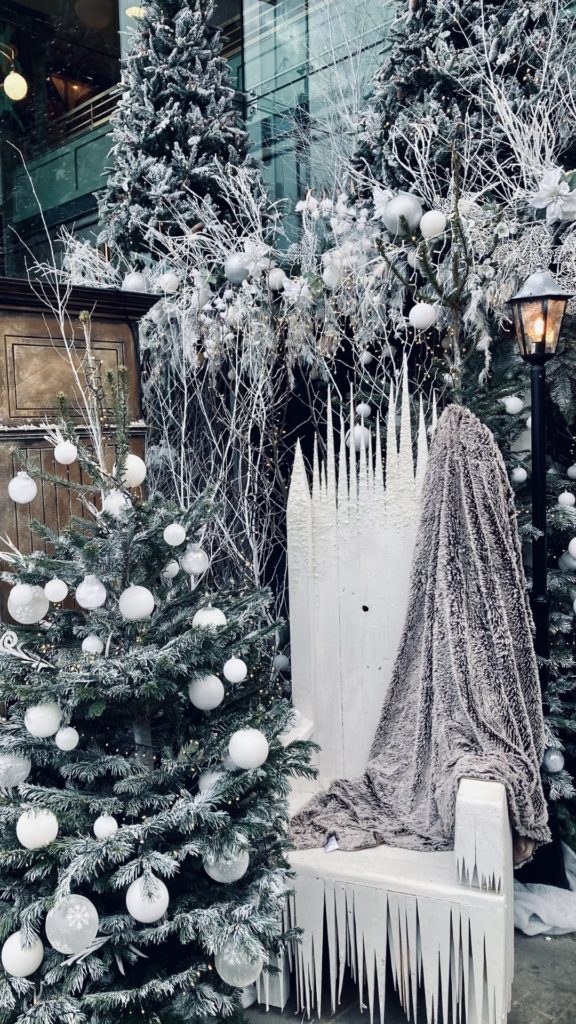 5.Jenners
Okay so this is very much an unofficial stop of the trail – although any local to Edinburgh would disagree with me there! The department store Jenners is famous for its gigantic Christmas tree (it really is quite a sight!) and the mystery of how on earth they get it the building in the first place! However, as reported by @out.in.edinburgh on Instagram, the tree isn't there this year. It costs Jenners approx. £20,000 and due to the financial strains of 2020, it just wasn't a viable option this year. However, we do still recommend popping in, as the fairy lights are still very pretty and, despite the lack of tree, we still overheard people discussing how the store 'takes the roof off' to fit it in!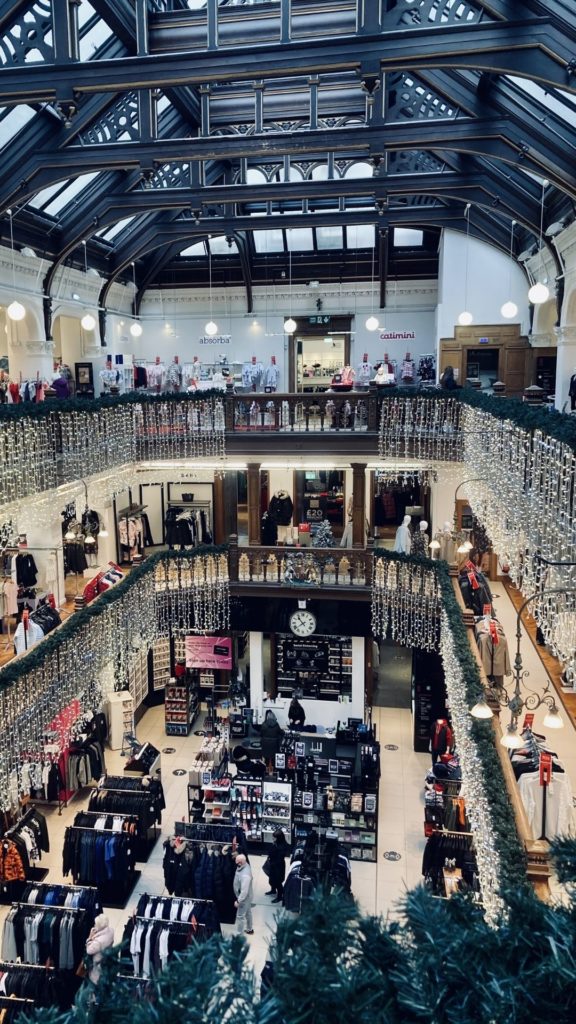 6.The Dome
What is an Edinburgh Christmas without a selfie outside the gorgeously decorated columns at The Dome?! It just has to done! A little word of caution that unfortunately, you need a table reservation to see the most impressive decorations inside, although we managed to get a little sneaky look into the entrance hall.
7.Waldorf Astoria, The Caledonian Hotel
This grand building on the west end of Princes Street has been an Edinburgh icon since 1903, and is in fact a former railway station. The original Princes Street station gate is still visible round the side on Rutland Street.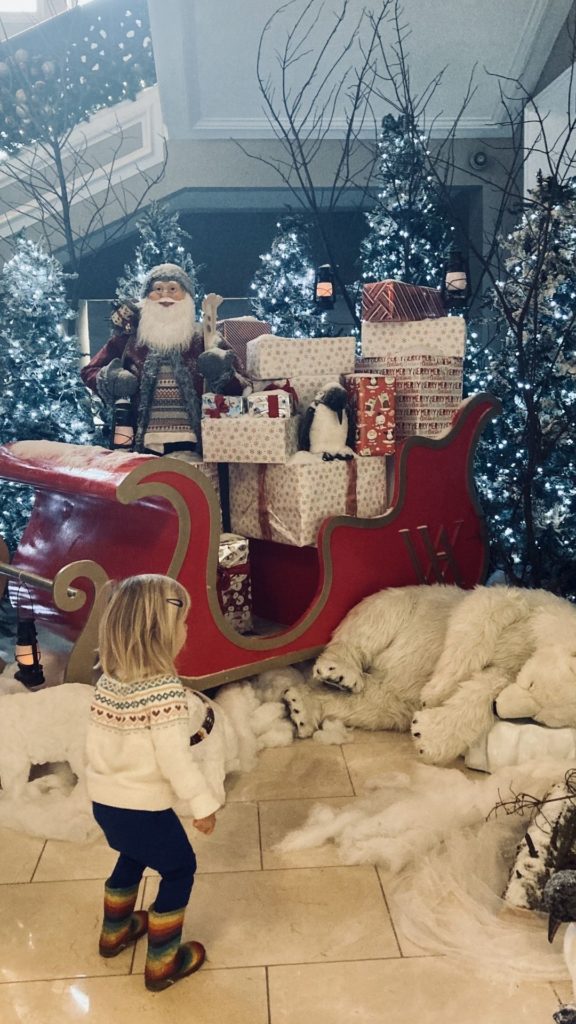 We were pleasantly surprised by the Christmas offerings here – the staff were super welcoming and happily pointed us through to the bottom of the staircase where they had set up a little 'winter wonderland.' A gorgeous traditionally decorated tree, complete with lit up trains, and then a little wintery scene, featuring a snoring polar bear! This was Wren's favourite stop, as she flung herself out of buggy, and threw her coat off – a sign that she wanted to stay for a while!
*Bonus Stops
Many restaurants/cafes/shops along the way have gone above and beyond with their doorway decorations this year, which make great photo spots and are for sure worth a look.
Multree's Walk
Contini, George Street
Tiger Lilly, George Street
Charlotte Square tree
The Huxley, Rutland Place
Brunch at Urban Angel
We finally got our act together, after several failed attempts in the past few months, and pre-booked a table here for what we think is the best meal of the day. Brunch at the Urban Angel is exactly what it says on the tin – a very cool rustic vibe with a sprinkling of succulents and tea light candles. It's really chilled out but still manages to have that busy city feel too. We both chose pancakes and were absolutely not disappointed. We've already made plans to go back for lunch. A special mention goes to their vegan 'Nutella,' which honestly beats the real deal!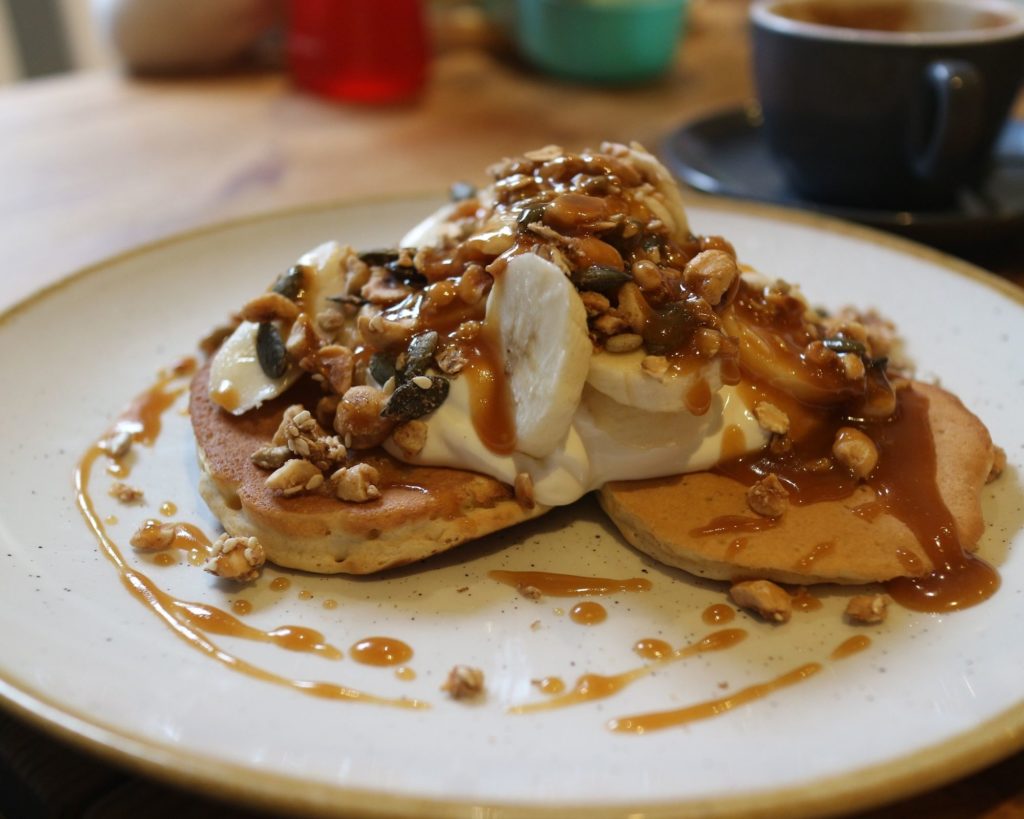 A big thank you to all the lovely reception staff of the hotels who all kindly showed us in and let us take too many photos!
Your support on our Youtube channel is greatly appreciated so please hit subscribe! Also follow Emily on her Instagram @wrenyc for lots of play at home ideas with toddlers and more of her daily life in Edinburgh.