As with so many venues in 2020, Edinburgh Zoo had to adapt their Christmas plans – so in a change to their usual Chinese Lantern display – they've re-created the North Pole instead!
There is absolute no doubt on this years theme – Christmas was crammed into every moment. From hedges sprouting candy canes, giant nutcrackers, and (heaven of heavens) a curving avenue of fresh Christmas trees that smell a-ma-zing.
But added into all of that, I loved that this year we didn't forget that we were also at the zoo. So many elements felt like a celebration of wildlife; whilst the majority of animals were (quite rightly) tucked up in bed, it was lovely to be able to walk through Penguin Rock in the moonlight. The kids loved spying the penguins through the low light as they dived into the water.
Another absolute highlight was the Artic safari. It was as if the North Lights had burst forth, followed by animated projections of stags and polar bears in the swirling snow. Before diving to the depths of the ocean with whales that rolled across the landscape.
Restaurants and facilities
We had dinner plans so didn't get a chance to try any of the food offerings – but were incredibly tempted! Aside from the zoo's own food court and Penguin Cafe being open, additional pop ups included a marshmallow roasting station, coffee cabins and a pizza van. Whilst we had wrapped up warm, a hot coffee would've been welcome if it wouldn't have come with demands for more food from the kids!
Port-a-loos had been placed throughout the trail so no one was caught short (very helpful with excitable small children!). Alongside now familiar hand sanitising stations.
Keeping safe
Numbers were limited so at several points along the trail we felt like the only ones there. At the points crowds could gather (like the projected displays), dots had been placed on the ground for people to stand at in order to be at distance to each other.
I was slightly disappointed to be told to 'keep moving' at the Artic display so we weren't able to see the projection to completion. You're able to walk across a bridge set up for viewing, but it is quite a narrow area. We had waited for others to move on to avoid bunching but obviously missed out a little by doing so. This was still my favourite part of the evening by far – so perhaps why I didn't really want to move on quickly!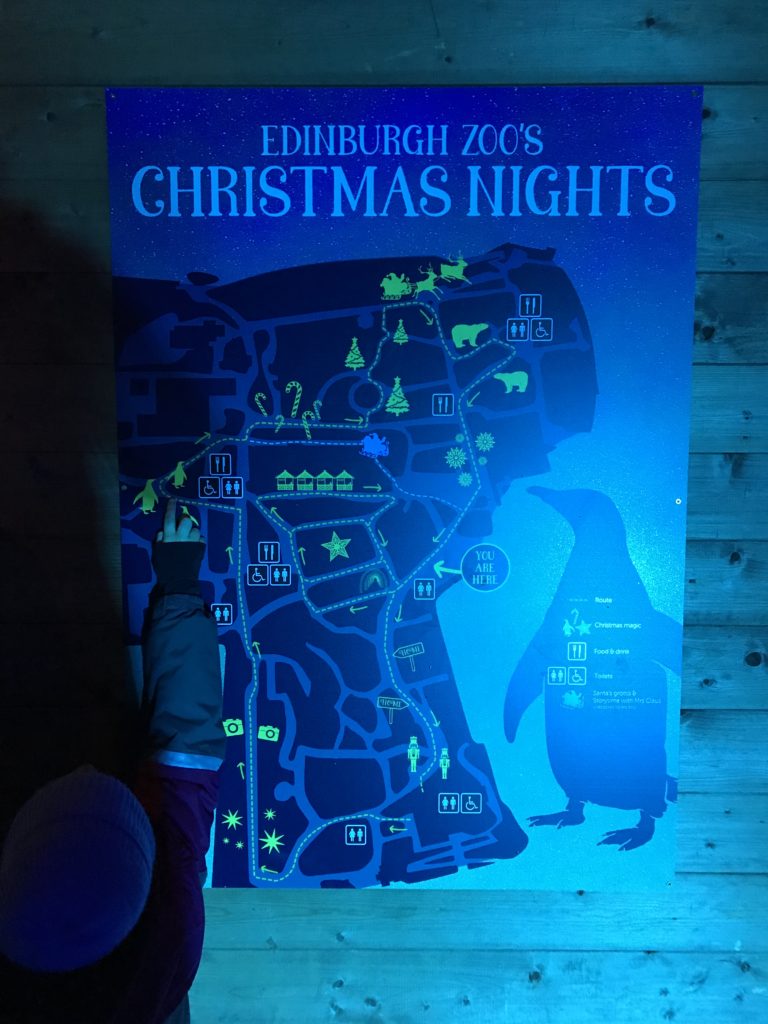 Christmas Shopping
Towards the end of the trail, there's a mini pop-up array of shops including a favourite of ours – Wooden Toys Edinburgh. It was also lovely to spot on that just sold ecologically responsible items, and another that just feature local beverages (of the alcoholic variety!)
This area could be avoided by taking the lower path but it was nice to see familiar faces. For any EGGs amongst you, the famous 'Mr D' was on hand assisting Regina at Wooden Toys!
Tickets
The lights are staying up until January 3rd so there's still plenty of time to book in for a visit.
For those who would benefit from a more relaxed experience, there is a quiet night on 10 December and an adult only night on 11 December. Tickets start at £12 for children, £18 for adults and RZSS members receive a 20% discount. Entry slots are available every 15 minutes from 4.45pm with the last available entry time at 7.30pm for a 9pm finish. To find out availability and to book – check out the Zoo's website.
We were invited to Edinburgh Zoo for the purposes of this review – but all thoughts, words and images are our own! A huge thank you to Edinburgh Zoo for having us and treating us to entry. Thanks to you too for supporting the brands that help keep Edinburgh with Kids going!