It feels like festive light shows and illuminations are popping up everywhere at the moment. Christmas at the Botanics and Edinburgh Zoo's Chinese lanterns are now established events, both in their third year, but newcomers to the light scene are rivalling these old favourites for the top spot. We haven't been to everything (yet) but Archerfield's Christmas Fairy Trail is a strong contender and there's a host of other events kicking off for the first time this year.
Brand new for 2019 is Historic Environment Scotland's Castle of Light at Edinburgh Castle. Obviously a spectacular backdrop to begin with, I was interested to see if this might just be clever use of a few  coloured lights, strategically placed to enhance the castle's natural beauty. Nope. It is so much more than that. It is an ingenious and creative use of light and sound which breathes new life into an historic space.
The 'performance' starts on the esplanade with a projection which combines Scotland's history, geography and heritage in a series of beautiful, and at times psychedelic, images on the front of the castle. This sensory sensation makes good use of the building's features and a celtic backing track to evoke a very modern Scottish experience.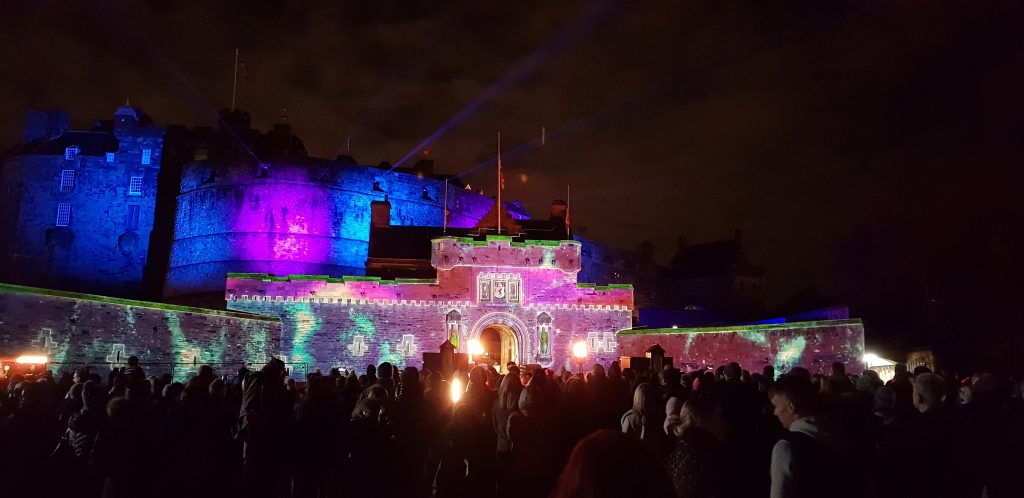 Make your way in through the main gate to get your ticket scanned – my daughter wanted to wait for the point that the projection turns the entrance into a tunnel to 'whoosh' through. You will have caught a glimpse of a red animal from outside. You might have wondered what kind of creature it is and whether it is real or a projection. Both those questions are answered when you get to the portcullis…
Next is an audio about Scotland's history coupled with a cool light battle and the odd smoke explosion. My 5 year old daughter was least interested in this bit so we didn't linger but older children and history buffs/tourists will love it. We took a moment to look out over the castle wall across Edinburgh instead. A spectacle in itself, especially with a full bright moon like the night we went.
Moving along, make sure you stop off to listen to the two most entertaining sentries around. Grant Stott and Andy Gray occupy opposing boxes, teasing each other and cracking some Edinburgh 'in' jokes.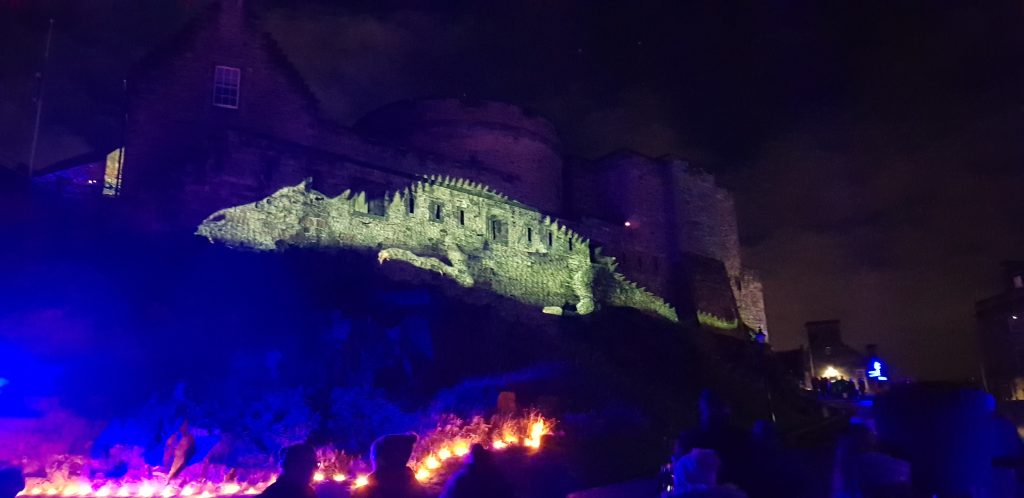 Pass the large sleeping (or is it?!) lizard and through the (smoke filled) gate to reach the upper part of the castle where the chapel is beautifully illuminated. Note that all of the projections are on a loop so if you join one part way through you can stay on and catch the start.
Next was the absolute best bit from the perspective of a 5 year old girl. The castle courtyard is transformed into one big dance party. Belly dancers, ballet dancers, highland dancers and pantomime dancers (Grant and Andy again) all have a space on the wall and the loud music means you can't help but join in. We stayed for two loops of this one but could easily have done four or five, dancing in a different style each time!
We finished off by playing with the light organs that operate by the touch of your hand (if you dare take your glove off in the cold) then made our way back through the lights to leave. We gasped, laughed and danced our way round this absolutely fantastic installation. Highly recommended.
It is suggested that you allow 90 minutes to enjoy the full experience and that seems about right. Unless you stay on for more dancing of course…
More details and ticket information is available at: https://www.edinburghcastle.scot/whats-on/castle-of-light
We attended Castle of Light on gifted press tickets but we were not obligated to write about it and all views are our own.