((BOUNCE)) is the latest fitness franchise to hit Edinburgh. It involves bouncing on a mini trampoline while performing choreographed moves to music. We were invited to try a class at the Biscuit Factory in Leith and we jumped (sorry!) at the chance. For anyone who hasn't been, the Biscuit Factory is a super trendy venue. Derelict chic rather than sterile gym environment. We arrived to disco lights and dance music and a very enthusiastic welcome from Anne, Edinburgh's only ((BOUNCE)) instructor. It really wasn't very "Edinburgh" at all. I loved that.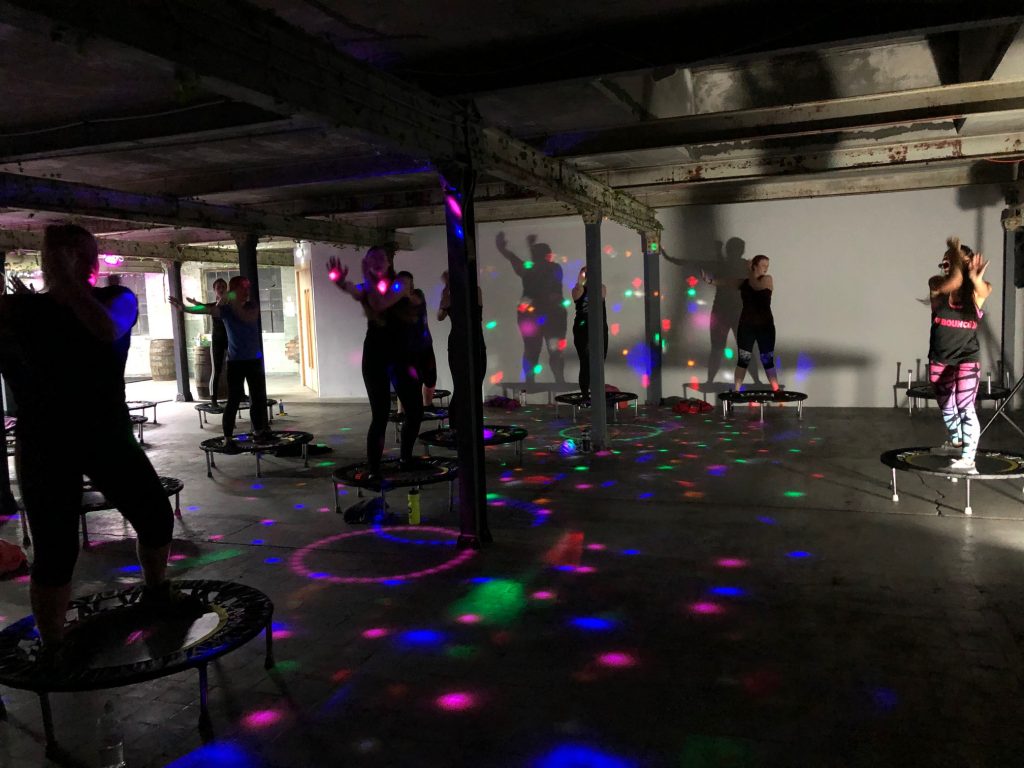 We took our places at the front of the full class feeling a bit self conscious and wondering which of us would be first to fall off.  An almost totally unfounded fear – I did step off the back one time but there was no falling! The first 45 minutes were a cardio HIIT style workout. The choreography is challenging for total newbies but repetitive enough to pick up and it doesn't matter if you skip a few beats or end up facing the wrong way like I did (twice). The instructor will keep you right. There's a (much needed) water break every few tracks then the final 15 minutes of the class is some pretty intense toning work whilst lying/leaning on the trampoline, finishing with a good stretch.
I have to admit that I went in to this class expecting it to feel like a fad. Maybe something you'd do once with some pals for a laugh but not go to regularly as a gym class. I stand corrected. The class was a good laugh but it was also a proper workout combining cardio, core and even body weight training in the toning section. In my opinion ((BOUNCE)) could be an occasional fun activity with friends but it could equally be great low impact cross-training in a serious fitness regime. So whatever your goal, ((BOUNCE)) combines fun and fitness in one cool package.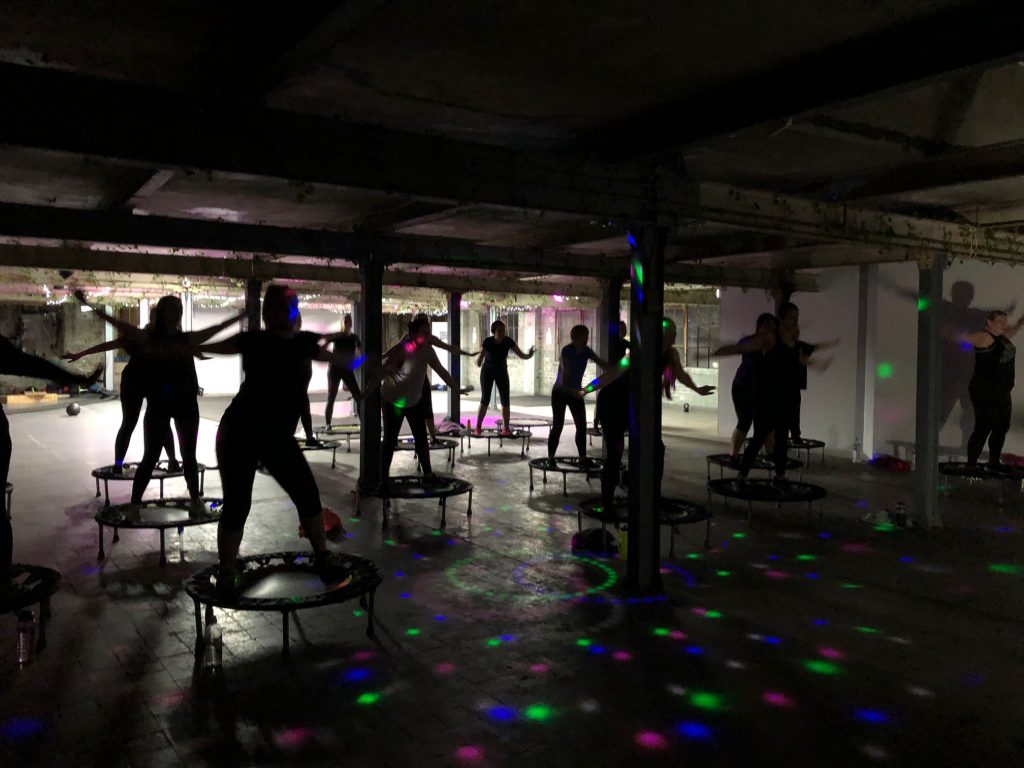 Here are five reasons why we think ((BOUNCE)) is worth a shot:
1. Fun – above all this is a great fun workout. Did we mention that you're on a TRAMPOLINE?! The tunes are epic and Anne's incredible energy is contagious as she encourages you to whoop your way to an endorphin release (apparently it's called the "((B))uzz")!

2. High intensity but low impact – a single 1hr ((BOUNCE)) workout can burn up to 700 calories(!!) and the trampoline pad absorbs 87% of the impact making it great for those with knee and joint problems.

3. Child-friendly – kids are welcome at ((BOUNCE)). There's loads of space at the back of the class and you can bring toys or snacks or whatever else keeps them entertained. In quieter classes young children can have a bounce themselves or join in from floor level. Anne already has a small fan club of young bouncers!

4. Fitness gains – NASA has endorsed rebounding as "the most efficient and effective exercise yet" due to the gravitational force that the trampoline pad adds. Promotional material claims "rapid weight loss" and improved cardio fitness. I can believe it. I forgot to start my fitness tracker to specifically record the class but my step count was through the roof and calories burned way higher than normal.

5. Inclusive – everyone at the class was really friendly and there was a good mix of ages and body types so don't think it's not for you just because you're not already a regular exerciser. It is a genuinely inclusive environment and, as beginners, we were made to feel very welcome. 

So it turns out that the ((BOUNCE)) ((B))uzz is real. I can't wait to go back. Who's with me?

**We were kindly gifted attendance at this class but were not obliged to write a review and all opinions are genuinely held. We are going to go back and are already recruiting more friends to go too!**