Last weekend, we took the kids to the newly opened 'Jump In' trampoline park; just on the outskirts of Musselburgh on the Newhailes Industrial Estate the 23,000 sq foot it really had everything we wanted for an active family morning. With 50 interconnected trampolines, a battle beam, dodgeball court, tumble track, giant airbag, foam pits, drop slide, interactive wall games, a dedicated 'mini jump' area for toddlers, and a cafe capable of producing an excellent café latte – I would really question what else you would need!
On arrival, we were required to sign a standard waiver for each of us before watching a 3 minute safety video. My eldest commented that the video was actually really friendly and clear to understand. It utilises cartoons to go through a long list of rules – such as only one person per trampoline, not jumping on others, not having food and drink near the trampoline etc. Whilst this may seem like common sense, I found it reassuring to know that they were taking safety seriously and were going to lengths to make sure that people of all ages could understand the rules.
We were all asked to raise their hands to indicate we had understood everything before being measured to check what parts of the park they could go in. The younger two were both too small for the trapeze, giant air bag and drop slide but there was so much more they could go in that it really didn't matter. But again, I was happy that they actually stuck to this rule to ensure the kid's safety. Throughout the park, jump supervisors were there to ensure that the rules were actually adhered to but also to encourage the kids in what they were doing.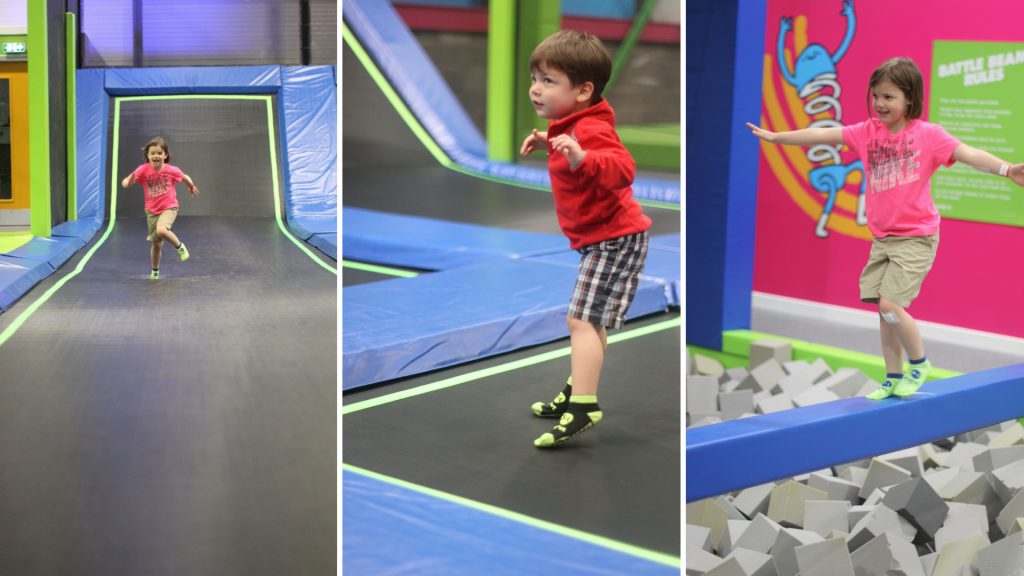 Katie was cheered all the way up on tumble track (almost to the top!) and Ben was challenged to keep trying to beat my on the battle beam (he didn't!).
Thomas was free to go anywhere in the park as it was quite quiet but the area for under 5's was also great fun. Each trampoline had a different sound effect and there was a foam pit just for the little ones. Jump In also run dedicated times just for the little ones to go anywhere in the park, free from any risk of collision with bigger people. Another lovely touch was the rule that little ones have 'right of way' – taking into account that they might be less perceptive of those around them!
Aside from being impressed with how attentive the staff were to the kids, I really appreciated the space the kids had to really burn off their energy. It was really easy to see where the kids were at any given point – so as long as one of us was watching Thomas, we could easily take 5 minutes to drink a coffee. The café had a range of options from snacks to hot meals, and I really liked that we could just get a jug of tap water to keep everyone hydrated.
We really enjoyed a freshly-made pizza for lunch but the kids would've been happy with any of the options. As a wee treat for dessert the kids each chose some 'pick-and-mix' sweets which basically completed their day/week/life depending on child!
Whilst I was there I also took the opportunity to plan ahead for Katie's birthday party. Although it's months off I know from experience that I'd rather be prepared! Trampolining parties seem to be the 'thing' at the moment so I wanted to know what was on offer. One of the supervisors, took the time to show me around and to explain everything included in their party package. Aside from each party having it's own dedicated host (hello no stress!), I was really impressed with dedicated party area as well. Aside from being spacious, it has it's own lighting rig and smoke machines. Katie's face was an absolute treat when she saw the smoke coming down from the ceiling  – and I could just imagine how excited her friends would be!
Overall, what really made our morning was just how friendly all the staff were – they were all happy to spend time chatting with us and the kids. Despite being new to their roles (it's only been open a few weeks), you could tell that the majority must have experience in jobs working with people. They were cheerful, open and welcoming and really made the morning a pleasant one.
So, would I recommend it? I'm a little bit reticent to as I'd really like to keep it all to myself! Over the summer, we definitely plan to head there for a Disco night (think Katie would be in heaven) but for those days when the weather just isn't on our side? With great parking, a decent café, and the ability to entertain all of the kids? It's got to be a winner!
P.S. We were invited to review Jump In but all thoughts and words are of course my own – we're really grateful for their support of Edinburgh Life with Kids!