Any Edinburgh native, when asked about the weather, will never admit defeat. 'Ach you're no made o' paper, a wee bit rain will nae hurt ya!' However when a grumpy toddler is in toe, sometimes a day outdoors just isn't an enjoyable option.
Hence why this week's adventure took place in the wonderfully hot and humid greenhouse at the Edinburgh Butterfly and Insect World, located next to the Dobbie's Garden Centre in Lasswade.
Butterfly World
We pre-booked a time slot via their website, with tickets priced at £7 for each adult and Wren's entry (under 3) was free. We were really impressed by the health and safety measures that were in place, such as physical distancing, regular hand sanitising stations and a requirement to wear face masks throughout. And before you finish that thought (!), we didn't find the heat uncomfortable in masks at all as the whole experience took us an hour to complete.
Butterfly World is the longest running butterfly house in the world and is a firm favourite with young families, as well as a notorious school trip destination. It really is a beautiful sight to see, as the waterfalls and little quirky bridges make it such an engaging walk through. We were surprised to discover so much more than just butterflies (we had obviously forgotten about the 'insect' part of their name!) Wren was fascinated by the tortoises, and a little unsure of the reptile room… Every inch of the walk around was extremely accessible for toddlers, as there were steps up to each tank so Wren could see everything. What really stood out to us was the knowledge and enthusiasm of the staff. It was lovely to see staff members throughout, on hand to offer us fun facts and point out specific butterflies and insects to Wren that were camouflaged in the foliage.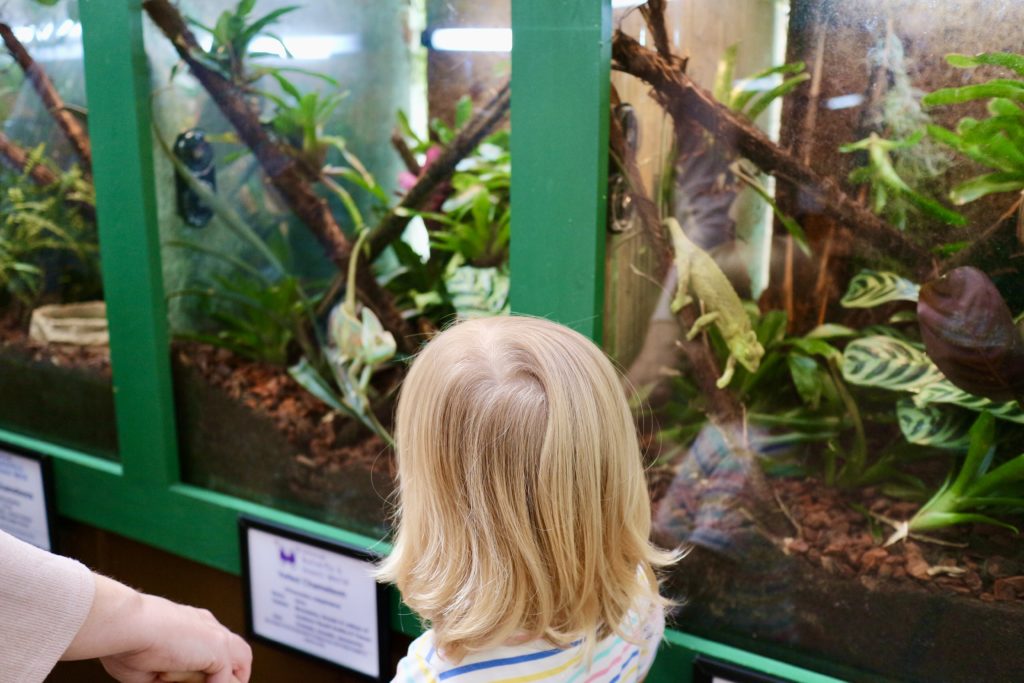 Lunch
Popping next door from the Butterfly World, we headed into Dobbie's Garden Centre. The cafe was operating in line with restrictions, meaning we had to wait for about thirty minutes for a table to open up. It was no problem though since they had their Christmas decorations out in full force. Wren loved exploring all the pathways between the Christmas trees and stopped to inspect one of the elf garden ornaments! The cafe itself is a great size and well spaced out, plus it was table service only which meant no waiting in line for us. We were seriously impressed with the decor inside, super modern and fresh, not what you'd expect from a garden centre at all.
We placed the lunch order and then nipped outside to the small play-park while we waited. Lunch arrived shortly after with some good vegan and veggie options, as well as soups and sandwiches.
Toddler Play Park Jackpot
Not satisfied with the smaller play-park inside Dobbie's, we grabbed coffee to-go (some how managed to avoid the cake display) and headed back outside in to the wind to see the BIG play-park.
Wren was feeling very adventurous, so spurred on by her Grandpa, climbed up the giant ladder several times to reach the slide and then took a quick shot on the swings. The highlight was finding a GIANT pile of leaves right next to the park to run through, throw and kick. A few more tries at the slide and then it was time to get back in the car to go home.
If you fancy leaving hats, gloves, coats and jumpers in the car, the Edinburgh Butterfly and Insect World is for you! It makes for a perfect afternoon out with little ones, and is now in our top rainy day activities list.
*Just a little word of caution that since recording and publishing, Butterfly World is being advertised as currently closed due to recent Covid restrictions. As you have to pre-book any way, definitely check out their website for up-to-date opening information. edinburghbutterflyworld.com
Your support on our Youtube channel is greatly appreciated so please hit subscribe! Also follow Emily on her Instagram @wrenyc for lots of play at home ideas with toddlers and more of her daily life in Edinburgh.