We don't know about you, but we can't even remember the amount of times someone has asked, 'Oh wow, you live in Edinburgh! Have you been to…?' and the answer is often, 'not yet but it's on the list!' Well, 2020 is the year we start working on that list and get exploring our wonderful home city! So every weekend we grab the camera, put on our tourist goggles, and go on an adventure to different areas of the city. And to make it more interesting (!) we bring along our two year old daughter, Wren.
This week, we chose to explore the beautiful areas of Stockbridge and Dean Village. Both of these areas are firm favourites with tourists as they show off that unique Edinburgh charm and are jam-packed full of Instagram spots!
Brunch – The Pantry
We began the day with brunch at The Pantry – an absolute Stockbridge staple, and an incredibly popular spot. We arrived for opening and got a table no problem, but would recommend doing the same if you don't fancy joining their virtual queue. The interior transported us straight back to the eateries of Brooklyn, NY, with its pop culture prints and neon signs. They had a great kids menu and Wren was delighted with her own set of kid cutlery.
Dean Village
It was such a beautifully crisp Autumnal day that we then decided to walk off the Stockbridge high street, down Saunders Street and venture to the magical Dean Village. The Dene stairwell is a toddler's dream and reminded me a little of the wardrobe to Narnia! As we walked through it, we were met with gorgeous autumn colours and a scene out of a fairytale. We soon found St Bernards Well which has a sweet little pathway round the side over the water. Wren thought it was a princess castle!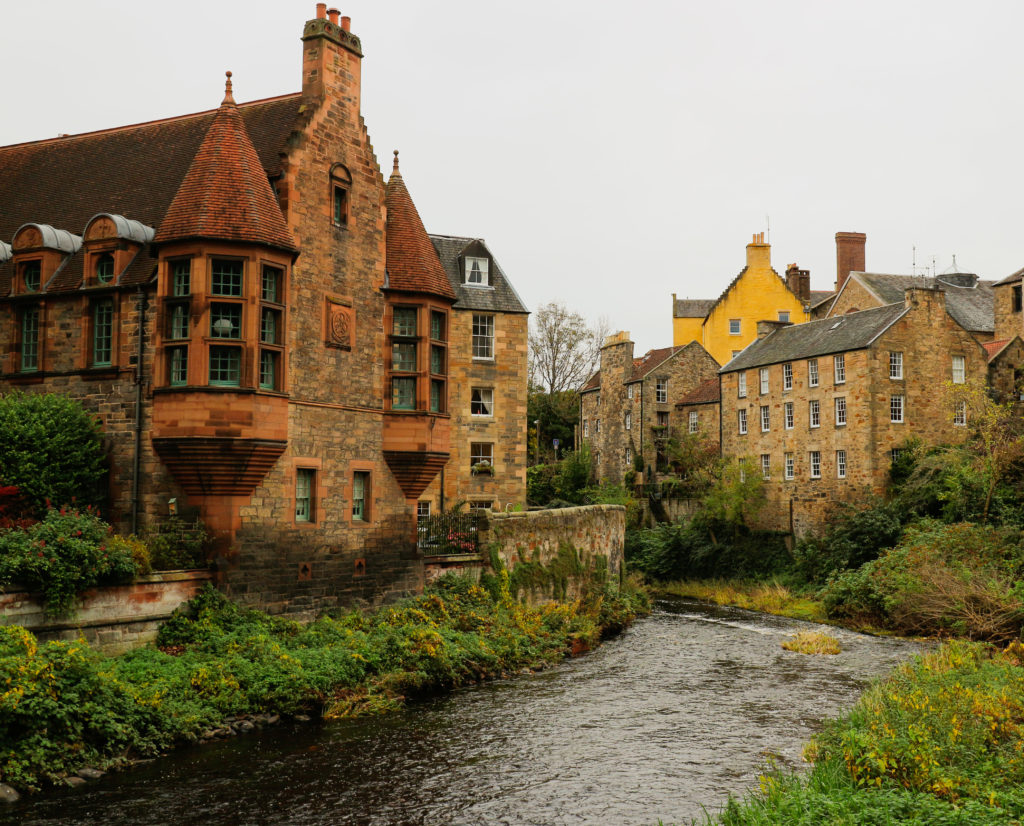 The walk follows alongside The Water of Leith which, with a toddler in toe, means there are always interesting things to spot and distract when a tantrum is brewing! The walkway itself is 'mostly' buggy-friendly, but does include some famous Edinburgh cobbles. Passed The Bells Brae and up a fairly steep hill, we were immediately blown away by the architecture, colours and magic of that famous Instagram scene of the Dean Village. It is hard to believe that it exists 10 minutes away from the very typical 'city' scene of Princes Street. We hope you enjoy the drone shots as much as we enjoyed filming them!
Coffee – Cafe no.33 in Stockbridge
Once all the photos and clips were filmed, we wandered back to Stockbridge and chose The Cafe no.33 as our coffee spot. Quaint, trendy, and a great selection of snacks to accompany a coffee. We've decided we have to come back during the summer months to try their iced coffee, as we reckon it's a good one!
Stockbridge and Dean Village should be on every visitors' itinerary – we only just scratched the surface of this area, so we would love to read your recommendations for our next trip.
Your support on our Youtube channel is greatly appreciated so please hit subscribe! Also follow Emily on her Instagram @wrenyc for lots of play at home ideas with toddlers and more of her daily life in Edinburgh.