I've always enjoyed 'What's in my changing bag?' type posts, in part because I'm nosey like that. But also because I worry that everyone else is carrying round things that I'm not – and probably should be!
I sometimes wonder if I should be carrying round a stash of medical equipment in my changing bag. Or at minimum a stock of plasters in case of bumps and scraps (real or imagined!). But then I always figure in Edinburgh, I'm never that far from a shop selling those things and if I've got a more adventurous day planned then they can always be added in.
Before I switched to using 'real' nappies, one of my (many) concerns had been how much more 'stuff' I would have to carry around in my changing bag. With two small children, I already seemed to be lugging about the house and the kitchen sink – and adding to this was not top of my list of priorities.
However, I needn't have feared – although I have certainly altered how I deal with my changing bag – it's not heavier, just a little more organised.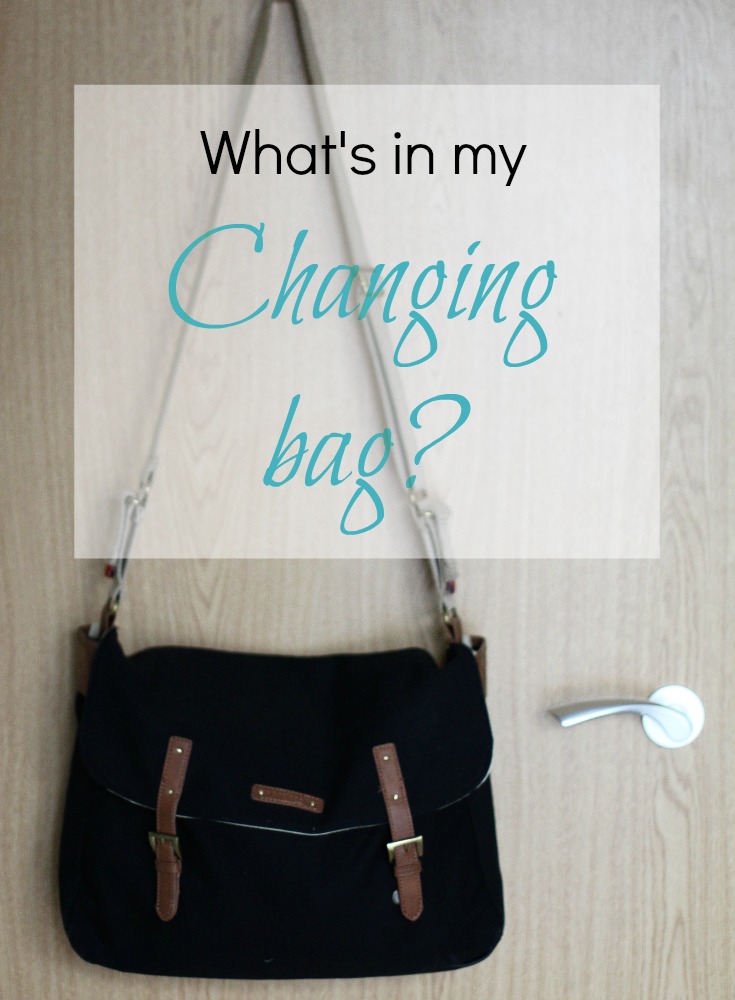 With Katie, I simply used a Longchamp 'Le Pliage' which was awesome for carrying a massive amount of stuff – but Mike did look a bit ridiculous carrying it around – which he did much more so once Thomas arrived. After hunting for a more gender neutral changing bag, we settled for the Storksak 'Ashley' in black. I'm so glad we opted for a proper changing bag this time around as it does hold much more than you'd think and the array of pockets makes it very easy to organise!
Key equipment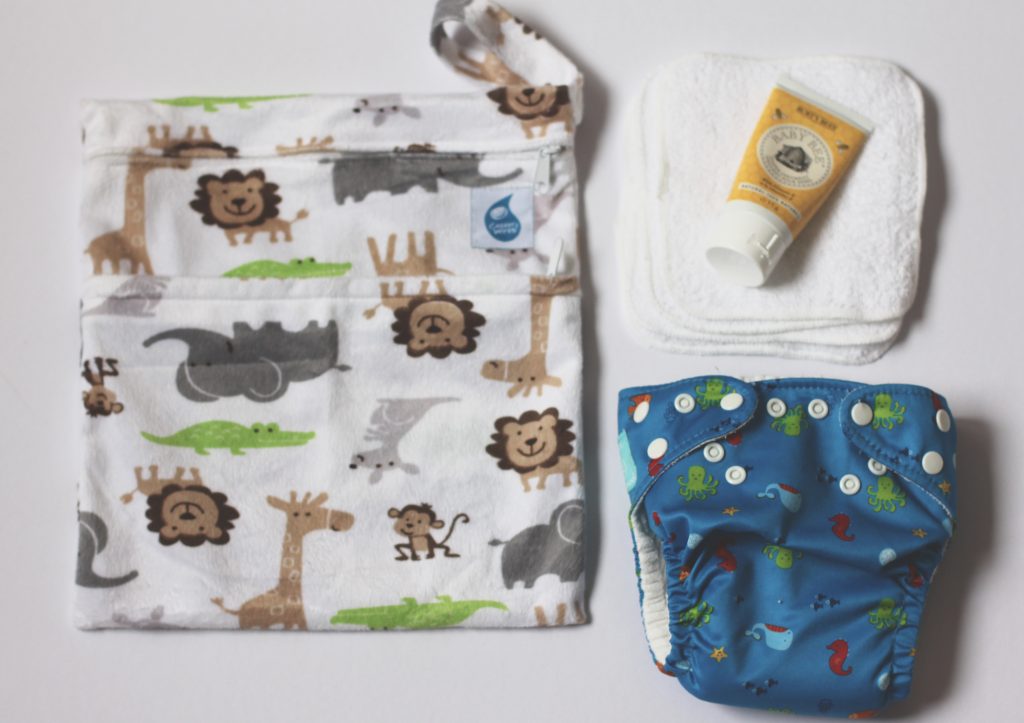 The key equipment is obviously everything I need for nappy changing! I use reusable baby wipes from 'Cheeky Wipes'. These are already soaked in water with a few drops of Lavender and Chamomile essential oils – so can just be popped into the front pocket of my double wet bag. My favourite line from Cheeky Wipes is 'just use one for a nice clean bum!' – except in the case of total poonami, it really does ring true. Even so, I usually only ever take 8-9 wipes if I'm out for a full day.
The number of nappies I pack obviously varies according to how long I plan to be out, but I always have a minimum of two. This is the biggest difference between reusable and disposable nappies in my mind. I used to start with a stash of at least six in my bag, that then let them run down before I realised I was on to my last! That really isn't possible with the bulk of reusables, but the solution has just been to sort my bag out at the end of the day. This is necessary anyway as obviously, I can't just chuck the nappies in a bin wherever I am!
The used nappies fit easily into my double wet bag – which can store four nappies plus any mucky bibs etc. Obviously, as I'm only ever exchanging a clean nappy for a dirty one – there's always room in the changing bag to carry this. I don't know whether any 'stink' is contained by the wet bag or the way the nappies are folded  – but thus far, I haven't noticed a problem with carrying round the dirty nappies. Maybe they just smell less with a lack of chemicals? Does anyone know the answer to this one?
I use the mat that came with the changing bag which folds down to be pretty compact – but it isn't shown in the photo as I didn't think it was particularly photogenic!
My obsession with Burt's Bees products extends to their bum cream – it's infused with Sweet Almond, and Lavender Oil which means it smells pretty divine.
Useful additions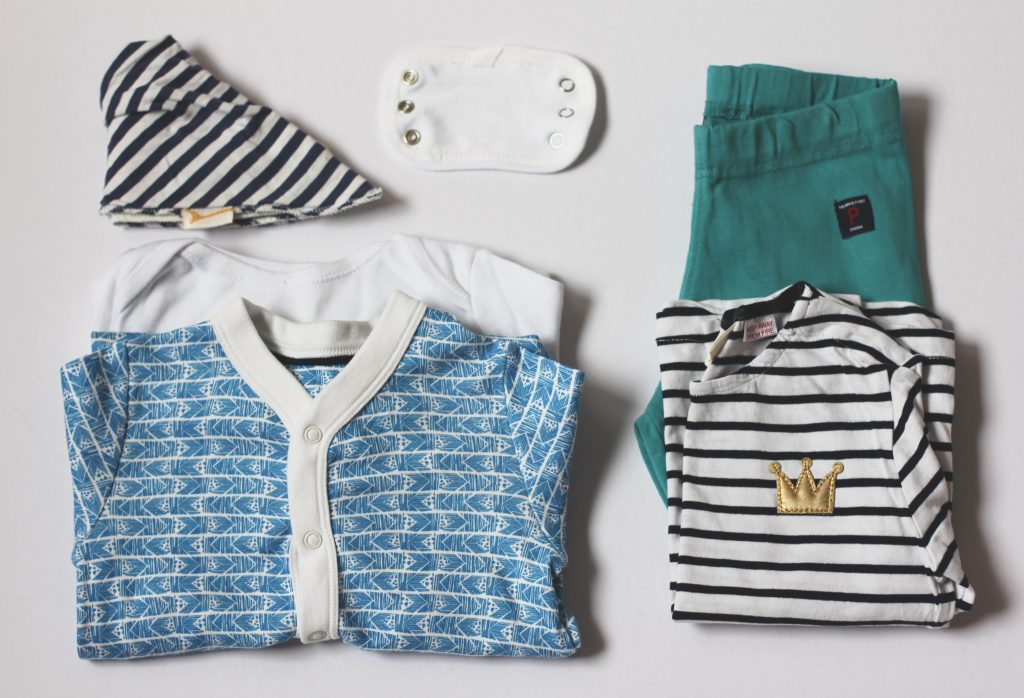 I've found the containment of reusable nappies to be much better than disposables; which renders outfit changes due to leaks unusual. Unfortunately Thomas is still likely to dribble and spit up. So it's always a good idea to have spare changes of clothes. A spare change for Katie is also handy in case of spilt drinks etc. along with my top tip: clean socks for everyone in case of a unplanned trip to soft play!
A question I'm frequently asked is whether I have to dress Thomas differently due to the bulk of his nappy. On the whole, I don't. That said, there are some brands that are decidedly slimmer than others and Thomas isn't that small to begin with. The most useful thing I've found is vest extenders – if the nappy is compressed too much it can be prone to leak and obviously, vests have to go round a little more nappy. I don't like to size up because this can mean sleeves are very long or the body broad – vest extenders solves this – and would generally just be a good idea for long babies too!
Extras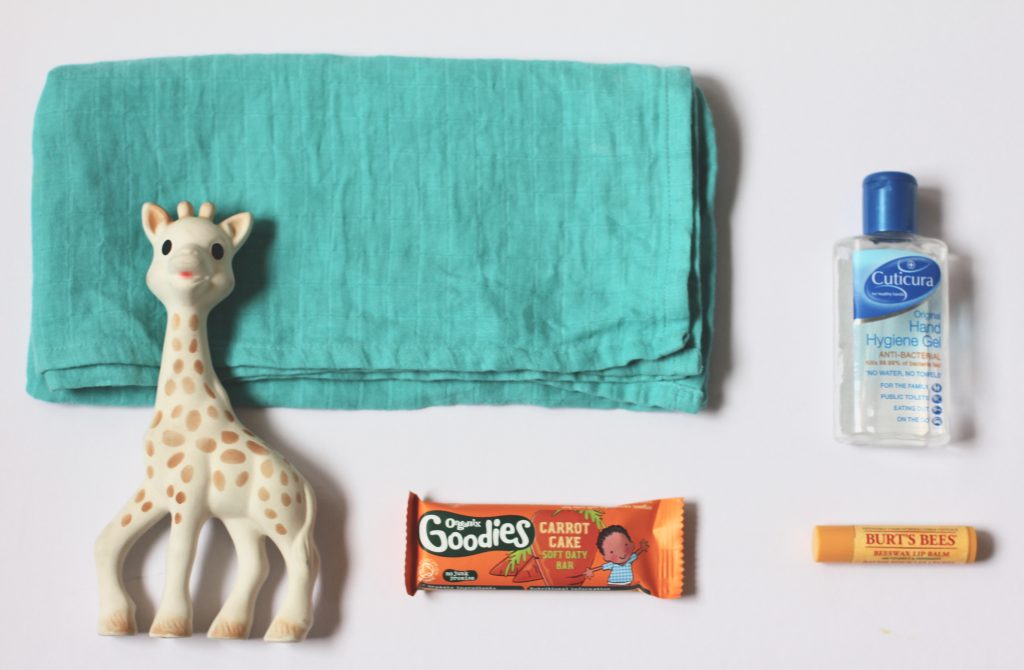 Finally, I like to keep a few extras in my changing bag that I could live without…but it's nice to have them. All of these items can be improvised in different ways but it's just a lot simpler to have them along!
I still think the Giraffe teether sounds more like a dog's toy but it's rare to see an Edinburgh baby without one and it seems to do it's job!