I was a little in awe meeting the fabulous Julia Murray this week and have really been looking forward to introducing her to you, along with her fabulous new venture – Bunny Hop!
Bunny Hop is an online boutique that stocks fun, functional clothing and accessories for kids, from 0-6. Rather than bowing to the expectations of the mass market it aims to bring high quality, natural products that children will enjoy wearing. I've learnt over the years that both Ben and Katie will not wear something, no matter how expensive or 'designer', if it's not comfortable or does not allow play, so I very much was drawn to this aim.
From the first minute of meeting Julia, it was evident that she has good taste – despite it being wet and windy miserable weather outside – she looked amazing. As I've written before, I am forever on the quest to find clothes that are comfortable, practical and stylish. Julia has this down to a fine art. Jeans that fit perfectly, a blouse that draped in a really flattering style and of course perfectly accessorised with a trio of charms on a gold necklace. I include this observation, not simply because I envy her, but because her taste evidentially is transferred into Bunny Hop products.
Every item stocked by Bunny Hop is chosen personally by Julia and exudes her style. Whilst the stock is limited in this, the first season, it has all been selected for good reason. I looked through pieces from each label and was very impressed.
Gray Label products are so unbelievably soft that I fell in love immediately. I could tell that the colours are muted enough that they would be flattering on Katie but bright enough that she would like them. She now has an endless-scarf in vintage pink and has not taken it off since I brought it home. This morning she thought it would be perfectly acceptable to wear nothing but the snood for pre-school! I fear I'll be buying her a hooded dress sooner rather than later. Although I'm actually quite miffed they don't come in adult sizes!
The other brand I was really taken with was Bang Bang Copenhagen. Katie loves clothing with fun picture and logos but so often these are overly garish – or more annoyingly, very gender stereotyped. Rather than being uni-sex (I wouldn't be dressing Thomas or Ben in a Panda dress), I do think they succeed in being gender neutral – this superhero sweatshirt is downright cool for example but if a girl wore it, I doubt she would be called a tomboy.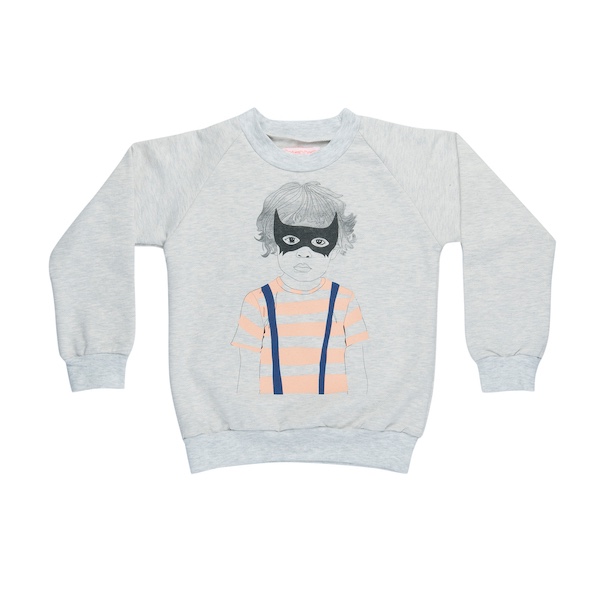 In short, if I had the budget, there's not much I wouldn't buy from Bunny-Hop and will be keeping a keen eye out for future seasons! I hope that you like hearing from Julia as much as I did:
Would you tell us a bit about yourself? What's your background?
My background is originally in finance, which has been helpful in the nitty gritty of setting up Bunny Hop.
What do you look for in children's clothing?
A number of things (and if any one brand ticks more than one box, that's especially good).
Innovative and modern designs- things that catch your eye, cool cuts, exciting prints, beautiful colours. Anything that is a little bit different to what we are used to seeing on the high street.
Environmentally and socially responsible producers- It's great to know that the clothes that you or your little person are wearing have not negatively impacted the environment or those involved in their creation. When an item of clothing is organic, you know that there were no pesticides used in the production- this means less damage to the environment and a healthier experience for the farmers and producers. Organic fabrics are also much more gentle on tender skin- they are incredibly soft and are said to create less irritation and allergic reactions.
Unisex themed clothing- I think it's incredibly important to let kids wear the clothes they want to wear or like to wear, rather than pigeonholing them into 'boy clothes' or 'girl clothes'. It's great when you can find themes in clothing that are gender neutral- skulls or tigers or geometric prints for example. It would of course be pretty difficult (if not impossible) to have a shop that is completely gender neutral and it was never really my intention, but I do try to avoid things that are obvious gender stereotypes. I think kids are so creative and get into absolutely anything they put their mind to- my little girl is great with a football and is obsessed with dinosaurs. It doesn't make her a tomboy, it just makes her a two year old!
Obviously you stock some items that are more expensive than those found in high street stores. What makes them different?
Two things:
Innovative designs. A lot of these items are things that make people stop and say 'I LOVE that'- these clothes and accessories are so different and feel so fresh compared to what we usually see. In a way, we are paying for the uniqueness of an item.
High quality materials. Many of the items you see on Bunny Hop are well loved pieces in my daughter's wardrobe and so for me, all these clothes are tried and tested. It makes my heart sing when these things come out of the wash looking brand new, without baubles and popped elastic and random bits of thread hanging off. This is a really mumsy thing to say, but clothes that wash well get my vote every time. Also, the softness. High quality (and organic) fabrics are so supremely soft and lovely to the touch, and they remain so wash after wash. The same applies to colours that don't fade and stay looking new. These clothes are more expensive but you do feel that you're getting value for your money in the sense that they last and last and last. When you are buying one more expensive item instead of three cheaper ones, you get something that becomes a fantastic staple in your little person's wardrobe as it's not going anywhere in a hurry .
What's your favourite item that you stock?
Couldn't possibly pick one thing. Every item on Bunny Hop is something I picked personally because I love and really believe in it, so they're all my favourites! Some because they're really funky and bright, some for their cool prints, some for being super soft, some for smashing gender stereotypes.
Why did you chose online retail?
To be honest a bricks and mortar shop was never really a consideration for me as I personally prefer to do 95% of my shopping online- an online shop seemed like a really natural thing to do. Online shopping first became a no brainer for me when I was pregnant with my daughter. I felt huge and tired, and the thought of trekking to town and trying things on and waiting in queues seemed so daunting, and so I stared ordering everything online. What hooked me then is what I aim to recreate in Bunny Hop – quick and safe delivery, ease of return in case of an item you've had a change of heart about, the excitement of getting a lovely package addressed to yourself in the post, the lovely things the package contains- it's all a part of shopping on bunny-hop.com
Where do you see yourself in the future?
I am taking it one day at a time, or at most one season at a time- little baby steps. We're continuing to increase Bunny Hop's stock, season by season, and I've got some super exciting things in the pipeline for SS16, where you'll see some unique brands, beautiful clothing and a few surprises too!
What's your favourite thing to do in Edinburgh with your daughter?
On a nice day (or at least a dry(ish) day) we usually go for big exploring dog walks. Grab a coffee for the road, get our wellies, snoods and hats on and go collecting sticks and pine cones. We love Cammo Estate as it is beautiful through all seasons.
When the weather is bad we do the same as everybody else- whatever it takes to not go stir crazy! Play dates, movies, painting and play doh-ing, or a nice hour spent in a book shop is always a firm favourite!