The key question to emerge from from The Lion King at Edinburgh's playhouse has to be – do you have a soul if you don't cry?!From the moment the animals paraded to the stage, to the final moment Simba and Nala took to pride rock together – one couldn't fail to feel emotional.
Being in any audience after covid is undoubtably cause for celebration, but from the first moment Rafiki – or rather Thandazile Soni's – voice filled the theatre the energy from the audience was palpable. With Disney's film versions being so well known, you might assume that the audience wouldn't be caught by surprise but the gasps of delight that could be heard as Scene 1 began would go against that.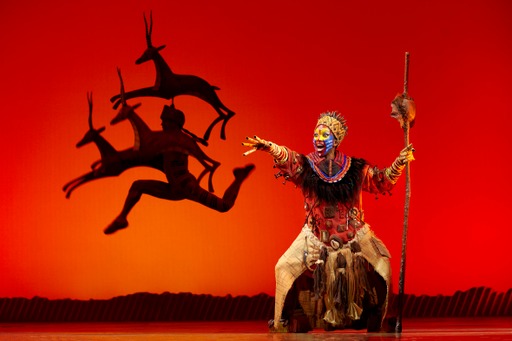 The story of course follows the familiar tale – the young Simba has a great destiny set for him by his father Mufasa. But all goes array when his evil Uncle Scar orchestrates Mufasa's death and tricks Simba into believing he was responsible.
Thankfully, this dark plot line is contrasted with the comic relief from a number of sources – Zazu provides cutting sarcasm to contrast with Mufasa's seriousness before Timon and Pumbs bring boisterousness to combat Simba's sorrows. Even the sinister nature of the hyena's is lightened by Ed's more comic behavior. Scar also has the potential to be frankly terrifying but Richard Hurst balances this with more of a pantomime air rather than full on evil!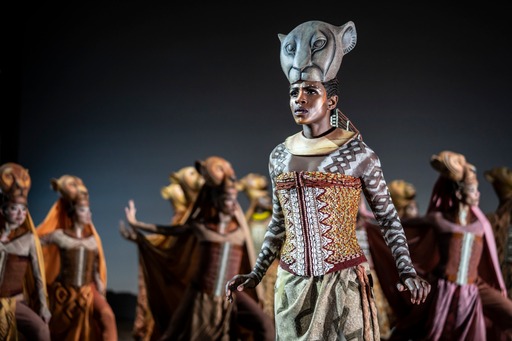 However, I would say the real contrast comes from the interlude provided from the scenes with the full ensemble. My daughter Katie was particularly taken the the Lioness's hunt and the beginning of Act Two when birds seemed to soar from every level of The Playhouse.
Personally, I'm not a fan of audience members singing along but I know this isn't everyone's preference. With some exceptional young audience members, it perhaps wasn't surprising that they were clapping along with any opportunity. These more upbeat moments definitely had contrast though and certainly didn't diminish my overall enjoyment of the performance.
It is amazing to have live theatre again – and I very much hope that you'll also have an opportunity to see this run of the Lion King – tickets are available here.