I have been doing children's Fringe shows every year since my eldest Sophia was a baby – so 6 years. I really rely on reviews to pick a show worth going to see. I have seen some duds – the kinds of shows that make you groan internally and keep checking your watch. On the other hand, there are some real gems of shows out there, that awaken children's imaginations and have them enthralled for close to an hour – this show is definitely in this category. 
I didn't really know what to expect with this SLIME show. I was pleased to see it was in the Central library – we had a nice wee look around the Children's library before the show started. It's well worth the visit for its selection of books, circular seats and craft room. The SLIME show itself is downstairs in the main central library, we met Sam – the writer – at the entrance to the central library and he swapped our paper tickets for foam 'slime' tickets and told us to follow the slime trail downstairs. It led to a magical garden show area all made from foam type material. We were asked to remove our shoes and leave them in a cloakroom and enter the garden – it makes for a super start to the show, following the foam stepping stones and taking a seat on foam stools or the floor. There is lots to look at and talk about and you forget you're in a library because you are fully immersed in the garden.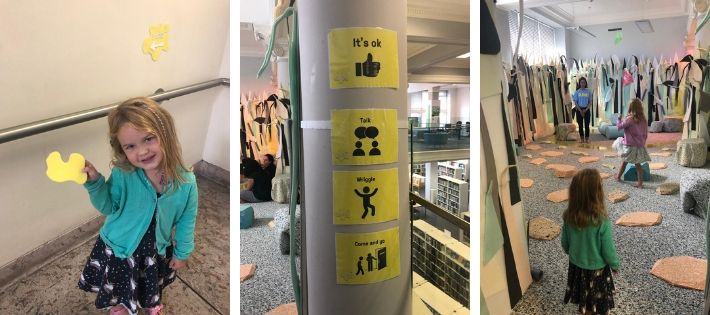 This would be a great show for a first fringe experience. I loved the sign as we entered that encouraged wriggling, talking and coming and going- with small children it can be really hard for them to understand they have to sit still in some of the more formal show settings. This show was perfect for the toddler who can't keep still – there were several kids getting up and wandering about. The lovely relaxed atmosphere meant parents could relax with wriggling children. My 4 year old is a bit of a chatter box and likes to ask questions – I have to shush her in some shows and this to be honest is a bit of a shame – today she was mostly enthralled and giggling, but she would have been fine to chat to me and ask me about it.
The show is about a slug and a caterpillar trying to reach a leaf – at first they are suspicious of each other, and gradually they learn more about each other, start to work as a team and become friends. It has a gentle underlying message about not judging differences and working together to reach a common goal and we learn about caterpillars becoming butterflies (or a duck or unicorn perhaps?!). There is a limited script but the two performers communicate their story really well with animated expressions, dance, leaping about and hand movements to entertain the children (and adults). This suits the suggested age range of 2-5 really well. It's not complicated, it doesn't drag, there are silly and funny bits, they use music and sound effects well and my 4 year old in particular was mesmerised and giggling throughout. There are 'no scary bits' but there are some louder noises which a very sensitive toddler might not like- you are also very close to the performers – something I like but I know some children might worry over this. There's a happy ending and at the end the kids all get to come up and play with some slime. Win!! My girls were very happy to go up and make slugs, butterflies and caterpillars from the slime and the lovely SLIME team interacted really well with the children. I am really pleased we went. It felt like a proper Fringe experience, in the best sense. As we left and walked up the stairs my 4 year old said without prompting "That was awesome mummy".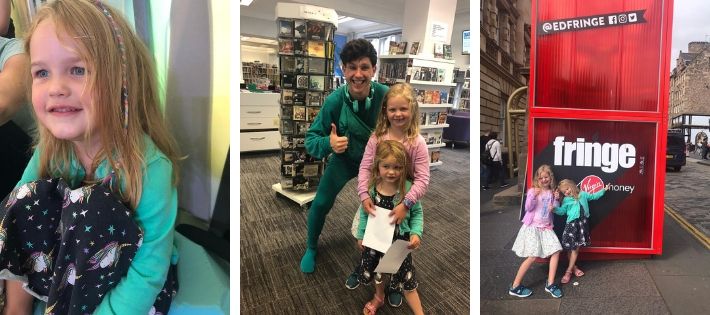 Now over to the kids – I asked them some questions about it over lunch after the show
Sophia 6 (almost 7) and Isobel 4.
How many stars out of 5 would you give Slime? 10 out of 5.
What was your favourite part? Sophia 'when they became friends' Isobel 'all of it'
Which was your favourite character, Slug or Caterpillar? Both of them!
Would you recommend the show to your friends? Yes!
P.S. This tickets were gifted to us in exchange for an honest review. All views are of course, our own. Tickets for this show are available here.