What does your typical Friday night entail? I'm guessing it would usually go much the same way as mine – lazy dinner, maybe a bit of TV – but not much is the answer right now! Stepping into the gap, and providing the incredible experience, is Bridge 8 Hub and Paddle Cafe aka the masters of Hygge (Edinburgh style!)
The evening began with dinner…
We arrived at the Bridge 8 Hub only to spy their new covered pergola lit covered with twinkling fairy lights, and tables set at as distance from each other for family groups. Small fires were already being lit to provide some warmth, and we were swiftly furnished with cups of mulled wine (non-alcoholic), and hot orange or blackcurrant for the kids.
It was lovely to have that moment to pause with the kids at the end of the week and just to chat listening to their news. Sean (the owner of the hub) came over to talk (remaining at a distance!) and although we've met before, I was reminded of his warmth and quick ease with the kids – with even my introverted teen joining in the chatter!
Roast pepper and tomato soup soon arrived, follow by a choice of beef goulash or buttersquash and black bean stew – nestled in hollowed out bread rolls. At the end of a long day, and with the night gathering around us, this felt like the perfect solution. Warming and wholesome – with all the kids happily tucking in!
The food for the evening was a collaboration between celebrity chef Tony Singh, the fabulous Riki Geard of Live Love Cook, and Kirsty Stembridge from the Paddle Cafe. Sean explained that everything had been made by Riki in a Thermomix, so that fresh, local produce could be utilised. Impressively the bread for the evening was also sourced from another Social Enterprise!
A nighttime paddle
After finishing our meal, each family bubble was invited in turn to be fitted out with life preservers and equipped with a head torch! We then were led to find a canoe joined to another 'catamaran' style – to make our way up the canal in a convoy.
Led by the very-able Toby, we paddled into the night lit by the assorted head torches and the soft glow of lights from nearby buildings and streets. Although I've been out on the water many times before, I hadn't experienced anything quite like this. A har had fallen so a mist sat on the water, lending a feeling of absolute calm as we paddled into the dark.
Whilst obviously there was a chatter from each canoe, it wasn't intrusive as we could just enjoy some time together in what ultimately was quite a simple way. At various points along our journey, we paused for Sean to tell us a bit about the canal but also the work of Bridge 8.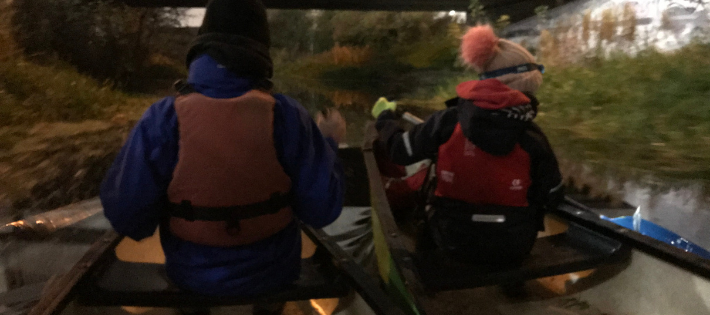 As a social enterprise, Bridge 8 works with a wide variety of community groups and it was great to hear and learn a bit more about the work they've been doing. I had the opportunity to chat to Toby a little who if hadn't been for Covid would've been on a trip to Nova Scotia this working with a group of young people from all over Edinburgh all linked through Bridge 8.
Rounding off with S'mores
After an hour or so out on the water, we were happy to return to the Hub to sit by the fire and enjoy some hot chocolate. If that wasn't enough, each family group was then had a s'mores box complete with HUGE marshmallows – queue some very happy children.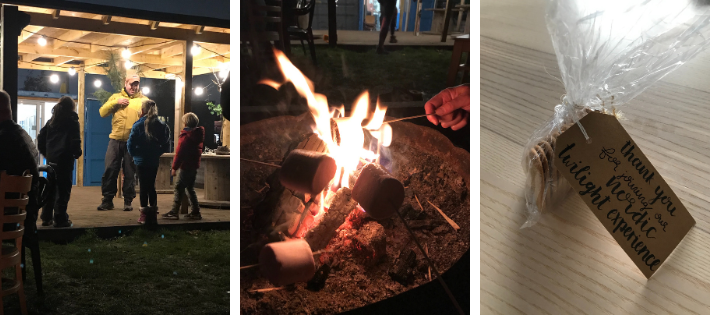 By this point, Katie was chatting away with a girl from another family and was hassling Sean to show them his dancing skills! It was lovely to chat to some other parents (on the other side of the fire!) – finding our children has an awful lot in common and once again, just taking an opportunity to enjoy time to pause, enjoy the company and just soak in an incredible experience.
As an extra little something, each couple and family were given a packet of spiced biscuits to take home – something I look forward to eating this week to remind me of the evening!
Things to note…
Firstly, it wasn't all family groups and there were actually a great mix of ages. Obviously you need to be in bubbles right now but I would quite happily return with my colleagues if I could! Equally, two families could book and just sit on tables near to each other and still enjoy an evening with friends.
Wrap up – I was glad of my layers! Although you don't get wet canoeing, it is Scotland and it is night time. I had a t-shirt, sweatshirt, fleece, gortex jacket, hat and gloves on – so I was quite comfortable! The kids also had rain trousers on (wouldn't have said no to a pair!) and we all wore walking boots or decent trainers. Whilst it's certainly not challenging terrain at any point – I wouldn't have wanted to be in heels!
We were gifted this experience for the purposes of this review and all thoughts/opinions are our own. We're hugely grateful to Bridge 8 for giving this opportunity, and hope that you'll have a chance to visit yourself!
The Nordic twilight experience runs every Friday to Sunday until 20th December 2020. A family voucher is £100 and a couple £70, it's also possible to purchase extra hot drinks and additional s'mores boxes on the evening. For more information or to book in for an evening, simple email bridge8nordic@gmail.com