Silliness abounds in this fun slapstick comedy that will keep the kids giggling throughout.
A stern voiceover opens the show. It's mum. Uh oh. She's chastising her two dungaree-clad sons about the state of their bedroom.  They look sheepish for a second or two then stomp around the stage with an attitude reminiscent of Kevin the teenager. From there on, the "boys" bounce off each other (often literally), creating chaos as they work together to clear up the stage and do their "Chores".
The show moves through a number of phases during which the pair show off a variety of genuinely impressive circus skills, all the while playing tricks on each other, and the audience. There's the toilet paper gun, the double juggle section (my favourite), the hoop section, the water spray – simple but getting wet is a winner where kids are concerned, a slightly risky height section, the sheet section (which is kicked off with a classic line) and much more, all wrapped up with a grand finale when the room is finally clean.
In the end, the boys placate their voiceover mum with a spick and span stage. With nothing left to complain about, the boys are allowed to ride their bicycles after all. You'll be so glad that they are.
Both performers look like they're enjoying every minute. Their extremely expressive faces are put to good comic effect throughout with a series of hilarious reactions ranging from wide-eyed and open mouthed to crumpled in (faux) pain. The latter happens a lot and never fails to raise a laugh. I took two four-year-old girls (and another adult), who were thoroughly entertained but both girls displayed a, perhaps worrying, delight in seeing one or other of the boys suffer from a multitude of painful injuries. Seeing the performers pop straight back up after having apparently slammed hard onto the floor might actually be a subtle lesson in resilience, however?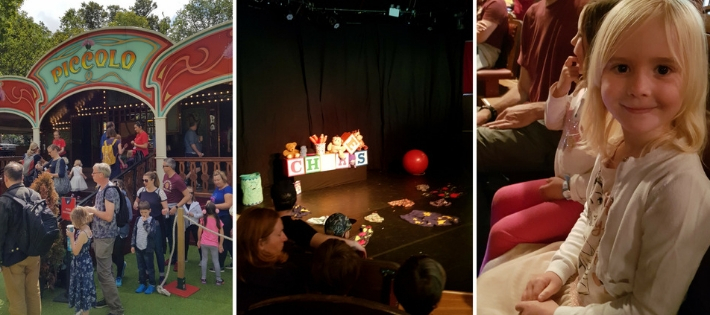 We were all firmly on board with the audience participation, which was plentiful, and we shushed and shouted on demand. One big bonus of this show is that all the jokes are conveyed physically so, within reason, a bit of background noise is ok and there's no need for younger kids to be kept silent. So if they have a little chat to their friend, or ask to sit on your knee to see better, that doesn't disrupt the performance. At least it didn't appear to this morning when my daughter did both of these things.
The soundtrack to the show is well selected and adds another dimension. Beware the use of extremely catchy tunes, however. "Bicycle, bicycle…I want to ride my bike".
Chores deserves to do well. It serves up slapstick by the bucket-load with superb delivery by two likeable guys. Though quite why voiceover mum doesn't spend more time complaining about the state of her sons' hairstyles remains a mystery…
---
Chores is on at the Assembly George Square, Aug 6-12, 14-19, 21-26 at 12:00.
P.S. We were kindly gifted tickets for the purpose of this review but all thoughts, words and opinions are our own.
I hope that you get a chance to go and enjoy the show as much as we did! Don't forget to share your festival goings on with us over on Instagram and use #Edinburghwithkids