There's something magical about sitting down at a children's show at Fringe, not knowing exactly what you're going to see, having only gathered a few hints from the poster and online description. Arty's Ani-Magination was full of energy, enthusiasm and effective storytelling from the first scene.
The show begins with introducing us to two of the main characters: older sister Sophie who is teaching her younger sister, 10-year-old Arty, how to ride a bike. I knew at this point my 9-year-old daughter (who learned to ride her own bike last year) was going to connect with the characters and enjoy the show. Arty's relationship with Sophie has changed since Sophie has become an adolescent and interested in things like makeup, boys, and being "cool." Now, instead of playing together, they bicker, and Arty misses the bond they used to share.
One night, animal-loving Arty makes a magical wish that transforms her into a rat. Surprisingly, the magic is contagious, resulting in Arty's dad, sister, best friend, classmates and teachers also being turned into their favourite animals! All five members of the cast completely throw themselves into the exuberant silliness of these animal transformations. Our audience couldn't help but giggle in response to the characters barking, jumping, meowing, and squawking around the stage (and at one point even through the audience).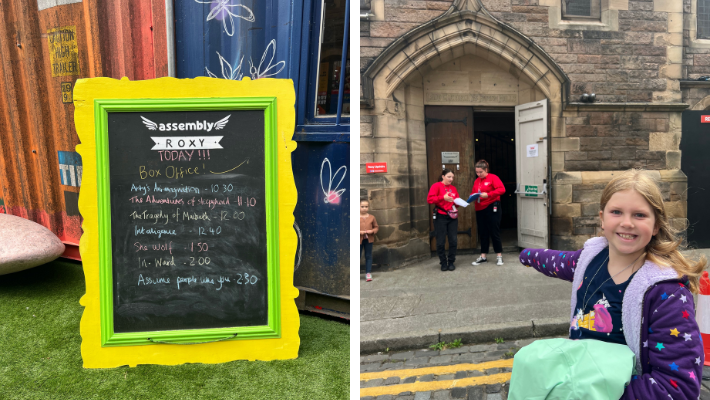 Arty's Ani-Magination uses songs throughout the show to support the story-telling and showcase some great singing from the cast. My daughter and I both also enjoyed the simple, but effective staging – five wooden boxes and a doorway are cleverly moved around the stage to create different rooms, locations, and furniture. Another highlight for us was seeing a mixed gender friendship between Arty and her best friend Davy.
Suggested age range for the show on the Fringe website is from 5-11 – my daughter and I both thought the show might be most enjoyed by slightly older kids (age 7 and up) who are likely to connect personally with the themes of adolescence and changing sibling relationships, but the younger members of our audience did appear engaged throughout.
Arty's Ani-Magination is on at 10:30am everyday (except 23 Aug) from now until the end of the month at the Assembly Roxy Upstairs. There are some fun rock-shaped benches outside to sit on while you wait for the venue to open. Entrance is at the door on the left end of the building and the theatre is up several flights of stairs in the tower – it's a bit of a climb, but there's some fun art to look at as you make your way up. 
P.S. We were gifted press tickets in order to provide this review but all thoughts and opinion are entirely our own. You can buy tickets here.
Aug 04-29. Assembly Roxy – Upstairs. 10.30. Suitability 5+