The Edinburgh International Book Festival 2019 launched on Saturday and we were very lucky to be there for the first show of this year's children's programme, a collaboration between the inimitable Julia Donaldson and Catherine Rayner, who is the illustrator of Julia's most recently released book, The Go-Away Bird.
It was a full-house in the main auditorium with an audience of approximately 750 excited children and almost equally excited parents. I love reading Julia's books to my children and know 90% of her back catalogue by heart but it was a real treat to hear a new story, one which will no doubt feature at bedtimes of the future.
The Go-Away Bird was a great intro to the show with lots of brightly coloured puppets and excellent birdie voices. The kids were transfixed from the start. For those who haven't been to a Julia Donaldson show before, they are a family affair with Julia's husband and sister performing some of her much loved characters. There is also a healthy dose of audience participation as mums, dads and children are invited to volunteer to take part. I'm sure at least 400 hands shot up when it was the children's turn to volunteer.
What was different about this show, however, was that it also included an insight into the illustration process. Illustrator Catherine Rayner talked us through a live sketch of the grey-plumed Go-Away Bird, breaking the drawing down into 10 simple steps. It was fascinating to see it come to life on the page and Catherine's self-deprecating commentary was spot on. I'm sure this demo will have encouraged kids to get creative and have a go at sketching out their favourite characters.
The show continued with a mix of music, dance and stories. What the Ladybird Heard was very cute with its 10 children dressed as the animals. They say you should never work with children or animals but the children dressed as animals were brilliant, even the disappearing duck!
Then it was Freddie and the Fairy (cue more kids kitted out in animal masks) and then time for another song. The World Inside a Book was a singalong song with accompanying Makaton signs that were simple enough for the audience to join in with gusto.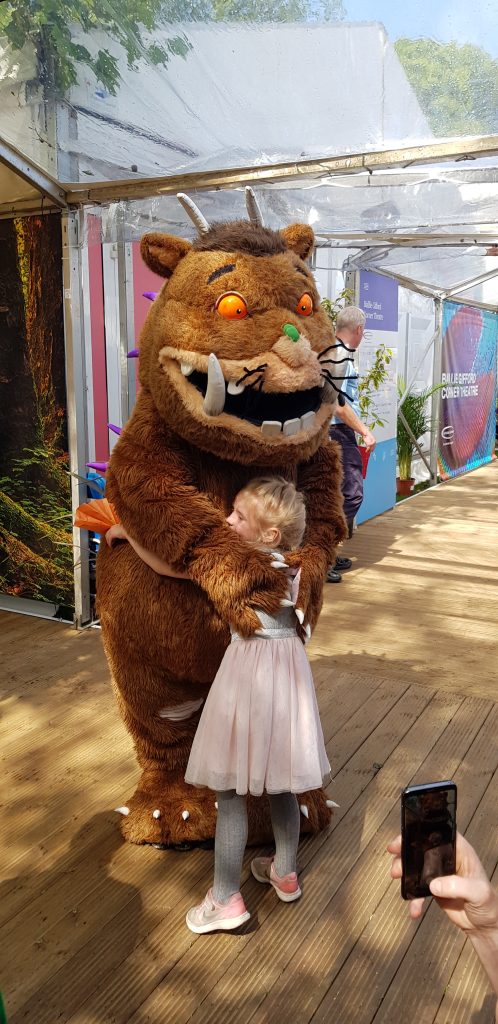 The grand finale was, of course, The Gruffalo. Julia et al have got this one down to a tee – Mr Donaldson does a cracking Fox – and it is a big favourite for a lot of children. Unbelievably, The Gruffalo is 20 years old this year. Cause for celebration! The Gruffalo was coaxed back on to the stage, serenaded with a special Gruffalo themed birthday song and presented with a slice of birthday cake. The flavour? Scrambled snake…
We had such fun at this show and wouldn't hesitate to take the children to see Julia Donaldson again but we'll need to plan ahead as tickets are snapped up so quickly.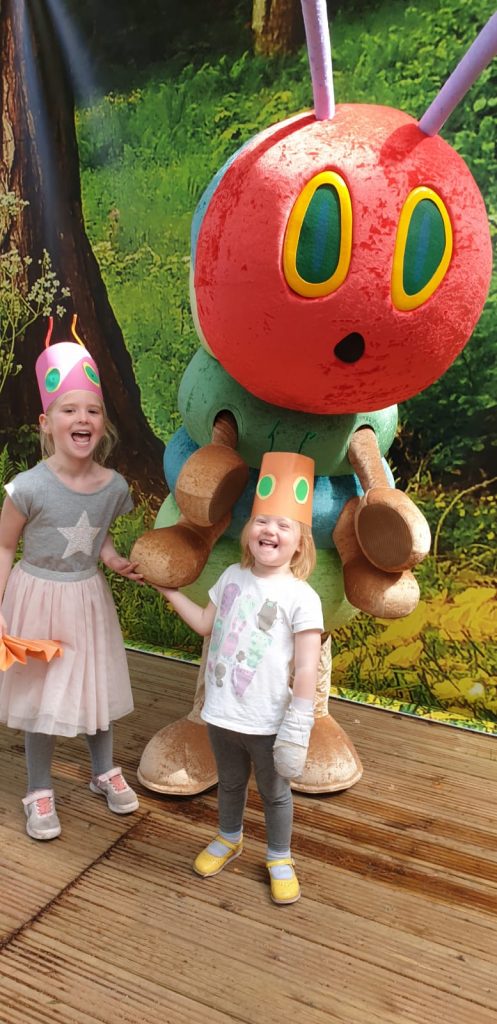 We stayed on in the Charlotte Square venue after the show to see what's on offer this year. We were all so impressed by the kids area. Bigger and better than previous years there are things to climb in, over and on; child sized picnic tables; a face-in-hole board (I just spent some time googling what these are actually called – comic foregrounds apparently?); a large covered area for the inevitable wet weather and a craft tent with different daily activities. My kids go crazy for a craft so we'll definitely be back here. They made The Very Hungry Caterpillar hats yesterday and even kept them on for a photo with Mr V. H. Caterpillar himself.
P.S. We were gifted press tickets in order to provide this review but all thoughts and opinion are entirely our own.
There are lots of Family Events on at the Book Festival – some free and some ticketed – find out more here.