With Half Term on the horizon here in Edinburgh, I've been busy planning some days out and trying to work out how to make the most of our time! It's been a while since we've taken the kids to the Modern Art Gallery and ordinarily it wouldn't be something I'd immediately think of for a weekend. But when we were invited to review the Ray Harryhausen exhibition, I knew that this one would be a bit different…
Ray Harryhausen may not have been a name you know – unless you're film special effects buff – but I would hazard a guess that the majority of you will have seen one of his films. Spanning from the 1950s to the 1970s, they're certainly what I remember from Saturday afternoons TV as a child. Ray Harryhausen paved the way for the film makers that follow and it was fascinating to see exactly how he brought his models to life in films and to ponder how many people he inspired.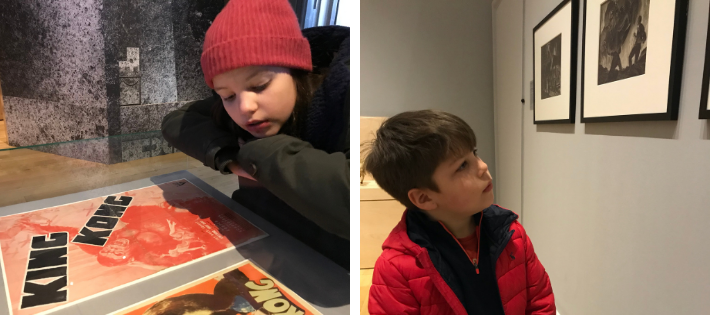 Initially, the kids were drawn in with promises of skeletons but were soon drawn in with models of aliens, pegasus, the hydra, and medusa. So many of the exhibits were at their eye height – safely behind glass – so they could really go up close for a proper look.
Thomas particularly was also taken with drawings of different scenes and was soon pondering what story they could be telling. He's recently announced that 'people who think they've seen a UFO are actually seeing planets' but this hasn't stopped him being fascinated about the concept. I thought that we would be rushing past pictures as his usual approach is to ping from one thing to another but instead he took the time to examine each aspect and try to figure how how it all went together.
An added bonus was the amount of things that were interactive and particularly eye-catching. In one of the upstairs rooms, models were lit up in turn as their animated versions were projected on the wall. It was such an effective way to show how the two related.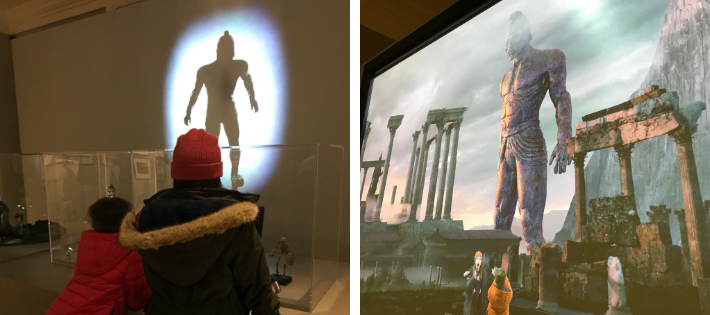 But without a doubt, the kids favourite part was the opportunity to step onto the green screen and interact with the models on the big screen. It was pretty quiet so they were able to sneak a couple of turns and it was the best way to finish the exhibit.
Food and drink
Whilst there is a small coffee van out the front of the Modern Gallery 2 now, the cafe has been rebranded to be the 'Paolozzi's Kitchen' has whilst there is still a great selection of sandwiches, soup, and baked goods. It also had an array of delicious flatbreads.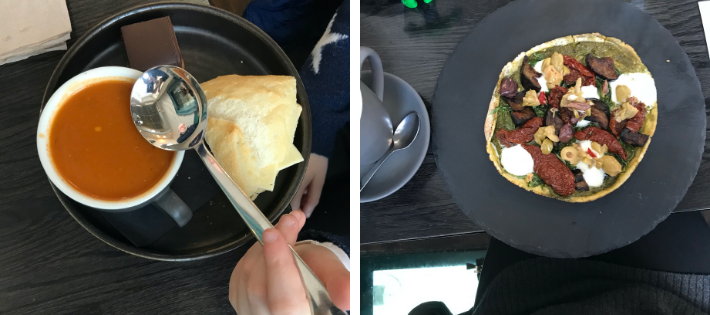 The kids menu had the choice of quiche or a cup of soup with ham/cheese roll, sweet treat, and juice. Whilst both kids were tempted by quiche the sweet treat lure won out! I thought the portion sizes were spot on, and Thomas particularly enjoyed the soup whilst Katie was more about the rolls!
Gallery Shop
After we had looked through the exhibition, both kids were delighted to have the chance to browse the gallery shop. We were kindly gifted a voucher to spend,, and there was a great range of items linked to the exhibition. Thomas was very keen to have his own collection of armed skeletons and has great plans to use them in a stop animation. It's certainly one way we can extend this particular half term activity!
The exhibit is only on until 20th February 2022, so there's a limited opportunity to be able to visit. For more information and to get tickets – visit the National Galleries website.