All too often when we eat out as a family it becomes a race to be done. We need the food to come quickly or we run the risk of the kids rioting. It's also key that there's plenty of options for the kids to chose from to ensure the meal goes by with the minimum of fuss. I was assuming our midweek dinner at L'Osteria del Tempo Perso would follow this all too familiar pattern… but instead, we simply lost track of time.
Opting to eat early – at about 5.30 – we arrived to a quiet restaurant but very friendly staff. They took the time to introduce us to the different menus on offer and to talk through some of their personal favourites as well. It was lovely to see them chatting with Katie making sure they learned her names and took the time to listen to her random chat.
Thomas – rather inconveniently – fell asleep on the way to dinner, but they were more than happy to find a cushion so he could continue snoozing next to us!
Although there was loads to choose from, Mike and I both opted to have two courses from the 'pre-theatre' menu. For me, this meant Scottish mussels in a white wine sauce followed by my all-time-favourite, Spaghetti Carbonara. Mike opted for the Antipasto all'italiana followed by Pollo N'Duya. This was priced incredibly reasonably at £10.50 for two courses and meant that the kid's could eat for £2 each.
The kid's menu was 'safe' in that it contained lots of things they would happily eat – like pizza, lasagne, macaroni cheese etc – but as an added benefit, they were happy to bring the kid's main course at the same time as our starter. The portion size was really well suited to the kids and Katie was very happy consuming her pizza with fresh tomato and mozzarella.
Although Katie had finished eating her pizza by the time our main courses arrived, this meant she could happily try 'tasters' of our mains too. Having woken up by this point, Thomas happily consumed most of the potatoes that arrived on Mike's plate whilst Katie tucked into my Spaghetti Carbonara.
I was actually brought TWO plates of Carbonara to help them in their aim to find decide whether their Carbonara should be made with pancetta or pork cheek. On balance, whilst both were lovely – I definitely preferred the pork cheek as the flavour really came through and balanced our the sauce nicely. As a life long fan of this dish, I really appreciated that they were interested in 'getting it right' and finding out what people's preferences really are!
We also had a side of bread and olives which the kids happily nibbled on throughout the meal. The bread – made from a durum wheat from around Puglia – was a beautiful golden colour and had a really nice crunch. Absolutely perfect for absorbing sauce from our plates (and for a teething Thomas!).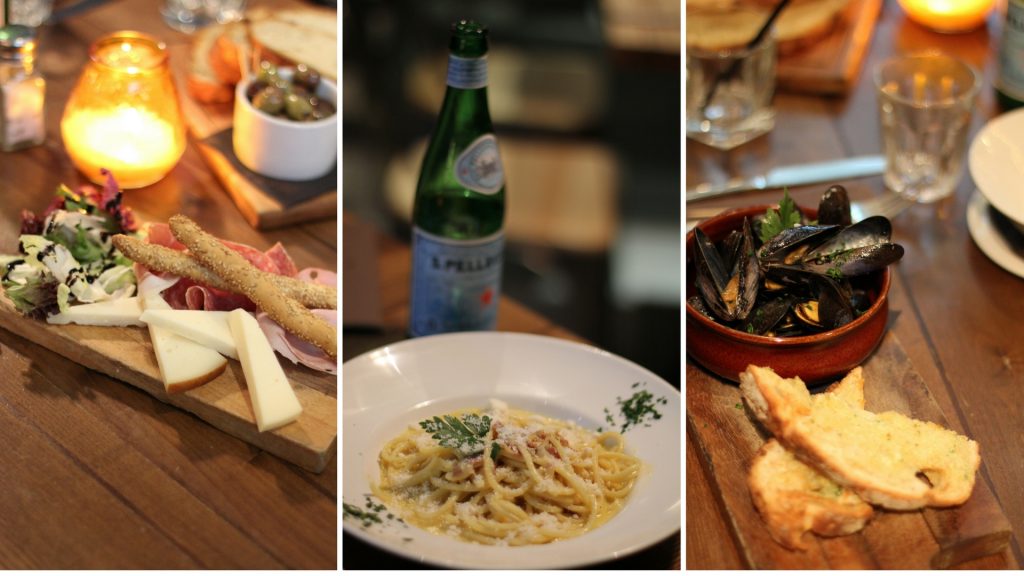 The kid's had ice cream for desert but then simply spent time exploring the restaurant. Over the course of our meal, people began to filter in and it was lovely to see familiar customers being greeted by the staff. It was clear it has a well-deserved reputation as a local favourite.
The decor featured many clocks – referring to the name L'Osteria del tempo perso –  which roughly translates to the tavern of lost time. But also had a film being projected onto a screen, bikes slung with bottles of wine, and slogans declaring that 'life is too short for bad wine!' After carefully inspecting the wine list, it's certainly on my list of places to visit without the car and without the kids!
I've heard lots of people talking about the big influx of 'London' restaurants we've seen in Edinburgh recently. Whilst this brings variety and colour to the city, I am worried that we run the danger of missing local gems too. Whilst L'Osteria del Tempo Perso is the 'wrong' side of the city for us, it was more than worth the extra 10 minutes spent getting there. The kid's had a great time, we had a great meal – and we really did lose track of time. Before we knew it, almost 3 hours had passed.
The service wasn't at all slow, we just enjoyed eating at a leisurely pace. We could just relax in each other's company and even spend a bit of time people watching. The staff were happy for the kids to just be themselves and kept revisiting to chat throughout the meal. Observing everyone else there – this seems to be the way of things. Truly a place to enjoy food, wine and friendship.
P.S. Thank you to L'Osteria del Tempo Perso for gifting our meal and to you, for supporting brands that make Edinburgh Life with Kids possible.