The first time I went to Cafe Milk at the Edinburgh Sculpture workshop there was a lot I liked: I thought the lighting was amazing – even though there's a limited amount of windows and the ceiling is low it still feels spacious. The use of dark paint on one wall works really well and I just really liked the feel. The tables are well spaced apart so we weren't intruding on anyone else's space. People were constructing things in the courtyard outside so the kids were entertained and I could just relax.
What I wasn't sure about was the food. I remember I had something with avocado but it felt like everything was caked in some spice or other. My Mum had porridge with every kind of trendy substance going. The cakes were amazing in terms of an adult palette but there wasn't anything really for the kids – who were then pretty miserable. It was kind of a let down and wasn't somewhere to beat my usual sources of brunch.
However, given that I really liked the location, décor and staff – I decided to go back and I am beyond glad that I did.
I'm not sure if the food has changed or if I've just ordered better but it's actually my favourite place to eat now.
I've taken to choosing poached eggs on toasted germagrain bread with a spinach salad. I sometimes ask for a side of halloumi as well which turns this into the meal of the gods. I don't know exactly what is in germagrain bread but the crust tastes a-ma-zing.
Mike has equally been happy with the breakfast burrito or their gigantic bacon and comte sandwich – always served with a salad. Whatever dressing they use is incredibly tasty, so much so the kids also wolf the 'leafs'.
For the kids, we just order off menu – sausages and scrambled eggs. The portion size for them is bang on and the quality is obviously good. Thomas also really likes the toasted cheese and apple off their children's menu. When he was younger I also was hugely appreciative of their homemade baby purée – made with seasonal veg. It made a very welcome break from giving him Ella's kitchen pouches on the go!
Although the cakes are still a little rich or obscure for their tastes, Ben really likes the hot chocolate and they have little juice boxes that suit Kate. The younger two certainly are actually happier with savoury options anyway so it's a bit of a non-issue.
The benefit of having space between tables is also something I appreciate each visit. Our buggy is a bit of a tank but there's plenty of room for it. They have a plethora of highchairs – and space for them too. I'd still like them to have a few more child friendly options – plastic cups for the kids would certainly help me to relax a bit but I usually just end up taking their Tommy Tippies.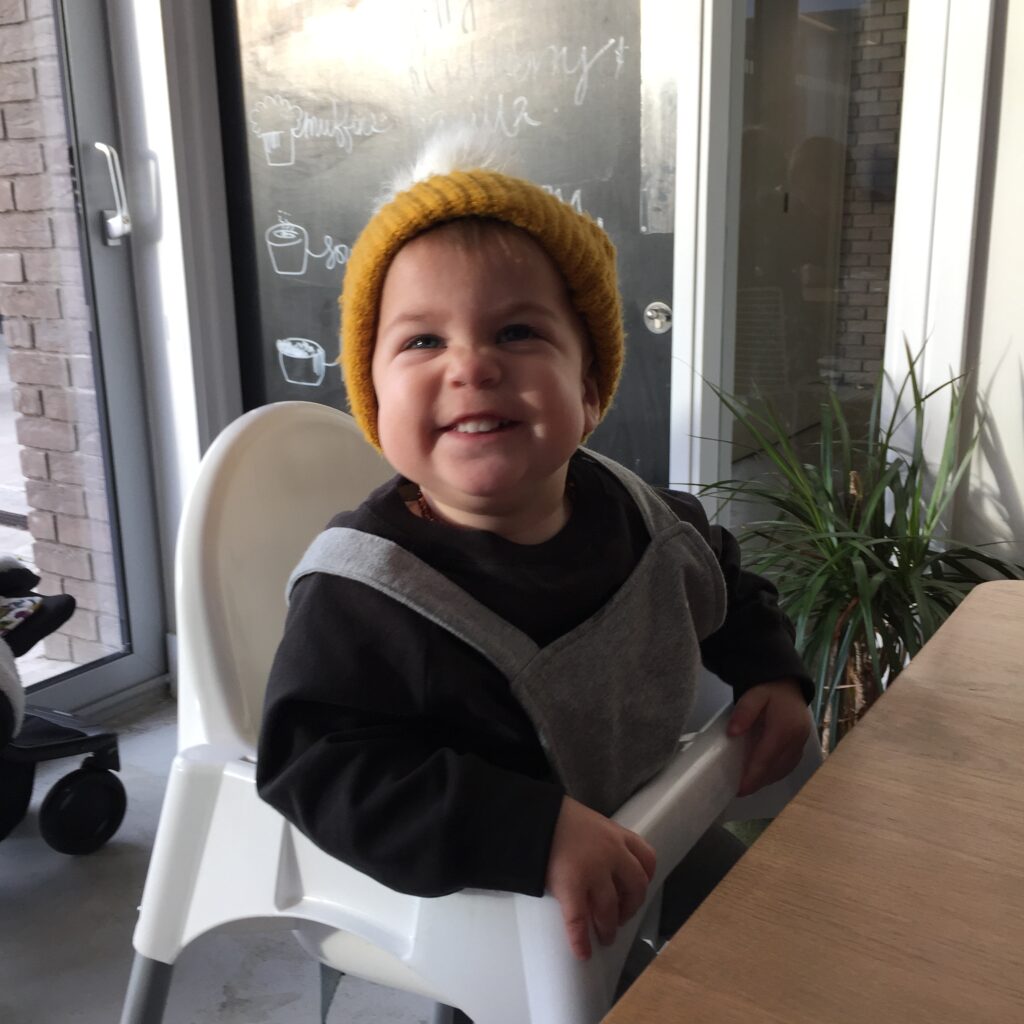 I mentioned sippy cups on my last visit and also suggested that they could get some child sized cutlery. I'm hopeful that they'll take this on board as I think it's a great haunt for families.
Their plates are metal so perfect for the kids and they have a great range of toys. Katie is a big fan of their little play till but is also happy with their selection of colouring provisions. Thomas will generally throw any toys he can get his hands on but is content to just people watch. The baby changing facility is clean and spacious complete with a proper changing table which makes for an easier life.
The Scandi look may not be to everyone's taste but to me, it's a winner. I should also mention that the coffee is incredibly good to boot!
I'd love to hear about your favourite places to eat so please do share over on my Facebook page or even Instagram.