There is no doubt that pizza is top of the favourites list for my kids. It's easy to eat as it's about the only thing I'll let them eat with their fingers, and with little effort it can be adapted to suit different tastes. Given the diversity of likes alongside dietary requirements in the family, upon discovering this great pizza recipe making our own was a fairly obvious move.
Of course, creating our own sauces and pizza topping varieties just made things a whole lot more fun! Today I thought I'd share our Friday night pizza-night following this really easy pizza recipe.
Pizza Recipe
I like to use Jamie Oliver's Basic Pizza Dough Bread Recipe – I've always found it simple to follow and it results in a nice bread-like base. We find that it's pretty filling so a smaller pizza usually suffices even for a hungry adult. His Gluten-free Pizza Dough Recipe is also pretty darn good, but results in a much thinner base so you may want to size-up if you go gluten free.
To begin, I piled 1kg of strong white flour and a tablespoon of fine sea salt into a large bowl and made a big well in the centre. I have done this on a clean work surface before (as per the recipe) but I usually ended up with liquid everywhere and it seems to work just fine in a big bowl anyway.
Whilst I was doing this, my ever helpful Mom mixed together 14g yeast and one tablespoon of golden caster sugar with 650ml lukewarm water. I then poured this gradually into the well, slowly bringing the flour from the edge of the well to mix with the water. Katie of course wanted to help with this which proved the advantage of doing it in a bowl!
Once the dough came together, I turned the whole lot out onto my Joseph Joseph roll mat. I love this mat as I've never had a problem with dough sticking to it so I can afford to use less flour when kneading it – it only I could say the same of my hands! The idea is to form the dough into a ball ready to be kneaded for 10 minutes or so.
Kneading is probably my least favourite thing to do in baking – I find it often hurts my hands and is just a bit tiresome. However, the trick with pizza dough is to stretch the dough away with one hand and towards you with the other, before rolling it backwards onto itself before repeating.
You're looking for a smooth, springy dough but I've found that even if it looks a bit rough it still does ok – I'm not sure you can really go far wrong with this one!
The dough then went back into my mixing bowl (now cleaned and lightly greased by my Mom) and was covered with clingfilm for 45 minutes. I popped it near a radiator to ensure it had that little bit of warmth that bread seems to thrive on!
Pizza sauce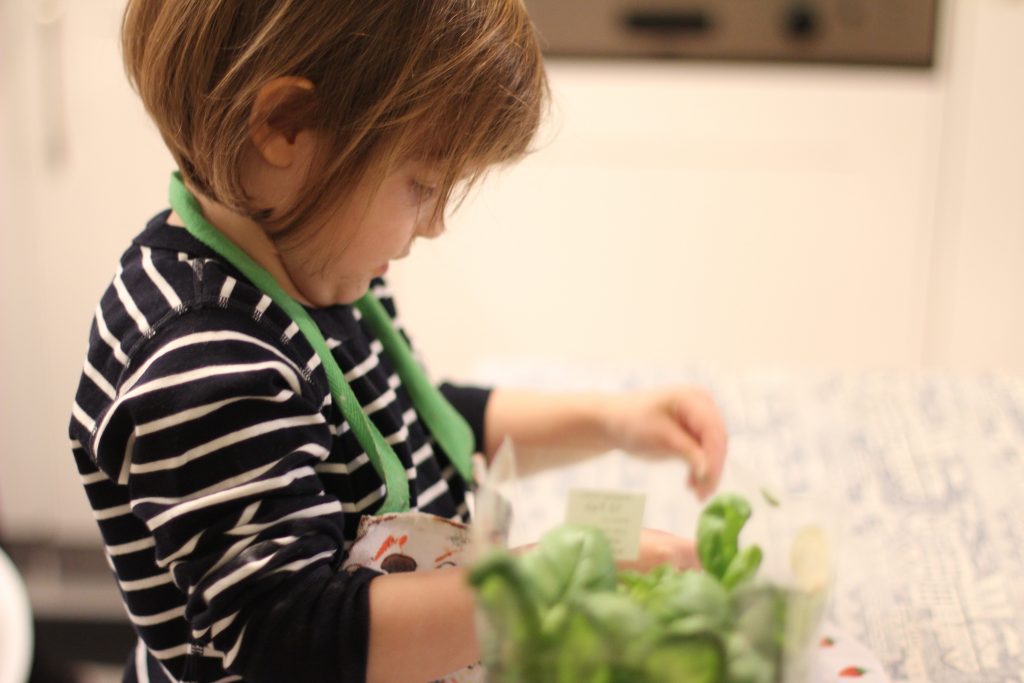 Again, I largely follow Jamie Oliver's recipe on this one but add in a few extras.
To begin, my Mom chopped up three cloves of garlic which went into a pan with a little bit of Olive Oil. Once golden, I put in two tins of chopped tomatoes (with added herbs) and some fresh basil (torn up by Katie). I also added a teaspoon of golden caster sugar just to give it a little bit of extra sweetness.
This was brought to the boil and then left to simmer for around 20 minutes. I occasionally gave it a prod with a spoon but it really did fine left to it's own devices!
Toppings
This is where we get really diverse.
I set about putting together lots of different bowls and pots of ingredients that everyone could then put on their own pizzas. Katie could easily help with this stage of preparation and I was very surprised at how neatly she could slice banana. (I was less surprised at how much she ate during this stage of prep!)
Katie initially claimed that she only wanted cheese on her pizza – as she's intolerant to cow protein we usually  add goats cheese on top of her tomato base. However, once she spied the selection of goodies available she was soon insisting on a liberal amount of sweetcorn be added with a side portion of mushrooms and banana!
Ben, usually one to just have pepperoni branched out by adding mince beef to his. Sadly, he wasn't convinced any form of vegetable was necessary, but I was happy enough that at least he was having fresh tomato sauce. Despite him noticing the basil he wasn't deterred (phew) and claimed it as the best pizza ever. High praise indeed from the Pizza Express fanatic.
My Mom thinks I'm gross but I love fruit on my pizza – I know lots of people like pineapple on pizza, but banana really is epic. I also added bacon, minced beef, sweetcorn and fresh mozzarella. The trick however is not to add too much otherwise it struggles to cook through and you end up with a very doughy base.
Mike adores anything hot hot hot, so his ended up as chilli beef, onions, mushrooms, fresh mozzarella and an ample amount of fresh jalapeño peppers. I wouldn't have touched it with a barge pole but he was pretty happy.
The kids claimed that Grandma requested broccoli, porridge and definitely banana for her pizza. Somehow doubting their veracity, I ended up giving her mince beef, mushrooms, onion and fresh mozzarella as she was occupying Thomas in the playroom. She seemed happy enough with this selection.
Cooking
This recipe results in enough dough for 8 small pizzas, for five of us, we ended up making six and discarding the rest of the dough. It can be frozen and we really should've done this.
I've found the best thing to do is to roll out an approximate surface, transfer the base onto a lightly floured chopping board and then put the ingredients on. Transferring it to a pre-heated pizza stone can still get a little messy but it does go much easier with the flour on the board.
The pizzas then need about eight to ten minutes at 200C. Really it's best just to keep an eye out and eat them when ready!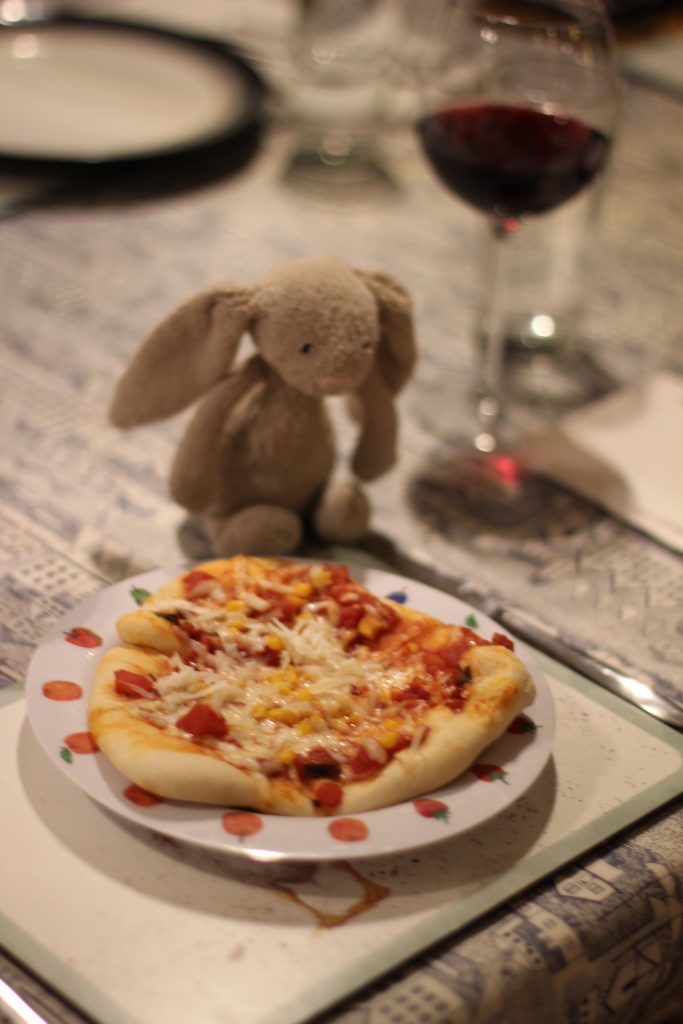 All in all, it's a pretty awesome dinner. What's your favourite pizza topping? Come join in the chat over on the Edinburgh Life Facebook page.