Life sometimes feels insanely busy. Work is demanding and I always seem to have a never-ending 'to do' list. I think all parents with small children must be in a similar boat. Once everything is 'done' the priority really is spending time with the kids but should we find time to workout?
Somehow going to the gym or making time for a run seems lower down on the agenda. It somehow seems selfish to be doing something that is a solo activity. That doesn't involve the children or entertain them in any way.
Whilst, there's obviously 'active' things we can do together. Realistically swimming with the kids is NOT the same as doing laps for half an hour. Thomas is undoubtably heavy but lifting him in the air does NOT replace a kettle bell session. So why make time?
Firstly, there's a physical health benefit to keeping fit. It helps to maintain my weight and additionally makes me strong enough to cope with the demands of my daily life. I had been suffering from a lot of pelvic and back pain – partly down to carrying excess weight – but also because a lot of my muscle strength had vanished during pregnancy. By ensuring my core is strong I'm far less likely to have a sore back or struggle to lift the kids.
But almost more importantly, it's good for my mental health.
As soon as I get home there are instant demands. Thomas will want picked up and fed immediately. There's packed lunches to make. Clothes to sort out. Nappies to wash. The list obviously goes on.
I would love to pretend that my kids are both in bed by seven and that we wind down after that… but that could not be further from the truth. If Thomas actually does fall asleep without me, Katie will inevitably be kicking up a storm; wanting more stories, a drink, her back rubbed, a different stuffed animal, to ask the meaning of life etc.
At no point is there really time to pause and think. To process the day or everything that's going on.
By carving out even 30 minutes to go for a swim or to do a fast track spin session, I have time to think. I find that I can think about the day that's passed; to think about what I could do differently or perhaps remember something I had forgotten.
I find this time really valuable. I might not be discovering anything particularly profound but I at least can breath a bit.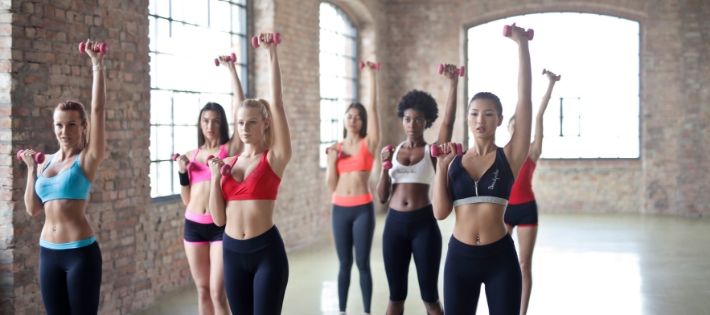 But where does the time come from? Realistically, I do not have the time to go to the gym everyday. But when I look at my week, there are days with a bit more 'give'. I finish slightly earlier on a Tuesday and Thursday.
On a Tuesday the solution was obvious – Mike could collect both kids and I would just get home an hour later than normal (but still by 5.30).
Thursday was a bit trickier but actually, I finally realised that there was a simple answer. Mike's Aunt looks after Katie on Thursday anyway, by asking her to look after her and Thomas for an extra hour – I could go to the gym. Asking for help is not usually in my repertoire. It isn't something I would usually consider. But thinking about it more – I would happily do the same for my friends; perhaps having kids round to play so they have time or collecting them from school to give a bit more leeway in the day.
But that still left with with more days when I couldn't get out. I really struggle to work out at home because I am just too tempted by the sofa. By the time I finally have everything sorted – sticking on a fitness DVD just feels like a step too far. However, a friend suggested I check out Chloe Madeley's 15 minute fat loss app. 
I really enjoy high intensity training at the gym anyway as I feel like I'm making maximum use of my time. By getting up a little earlier (15 minutes to be precise), I've found that I can easily fit these workouts into my day. I'm really not a morning person but I am determined that I want to be healthy. The app leads you through four different sessions focusing on different parts of the body. The app times the exercises for you and has clear videos to demonstrate good form. It's not my favourite part of the day and given the choice, I would definitely finish work earlier everyday to have time for the gym. But these workouts definitely help fill the gap on busy days.
Where do you find time to work out? Have you got any tips you could share? I'd love to hear from you!